Murder Haunts Catholic Church

CBS News
May 24, 2005

http://www.cbsnews.com/stories/2005/05/24/60II/printable697498.shtml

Thirteen-year-old Danny Croteau was brutally murdered in 1972 and the only suspect in the case was his priest.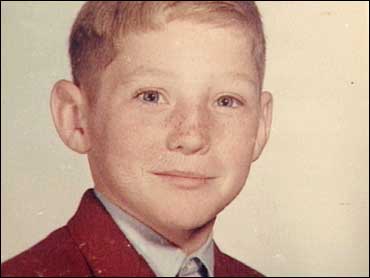 Danny Croteau, a 13-year-old altar boy from Springfield, Mass., was murdered 33 years ago. His body was found bloodied, battered and floating in a river. (Photo: CBS)

Father Richard Lavigne continued to work in the diocese of Springfield, Mass., for the next two decades, until two men accused him of sexually molesting them when they were boys.
Since then, 43 other men have accused Lavigne. The molestation charges against Lavigne led police to refocus the investigation into Danny's murder. Correspondent Dan Rather reports on the case on 60 Minutes Wednesday, May 25, at 8 p.m. ET/PT.
After Danny's murder, Lavigne, who had identified the body to police and participated in the funeral mass, became a suspect. Local police had circumstantial evidence against Lavigne at the time, but with no witnesses and no firm physical evidence, the district attorney did not prosecute.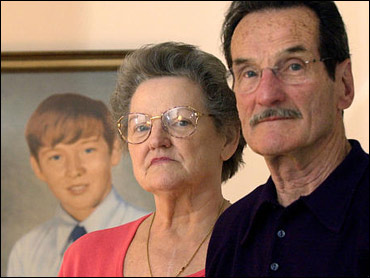 Carl and Bunny Croteau stand in front of a portrait of their murdered son, Danny, in their Springfield, Mass., home. (Photo: AP)
Lavigne declined an interview with 60 Minutes Wednesday, but his lawyers maintain that Lavigne was not involved in Croteau's murder and point to crime-scene evidence that seems to support their claim.
Tom Martin disagrees. Martin is one of the 43 men who came forward about sexual abuse and he believes that Lavigne had a motive for killing Danny: to hide the dark secret of abuse that the boy was threatening to tell.
"[Danny] told me that he hated Father Lavigne [because] he hurt him and I knew exactly what that meant," says Martin.
After spending seven months at a hospital specializing in therapy for pedophile priests, Lavigne returned to the Springfield diocese, where he was no longer allowed to function as a priest.
However, Lavigne continued to be paid a monthly salary of more than $1,000 plus benefits, even as the diocese paid millions of dollars to settle lawsuits filed by his abuse victims, including three of Danny's brothers.
Many Springfield residents were outraged. One of them, Warren Mason, met with James Scahill, the pastor at a church less than five miles from Levigne's old church. Mason suggested that the congregation withhold from the Springfield diocese the six percent contribution that every parish is required to send up to its bishop until Lavigne was defrocked and removed from the diocese payroll.
"I told him at that meeting that as long as father Richard Lavigne was receiving any sustenance from the diocese, I wouldn't give any money to the church and I flippantly said, 'Hold back the 6 percent' and father looked like he was going to pass out about that point in time."
Scahill submitted the ultimatum to the head of the Springfield diocese, Bishop Thomas Dupre. "He said, 'What?' remembers Scahill. "I told him again and he said, 'You cannot do that...there's no conversation relative to this matter. You absolutely cannot do that.'"
Seven months later, Dupre was indicted for statutory rape -- the first U.S. Roman Catholic bishop to be charged with sexual abuse. Dupre pleaded not guilty and the charges were later dropped because the district attorney concluded the statue of limitations had expired.
Shortly before Dupre's resignation, Lavigne was defrocked and soon afterward his financial support finally ended. Despite everything they've been through, Danny's parents are still attending the same church.
"They can't take God away from us," says Bunny Croteau. "That's the one thing they can't have."