Blinded by Faith?
Part 1
Long-Secret Documents Reveal That Fort Worth Bishop
Was Aware of Priest's Troubled Past

By Darren Barbee
Star-Telegram Staff Writer
June 5, 2005

[See also Part 2: Delaney's Decision and Part 3: More Allegations. Photographs interleaved in these articles originally appeared in a gallery that accompanied the stories.]

"T admits to being attracted to adolescents in every way, including sexually."

-- Bishop Joseph Delaney's notes, June 12-13, 1988, shortly before he hired the Rev. Thomas Teczar


"His time in therapy was very intense and painful but very successful. He no longer has the need to seek out adolescents for companions. ... Because of all the other good qualities for ministry in T's life, S feels he will be a very successful priest."

-- Delaney's notes from a June 14, 1988, conversation with Gilbert Skidmore, Teczar's therapist


"I am willing to give Father Teczar an opportunity to get back into active ministry, fully aware of the possible risks that may be involved. ... Please pray with me that my decision will be of benefit to all concerned and for the good of souls."

-- Delaney in a July 13, 1988, letter to Bishop Timothy Harrington in Worcester, Mass.


"I laid down a request that he not have any social relationships with anyone under 25 in future."

-- Delaney's notes from a Jan. 25, 1991, meeting with Teczar to discuss the priest's meetings with two young men in Bedford


"DA and sheriff threatening prosecution ... hinting further trouble -- ???accusing Tom of pedophilia???"

-- Delaney's notes after a March 18, 1993, conversation with Teczar and two attorneys


"After weighing the options and considering the uncertainty of litigation and the related costs, the diocese ... settled the claims. ... At the time that Thomas Teczar came to the diocese, there were no allegations of sexual misconduct against him."

-- April 7, 2005, news release from the Fort Worth Diocese after it agreed to settle a lawsuit by two men who said Teczar sexually abused them


With the quiet rumble of tires over red brick streets, the priest slipped away from Ranger.

A few hours before, the Eastland County sheriff had confronted him about the sexual abuse of young boys. It wasn't the first time such allegations had been made.

This time, they would end the Rev. Thomas Teczar's career.

On that March day in 1993, Teczar drove east toward the chancellery of the Roman Catholic Diocese of Fort Worth. Inside, documents detailing his reasons for leaving Ranger would stay sealed for more than a decade in the secret diocese archives known as the Confidential Files.

This spring, the Star-Telegram examined the files, which were opened during a lawsuit filed by two men who said Teczar molested them when they were boys living in Ranger. The suit was settled, and the diocese paid the men $4.1 million.

The documents show how a priest with an admitted sexual attraction to boys was placed in charge of four rural parishes with no supervision. And they raise nagging questions about the actions of Fort Worth Bishop Joseph P. Delaney, who sent him to Ranger.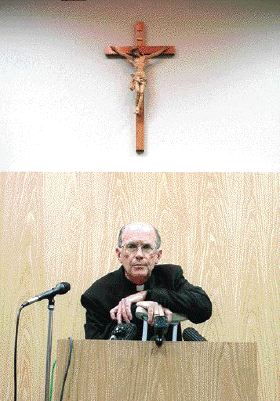 [Bishop Joseph P. Delaney]
Delaney, the chief keeper of the files, met with Teczar and the priest's two attorneys on March 18, 1993, the day after Teczar left Ranger. As Delaney took notes, he felt uneasy. The more he heard, the less he wanted to know.
By then, Delaney had known for a month that Teczar had failed to report the sexual abuse of children by two men in Ranger. But now he was learning that Teczar's involvement might go further. The sheriff and the district attorney were "hinting further trouble -- accusing Tom of pedophilia," according to Delaney's handwritten notes.
Teczar's name surfaced in the investigation in January 1993. In Ranger, two men had sexually assaulted as many as seven boys and two girls over a period of three years, according to police and Child Protective Services reports.
Police learned that the priest had had sex with both men and that he had warned one of them when officers were closing in.
When an Eastland County grand jury convened to consider the case, Teczar was subpoenaed. But the priest refused through his attorneys to answer questions on the grounds that he might incriminate himself.
With the storm around the priest growing, Delaney wrote, "Recommendation: Tom get out somehow."
In time, Eastland County law enforcement officials came to believe that the diocese and Delaney had hampered their investigation by ignoring the sheriff's and district attorney's requests for information about Teczar's past.
Delaney said he never knew they were seeking information about Teczar.
But the facts that Delaney had gleaned five years earlier, before he brought Teczar in, would have been crucial to their investigation, they said.
Documents that Delaney placed in the Confidential Files showed that Teczar had a sexual fixation on boys and young men, according to depositions, court documents and Star-Telegram interviews.
Delaney also knew that Teczar had been forced out of active ministry in Massachusetts after a boy accused him of sexual misconduct and that two other bishops had rejected Teczar before Delaney accepted him.
And after Teczar became the parish priest in Ranger in 1989, Delaney continued to support him, even when other problems surfaced during the priest's 3½ years there.
One of the men who sued the Fort Worth Diocese was 12 when he met Teczar in 1990. The man, called John Doe II in court documents, said Teczar raped him and molested him several times from spring 1990 until late 1992.
The man filed a criminal complaint with the Texas Rangers in May 2002. Teczar was indicted in March 2003 on three counts of aggravated sexual assault and one count of indecency with a child in connection with John Doe's complaint. Teczar, who is free on $30,000 bond, is expected to stand trial in Eastland County next year.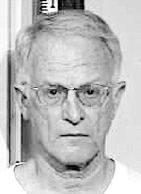 [Teczar in 2003]
Teczar has also been sued by three Massachusetts men who allege that he abused them when they were boys. The suits have been settled by the Diocese of Worcester, Mass., where Teczar had previously worked. Other complaints of sexual misconduct against Teczar have also surfaced in Worcester Diocese files and in at least one other lawsuit.
In a recent telephone interview, Teczar, 64, said he did not abuse the Massachusetts men who sued him. Asked if he has ever abused anyone, he said, "I'm not at liberty to say."
He declined to elaborate.
Teczar said he did not abuse the two men who sued the Fort Worth Diocese and that they were only after money.
"This man lied his way into a settlement," Teczar said, referring to John Doe. "I don't know this guy. I never touched him. I don't know anything except what I've read in the papers."
In a recent interview, Delaney said he knew nothing of sexual-misconduct allegations against Teczar before or during the priest's time in the Fort Worth Diocese. But Delaney's notes in the Confidential Files show that he knew of such suspicions.
Given the information he has now, it was a mistake to bring Teczar to the diocese, Delaney said.
"When I brought him here, obviously I thought it was a good thing to do," Delaney, 70, said in a May 11 interview with the Star-Telegram. "I didn't bring somebody in that I thought, let alone knew, was going to do these things."
Delaney would have known more about Teczar's past had he read the priest's personnel file, said Dallas attorney Tahira Khan Merritt, who represented John Doe in his lawsuit against the diocese.
With further investigation, he might have learned about Teczar giving a 10-year-old boy a bath at a boys' home in Massachusetts. And Delaney could have pressed for details when a Massachusetts monsignor said Teczar had other incidents in his past.
But Delaney didn't press for details.
Delaney said he couldn't get access to the personnel file from the Worcester Diocese because it isn't common practice for such documents to be circulated among bishops. Instead, he relied on recommendations from Teczar's therapist and the Massachusetts diocese. He examined a clinical report about Teczar that was nearly three years old. And he talked to Teczar.
Delaney documented his steps in the Confidential Files, which reveal the diocese's place in a national scandal involving 10,000 accusations of sexual abuse by Catholic clergy.
For more than a decade, the diocese has required employees to watch a 90-minute video on preventing sexual misconduct. And since 2002, the diocese has spent at least $200,000 training thousands of employees, priests and volunteers to prevent abuse.
The training was prompted by lawsuits alleging widespread child abuse that have cost the U.S. Roman Catholic Church more than $650 million and involve complaints against more than 4,000 priests.
Merritt said the bishop looked the other way when it came to Teczar, who left before the diocese changed its policies.
Merritt called Delaney's actions a case of willful blindness.
"He doesn't see exactly what's in front of his eyes," she said.
Her client, John Doe, said his lawsuit showed that the Fort Worth Diocese knew that Teczar "could hurt more kids."
"People need to know that even though they say that they want to help victims of abuse, they care more about covering up their lies," he said.
Delaney said that he has been truthful and that Teczar's accusers are liars who have their money and now want to make mischief.
But more than a decade ago, Ronnie White, who was then Eastland County's sheriff, saw things differently.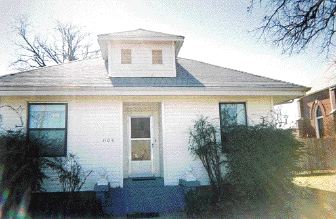 [St. Rita's rectory]
On March 17, 1993, White said, he drove to the rectory at St. Rita's Catholic Church in Ranger, 90 miles west of Fort Worth. White said he had no intention of strong-arming the priest. He wasn't angry about Teczar's refusal to testify before the grand jury, he said. But he was suspicious.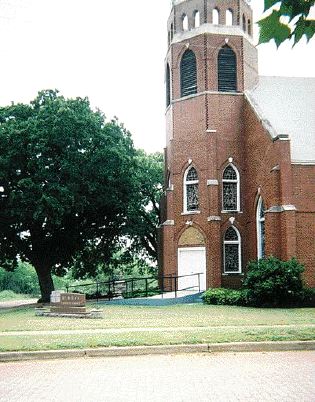 [St. Rita's church]
White told the priest that he planned to invite St. Rita's parishioners to the upcoming trial of Teczar's intimate friends, who had been indicted on charges of aggravated sexual assault of children. Teczar, who had not yet been charged with a crime, said nothing.
"He was gone before daylight the next morning," White said.
Teczar says the meeting never happened.
The first accusations
"He was becoming very discouraged about how difficult it was to overcome his past."
-- Delaney's notes to the Confidential Files in June 1988, shortly before Teczar came to Fort Worth.
In the mid-1960s, when he was attending seminary, Teczar found himself alone with an unruly 10-year-old boy who refused to take a bath.
Teczar, then about 25, was working at the Nazareth Home for Boys, a Catholic home for troubled youths in Leicester, Mass. He bathed the boy himself.
Teczar was later fired from the home after he took a group of boys swimming and one complained afterward that Teczar had touched him inappropriately, according to a deposition given by a friend of Teczar's who also worked there.
Teczar said last month that he was fired because he wasn't getting along with the staff and the boys.
"That's the official word," he said.
From the beginning of his seminary years, Teczar was dogged by questions about his suitability for the priesthood. He was twice kicked out of seminary because of erratic behavior, only to be given second and third chances. Officials would note his exclusive friendships with boys as he neared ordination.
From an early age, Teczar's fascination with the church was obvious. He was an altar boy and played the organ at the suburban Massachusetts church of his childhood, said his sister, Pat Ernitz of Millbury, Mass. His education, too, was attuned to his parents' faith -- he studied at a Catholic high school and college, and as early as junior high school he expressed a desire to become a priest.
His early life was not marked by the tremendous wealth that came to the family in 1967, when his mother married the trustee of a local company. Until then, the family was upper-middle class, but not rich, Ernitz said.
Also in 1967, months before his ordination, officials at Teczar's home diocese in Worcester expressed concern about his "manifested predilection for intimate and rather exclusive companionship with young boys." The letter also noted, "if this breaks out again, I do not think he should be ordained."
In a deposition, Teczar said his relationships with the boys were friendships that another priest feared could be misread as sexual relationships.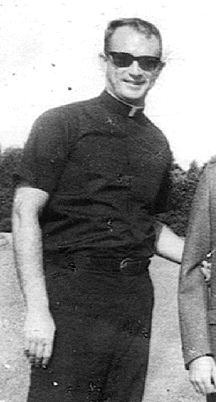 [Teczar in 1967]
After his December 1967 ordination, Teczar began serving in churches. He was so well-liked in one parish that congregants signed a petition asking the Worcester bishop to allow him to stay.
At another Massachusetts church, Teczar befriended 16-year-old John Riganati. In 2003, Riganati filed a lawsuit in Worcester accusing the priest of sexually abusing him over four years beginning in 1968.
In an interview last month, Teczar said he did not have sex with Riganati, who has since settled the suit with the Worcester Diocese.
In a 1996 lawsuit filed in Massachusetts, Teczar was also accused of sexually abusing 16-year-old David Lewcon in 1971 after giving him Southern Comfort whiskey. Teczar said he did not abuse Lewcon, though he admitted in a deposition that he had given him alcohol.
Another man, George Shea, sued the Worcester diocese in 2002, alleging he was abused by Teczar. Teczar says he didn't know Shea and didn't abuse him.
But one incident with a boy in 1984 would force Teczar out of ministry for years -- until he found work in Fort Worth.
Placed on leave
"He was fortunately able to control himself. That may not have been the case on some other occasions."
-- Delaney's notes from a June 1988 conversation with Teczar about an incident with a 15-year-old boy that led the Worcester Diocese to suspend the priest.
They enjoyed a meal at a posh Massachusetts restaurant called Plum's. Teczar provided wine to the 15-year-old boy, and the conversation went well, the priest remembers.
"He was a very good conversationalist," Teczar said in an interview.
He took the dark-haired boy back to his home at the church.
Teczar said he brewed coffee and the two talked about circumcision. Teczar said the boy tried to seduce him, asking in a lowered voice for candlelight and soft music.
The evening ended with a hug shared during a joke, Teczar said. He thought the boy "was getting an erection, and I backed off almost immediately. I didn't want to take any chances," he said in an interview.
"I didn't touch his body or any private parts at all, nor did I intend to," Teczar said.
The boy's mother, Norma Maciorowski, said the priest made sexual innuendoes, then sexually abused her son. He has never told her all the details about what happened that night in May 1984, she said. The Star-Telegram is not naming her son at the family's request.
The incident forced Teczar from active ministry and led to a criminal conviction for providing alcohol to the boy. It also landed him in a psychological treatment center for clergy and in four Alcoholics Anonymous meetings.
At the Worcester Diocese, Monsignor Raymond Page spoke with Teczar and wrote on Aug. 29, 1984, that he was concerned Teczar that "had not at all seen this incident as compromising or 'scandalous' or inappropriate."
In a deposition, Teczar acknowledged being sexually attracted to the boy. Years later he told Delaney, while interviewing for a job in the Fort Worth Diocese, that he was able to control himself that night. "That may not have been the case on some other occasions," the bishop wrote.
As a result of that incident, Teczar was placed on leave in 1985 and was told to seek professional help. He entered the House of Affirmation in California, where he received psychological treatment for his problems with anger, sexuality and alcohol use.
Almost three years passed as he sought new employment in the Diocese of Norwich, Conn., and the Archdiocese of Boston. Both rejected him.
The Diocese of Norwich received a letter from Page in October 1986 that noted the "trail of damaged youngsters he [Teczar] left in one town. The police there were far from pleased. In that town, the police threatened to find a reason to arrest him if he returned there." Teczar said in an interview that he knew nothing of the matter. He said the police would have come looking for him if he had left youngsters damaged.
"Why would they have to go looking for a reason to arrest me?" he said.
Teczar applied to, among other places, the Diocese of Austin, where he was on the verge of being accepted. But he was directed to Fort Worth, where priests were needed.
[See Part 2: Delaney's Decision.]