A Blade Investigation
Authorities Abetted Diocese in Hiding Sexual-Abuse Cases
Police, courts let accused priests avoid punishment

By Joe Mahr and Mitch Weiss
Toledo Blade
July 31, 2005

http://www.toledoblade.com/apps/pbcs.dll/article?
AID=/20050731/NEWS08/507310305&SearchID=73242885353194
[See below for summaries of the favoritism shown to accused Toledo priests Fisher, Garand, Gray, Kokocinski, Liston, Pinter, Richey, Robinson, Thomas, Warren, and Welch.

For Sgt. John Connors, it was an urgent request from one of Toledo's most powerful priests.
The veteran police detective was summoned by the Rev. John "Archie" Thomas to Central Catholic High School before classes to talk about a deep secret brewing behind the walls of the diocese headquarters.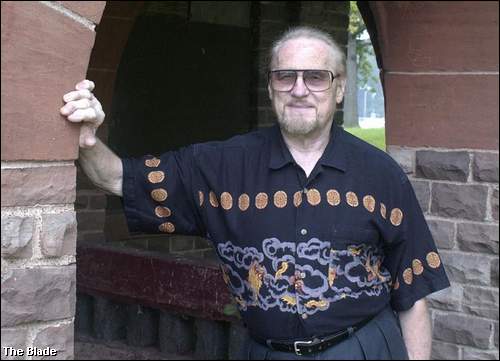 Gene Fodor, who served on the Toledo Police Department between 1960 and 1981, says police officers 'would have been fired' for arresting a priest. Photo by The Blade / Luke Black.
Church leaders feared a popular priest known for helping wayward youths - the Rev. Dennis Gray - was raping and molesting boys at the cleric's cottage, and Father Thomas, superintendent of diocesan schools, wanted the officer's advice on what to do.
"He said, 'We've got a problem,' " Mr. Connors recalled of the meeting nearly two decades ago.
The officer said he told the priest to keep Father Gray away from kids, and that was it.
Case closed.
The longtime detective did not file a police report, nor did he initiate an investigation into the man later accused of abusing more than a dozen boys.
Instead, Father Gray eventually would be allowed to quietly leave the priesthood and go on - with no criminal record - to become a probation officer and a public school administrator, with access to hundreds of youngsters.
Sergeant Connors was following an unwritten rule passed down from predecessors for decades.
Over the past 50 years, those sworn to enforce the law and protect children repeatedly have aided and abetted the diocese in covering up sexual abuse by priests, a three-month investigation by The Blade shows.
Beyond past revelations that the diocese quietly moved pedophile priests from parish to parish, The Blade investigation shows that at least once a decade - and often more - priests suspected of rape and molestation have been allowed by local authorities to escape the law.
In a review of thousands of court and diocese documents and interviews with dozens of police officers, judges, prosecutors, victims, and advocates, the investigation found:
In five cases, police officers refused to arrest or investigate priests suspected of sexually abusing children. One longtime Toledo police chief pressured subordinates not to arrest priests.
In three cases that did result in formal investigations, authorities blocked the release of the case files to the public. Unlike convicted sex offenders, those priests could now pass background checks and have access to children without ever divulging their pasts.
In one case that did make it to sentencing, a judge agreed to a jail term for a priest far lighter than commonly given to other pedophiles convicted of similar crimes.
And in three cases, police and child-welfare caseworkers delayed or dismissed investigations of suspected pedophiles who were priests.
In understanding what has become the biggest scandal to engulf the American Catholic church in generations, victims' advocates say one issue left unexposed is the role of civil authorities in helping to minimize or hide the criminal actions of pedophiles who wore priestly collars.
While the sexual abuse crisis continues to unfold across the country, the deeper issue of police protection is now emerging, particularly in places with deeply rooted Catholic populations and where church members reached some of the most powerful positions in those communities.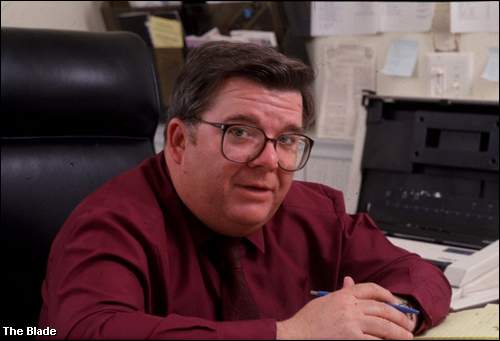 Former diocese spokesman Jim Richards says church leaders 'knew who to call' in the Toledo Police Department.
With millions of dollars in past settlements and several lawsuits pending, questions remain about the role local law enforcement played in the worst crisis to hit the Toledo diocese in its 95-year history.
"You can't separate police from the issue," said Catherine Hoolahan, a Toledo attorney representing victims of clerical abuse. "Too many times, they could have arrested priests and sent a message to the church. You have to wonder that if the police did their jobs earlier, the church may have had to deal with cases more in the open."
For years, bishops and police treated abusive priests as fallen clerics rather than criminals, preferring to send them to treatment centers instead of jails. The unwritten policy helped perpetuate a cycle that allowed church leaders to continue covering up the crimes of pedophile priests for decades.
It was a policy that has left some victims feeling twice betrayed - once by church leaders sworn to be their spiritual shepherds and again by law enforcement officials sworn to protect their safety.
"Now that the church has been dealt with, it's time to deal with the agencies and the people who let it go on in the communities," said George Keller, a victim of a priest whose case was concealed in Bellevue, Ohio.
Representatives of law enforcement agencies say much has changed since the sexual abuse crisis unfolded in 2002 and that priests suspected of crimes no longer receive special favors.
But even today, authorities have been slow to act in some cases when complaints are made. Last year in the case of a priest previously removed from ministry, Lucas County Children Services waited nearly a year before investigating a complaint that he was staying in a home where children were tutored. Two years ago, the Lucas County prosecutor's office took two months to begin investigating a sex-abuse complaint against another priest.
Bishop Leonard Blair insists the diocese is focused "to do everything humanly possible to address past acts of sexual abuse and to protect children and young people from sexual abuse in the future."
Diocese leaders won't discuss how they and their predecessors worked with law enforcement authorities for decades to ensure pedophile priests avoided the spotlight.
But the cover-up has been confirmed by former police officers and the diocese's former spokesman, Jim Richards, who said church leaders "knew who to call in the police department" to keep cases quiet.
Looking the other way
The practice of concealment has been a part of local enforcement culture since the 1950s as the church was cementing its role as a social service powerhouse - an institution that urged young Catholics to seek careers in public service, including law enforcement.
Records and interviews show the first known concealment of clerical sexual abuse in the Toledo diocese took place in 1958 - one of three to be hidden over the next decade.
Under Police Chief Anthony Bosch, one priest was quickly moved from his parish, only to abuse again. The second was allowed to move to Canada and would later return to parish life in another state with parishioners never alerted to his past. Those cases would set a precedent that would be followed in the department for the next two decades.
Mr. Bosch, once state leader of the church's largest fraternal organization, the Knights of Columbus, established an unwritten rule during his tenure between 1956 and 1970 that no priests should be arrested - even in the case of child abuse, according to four former police officers interviewed for this story.
"You would have been fired," said Gene Fodor, who served on the force between 1960 and 1981.
When members of St. Stephen's Church in East Toledo went to police in 1960 to complain that the Rev. Alexander Pinter was raping and molesting altar boys at a cottage in western Lucas County, no report was filed nor was an investigation ordered.
Mr. Fodor said several parish members complained to him, but he never filed a report, either. "People would come up to me and say, 'When are you going to arrest that Pinter? He's a pervert.' But I couldn't."
Instead, police allowed Father Pinter to go to Canada. Eventually, he became a parish priest in Louisiana, where he died in 1978.
Another priest didn't have to move out of the diocese. The Rev. Frederick Garand was forced to leave Our Lady of Perpetual Help in 1958 after a Toledo police captain suspected the longtime cleric of sexually abusing a parish boy.
Capt. Tom O'Leary was so angry he threatened to shoot the priest, who was then an associate pastor, witnesses recalled. But the police captain didn't file a report. Father Garand was quickly transferred to another parish in Mansfield, said the Rev. Robert Lamantia, who oversaw the transfer.
Father Lamantia, now retired, said the diocese knew that no matter how angry the police captain was, the police department would never investigate Father Garand.
"No. It was a 'church thing,' " Father Lamantia said. "It doesn't look good today, but it wasn't part of our policy that this was considered to be a crime against youth and it had to be handled by police."
Such a policy - tacitly approved by authorities - led to untold suffering by those victimized, said David Clohessy, the executive director of a national advocacy group for clerical sex-abuse victims, called Survivors Network of those Abused by Priests.
"Ultimately, it meant that innocent kids were raped and sodomized and wounded victims were isolated and revictimized, and complicit church officials were given every reason to continue in the cover-ups because it paid off for them," he said.
In the case of Father Garand, at least two more victims would step forward to say they were sexually abused by the priest before he was killed in 1982 in South Florida. The diocese learned of those cases but kept them secret for decades, Mr. Connors said.
The cover-ups weren't limited to Toledo nor to police. The case of the Rev. Leo Welch illustrates how a pedophile priest escaped justice and went on to have access to children. When the parents of an 11-year-old victim complained to Bellevue prosecutor Charles Sliter in 1961 that their son was sexually abused by the priest, no report was filed nor was there an investigation.
Instead, the cleric was allowed to leave Bellevue and live with his parents in Oregon for a few months before he was quietly transferred to Christ the King parish in West Toledo.
After leaving the priesthood in 1965, Mr. Welch became a social worker in Michigan where he worked with mentally challenged youths in group homes. Though state records do not show any complaints of sex abuse during his years with the state, he was fired from his job as a suburban Detroit social worker in 2002 after his past rapes and sexual abuse of children were exposed by The Blade.
Quiet investigations
As cases of child sex abuse gained greater national attention in the 1970s and 1980s, pressure began mounting on authorities to get tougher on pedophiles. But the diocese was able to rely on a new generation of law enforcement officers to hide the acts of pedophile priests, records and interviews show.
Among those officers who worked with the church was Sergeant Connors, a one-time seminary student who spent decades moonlighting as a private investigator for the diocese.
"I can tell you that there was always somebody they could go to in the police department," the retired detective recalled. "And I can tell you that, at one time, I was that man."
He was the man the diocese called to handle the case of the Rev. Richard Liston.
Two nuns at the former St. Ann's parish in Toledo complained to Mr. Connors in 1985 about the priest having parties with children present, Mr. Connors recalled. So the officer searched the priest's quarters at St. Ann's, where he said he found a nude picture of a 16-year-old boy who was once a member of a church in Norwalk where Father Liston had been assigned seven years earlier. The officer said he found the victim, confirmed the teen had been abused by the priest, and learned the diocese had known about the abuse for years. But Mr. Connors never filed a police report.
Father Liston, like many other priests accused of sexual assault, was quietly sent to a treatment center. He later walked away from the facility and was removed from ministry. What the police officer did for Father Liston was not uncommon, said Mr. Richards, the diocese spokesman from 1971 to 1995.
"John wasn't alone," Mr. Richards said. "He was just doing what others had done for years."
The administrators of the region's largest religious denomination "knew who to call in the police department" to ensure allegations involving diocese employees were investigated quietly, Mr. Richards said. The diocese was allowed to deal with the results - away from the criminal justice system and a public spotlight.
That's what it did with Father Gray, a priest whose alleged abuse would later be chronicled in Twist of Faith, an Oscar-nominated documentary that debuted on HBO June 29.
Long before a dozen men filed lawsuits against Father Gray, the diocese summoned Mr. Connors for an urgent meeting about the priest, a Central Catholic High School teacher who often took boys to his Michigan cottage.
That morning, Mr. Connors said, he met with Father John Thomas, then the superintendent of the Catholic school system who died in 1999. Mr. Connors said Father Thomas told the police officer that, with the clerical sexual abuse scandal starting to unfold in Louisiana, the bishop feared huge legal payouts if it spread to Toledo.

Then Father Thomas mentioned his fears about Father Gray and asked for the officer's advice. Sergeant Connors said he told the priest to keep Father Gray away from youngsters and that ended his involvement.
Instead of a professionally trained detective investigating Father Gray, the diocese tapped four priests, including the current second-in-command, the Rev. Michael Billian. One victim of Father Gray, Dennis O'Loughlin, remembered Father Billian calling him into a Central office with three other priests, who demanded to know what went on in the cottage.
But Mr. O'Loughlin, 33, then a sophomore, said he told them only that Mr. Gray was serving alcohol to him and his friends. The teen didn't reveal everything because he said he didn't trust the priests. Had it been a formal police investigation, Mr. O'Loughlin said, particularly with an officer he knew, he would have told them the priest was raping and molesting him and others at the cleric's cottage at Crystal Lake.
After the diocese investigation, Father Gray was transferredto a post with no children and, months later, left the priesthood. With a positive reference from Auxilliary Bishop Robert Donnelly, Mr. Gray became a Lucas County probation officer and Maumee Youth Camp counselor before becoming a dean of students for Toledo Public Schools. No sex abuse complaints were filed in his years with those agencies.
Court involvement
Despite the culture in the Toledo Police Department, at least one officer was willing to cross the line in 1984 and do the unthinkable: arrest a priest for alleged sexual abuse. But his actions would lead only to a new way to conceal the crimes of pedophile priests, this time through the courts.
Officer Bill Gray found the Rev. Robert Thomas in a Southwyck mall restroom receiving oral sex from a 16-year-old boy, who told the officer the priest had "made" him do it, police reports stated. Although the priest claimed the teen "motioned me with his eyes," Officer Gray would not be dissuaded from arresting the cleric.
"I was not going to follow the department policy - not this time," he said recently. What followed were harassing phone calls - some to Officer Gray's home at night - from fellow officers, angry the detective would arrest a priest, even one found to be molesting a child.
But Father Thomas, then pastor at Our Lady of Perpetual Help, caught a break in the courts. The priest not only avoided jail time, but a judge agreed to seal the record of his arrest and charge. Judges and prosecutors said such a sealing, called an expungement, was rare at the time for those charged and convicted of sex crimes.
But because the case is under wraps, there's no record of which judge made that decision and whether prosecutors even fought it. Authorities, by law, cannot say anything about the case.
The only record of the case is the report kept by Officer Gray, who said he feared the arrest would be hidden.
It was.
Father Thomas was allowed to leave for Arizona, where he was a parish priest for nearly 18 years until being banned from ministry after a Blade reporter called the Tucson diocese in 2002 for comment on the 1984 incident.
It would not be the only time an arrested priest would be granted uncommon leniency.
The Rev. Robert Fisher molested a 14-year-old Wood County girl over a series of months in 1987 and was sentenced to 30 days in jail - rare in a time when people convicted of similar crimes were sentenced to a year or two in prison. "What would have happened if it would have been the janitor [who molested the girl]?" said the Rev. Thomas Doyle, a national advocate for victims of clerical sex abuse. "That's what angers the community. That's what angers victims."
After four years of therapy, Father Fisher returned to the priesthood, where he became pastor of St. Michael's in North Toledo. A year after his return, he told The Blade he came back to Toledo, in part, because the publicity over his case would help ensure he didn't reoffend. "I can never deny that this happened," he said.
Actually, he can.
Just like the Thomas case, there's no record of Father Fisher's case in the Wood County courthouse or county prosecutor's office. Authorities can't, by law, say it's expunged, but they can offer no other explanation.
Untraceable history
Over the past decade, the state has forbidden recent convicted sex offenders from becoming teachers, working in day-care centers, or living near schools. And for anybody convicted of sex offenses, a paper trail still exists in courthouses and police departments across the state to alert residents to what the offenders did.
But the culture of concealment has left the subset of pedophile priests nearly untraceable, with questions remaining about the access they might still have to children.
"It's terribly frightening because these guys virtually never stop, and because they are so cunning and determined and manipulative," said Mr. Clohessy, with the national advocacy group. "These aren't theoretical concerns about people's safety."
Advocates point to the case of the Rev. Herb Richey.
Thirteen years after he was banned from ministry for molesting boys, allegations are still emerging about abuse in church buildings and cars that stretched across northern Ohio for more than a decade from Sandusky to Mansfield, and finally, to Vermilion.
The Rev. Earl Loeffler, a former vicar of priests, told The Blade he was asked by the diocese in the mid-1990s to offer counseling to four to six victims of Father Richey from the Sandusky parish, where the defrocked priest served from 1979 to 1983.
Sister Bernard Marie Campbell, a longtime nun in Mansfield, said she knew of another victim during Father Richey's tenure there, from 1984 to 1987. She said that led to Father Richey being transferred to Vermilion.
"The parents were livid," she said.
Ms. Hoolahan, the Toledo attorney, said she had two clients from Vermilion who settled sex-abuse cases with the diocese involving Father Richey - making the count of victims at least seven.
Still, Mr. Richey has no criminal record.
After being defrocked in 1997, Mr. Richey landed jobs as an organist in churches in Toledo and Detroit, and at one time sold organs to parishes across Michigan. The Detroit archdiocese and music store told The Blade they didn't know of Mr. Richey's past when they hired him.
Mr. Richey now lives in a sprawling apartment complex in suburban Detroit's Sterling Heights - 150 miles from the Vermilion parish where the music teacher had been accused of abusing his last-known victims. He won't talk about his life now or where he works. He will only say that he was "fully cooperative" with those who investigated his abuse. He said he'd been told to avoid saying anything about the case, but he won't say by whom.
"Everything has been dealt with," he said.
Just how remains unclear.
With the Vermilion church and Sandusky church both in Erie County, the the sheriff's office there opened an investigation more than a decade ago. But if Mr. Richey's new neighbors called the sheriff's office, or even made the trip to the department, they couldn't learn anything about what investigators uncovered or why he wasn't charged.
In 2002 and again this year, Assistant Prosecutor Katherine Walsh cited a rarely used exemption in the state's open-records law allowing authorities to conceal records that identify an uncharged suspect. Many agencies still release such records by simply blacking out any identifying information of suspects and victims.
"He could apply for a teacher's license. He could apply for a job with kids. Nothing's stopping him," said victims' advocate Linda Waters, who was rebuffed in 2002 when she asked to see the Richey case file.
An enduring culture
Even today, questions are being raised about the conduct of agencies that insist they've learned from past failures to safeguard children.
In 1995, under a much-touted plan by the Toledo diocese to begin notifying authorities of pedophile priests, Lucas County Children Services learned of Dennis Gray's earlier abuse. But the child-welfare agency never alerted the Toledo Public School District, where the former priest was working.
When that failure was revealed in 2002, the agency's new director, Dean Sparks, said the child-welfare agency had become more pro-active since he took it over in 1997. He vowed the agency, under his leadership, would take action in similar cases of known pedophiles having access to children.
Yet, two years after that statement, the agency delayed for nearly a year an investigation of Chet Warren, a former Oblates of St. Francis cleric who has long been banned from ministry after at least eight women complained he abused them as girls. The agency received a complaint in May, 2004, that the former priest might be living with a woman who tutored children in her home, but the agency waited to look into Mr. Warren until this spring - after another woman complained and after Bishop Blair called Mr. Warren's past actions "grievously sinful and criminal."
Even in Lucas County, where prosecutors have touted a voluntary deal in 2002 for the diocese to show them records of past abuse, there was a delay in a probe that would lead to the high-profile arrest of the Rev. Gerald Robinson for allegedly killing a nun in 1980.
In June, 2003, a woman came forward to say she was victimized by several priests, including Father Robinson.
She spoke to the prosecutor's office as well, but nothing was passed onto the police. Seeing no action, victims' advocates took the allegations to the Ohio attorney general's office in September, 2003, which rerouted the case to the prosecutor's office and Toledo police, which began an investigation in December, 2003.
While Toledo detectives couldn't prove the allegations of sexual abuse, they noticed the name of Father Robinson, remembered he was a suspect in the nun's slaying, and reopened a probe that led to the priest's arrest in April, 2004.
That case also would include another attempt to conceal conduct by the diocese. Alleging obstruction of justice, detectives and prosecutors quietly secured two warrants to search the diocese for additional documents on Father Robinson they claimed were withheld from them. But prosecutors then asked a judge to keep the warrants secret and included among their reasons that they didn't want to cause "humiliation" and "embarrassment" for the diocese.
To retired Detective Bill Gray, the culture of concealment remains and will take years to undo.
"You're not going to change the thinking over night," he said. "This has been going on for years."
It's a sentiment shared by national experts, such as A.W. Richard Sipe, a psychotherapist and former Benedictine monk who has studied priest's sex habits for 30 years.
Mr. Sipe said "strong alliances remain" between authorities and Catholic leaders: "It's still going on. The basic structure has not changed yet."
For its part, the Toledo diocese doesn't want to talk about how it has interacted with authorities over the past 50 years.
When asked for details, diocese officials issued a statement that they now follow the law and it's illegal for them to talk about what they report to Children Services.
As for the times over the past five decades the diocese relied on police, prosecutors, and judges to conceal abuse, talking about those actions today would hurt some victims' healing, the diocese said.
"Many [victims] who have responded have spoken of their anguish at each republication of previously published stories about their experiences and those of other survivors, indicating that such repeated accounts actually impede their healing by reopening old wounds," Bishop Blair said in a prepared statement.
But victims' advocates scoff at such logic.
"Victims have always wanted answers and honest answers, no matter how painful," said Claudia Vercellotti, co-leader of the Toledo chapter of the Survivors Network of those Abused by Priests. "It's outrageous they would use victims in this juncture as a buffer between exposing the truth and remaining silent."
The practices have left a legacy of potential criminals who escaped justice, including the bishops who covered up the actions of pedophile priests, said Father Doyle, a canon lawyer who first studied clerical sexual abuse in 1985.
"It's absolutely disgusting," he said. "It makes a mockery of what the Catholic Church is supposed to be."
*
Robert Fisher — While a 34-year-old assistant pastor at St. Rose in Perrysburg, he pleaded guilty to two misdemeanors after admitting to fondling a 14-year-old girl in separate incidents over several months in 1987. He received a 30-day jail sentence, but the record of the case in both the Wood County courthouse and prosecutor's office is now missing and likely expunged. After four years of therapy, in 1992 he returned to ministry at St. Michael's in Toledo but was banned in 2002 under the U.S. bishops' zero-tolerance rule.
Fred Garand — In 1958, a police captain discovered the Our Lady of Perpetual Help priest had molested a child, but Toledo police failed to conduct a formal investigation, and the church quietly moved the priest to another parish. In 1982, at 54, the priest was killed in South Florida, and the Toledo diocese conducted a secret investigation, with the help of a Toledo police officer moonlighting as a private investigator. But none of the investigation's findings was shared with detectives in Florida. The homicide case remains unsolved.
Dennis Gray — Before the former Toledo cleric faced lawsuits by a dozen men claiming he molested them as boys, he came to the attention of top priests in the Toledo diocese in the mid-1980s. The priests related their suspicions to a Toledo police officer moonlighting for the diocese as a private investigator, but Toledo police never initiated a formal probe. The Central Catholic teacher soon left the priesthood for jobs as a probation officer and dean of students in the Toledo Public Schools. When child-welfare caseworkers found out about the past abuse, they never informed the school system, which didn't learn of the allegations until a 2002 Blade article. Now 57, Mr. Gray has publicly denied abusing children, although the diocese said he admitted to it.
Bernard Kokocinski — Removing him from public ministry in 2002, the Toledo diocese settled lawsuits by two brothers who said the longtime Toledo-area priest, 67, sexually abused them in the 1970s while at St. Joseph's in Fremont. When the wife of one of the brothers contacted the Sandusky County prosecutor's office in 2002 about her husband's past abuse, she said she was told to call the church. Although arrested three times on unrelated charges since 1972 — for alleged sexual imposition, solicitation, and public exposure — a record only exists for the sexual imposition case, which a judge dismissed without offering a reason.
Richard Liston — The priest came to the attention of two nuns in 1985 who complained he had parties with boys. The complaint was given to a police officer working for the diocese as a private investigator. He confirmed the cleric had abused a teenage boy several years earlier, and the diocese sent the cleric to a treatment center. A year later, the cleric left the priesthood and died in 1994 at 59.
Alexander Pinter — Emigrating from Hungary to St. Stephen's parish in 1946, he became the head priest there nine years later. Parishioners, however, grew suspicious he was molesting children and complained to police officers and, later, police officials. Instead of being investigated, the priest was allowed to leave for Canada. He later returned to the United States, teaching at California seminaries and serving at parishes near New Orleans until his death in 1978 at 59.
Herbert Richey — Serving at parishes in Sandusky, Mansfield, and Vermilion, he was removed from ministry in 1992 and defrocked in 1997 after at least four boys in three parishes accused him of sexual abuse. The Erie County Sheriff's Office opened an investigation but did not charge him and, more than a decade later, refuses to release its records of the case. All Mr. Richey will say is that he was "fully cooperative."
Gerald Robinson — With the priest being an early suspect in the 1980 murder of a nun, a police official told the diocese of their suspicions and that Father Robinson had failed a polygraph test. A second test was performed, which was termed inconclusive, and the case languished. In June, 2003, a woman told the diocese Father Robinson was among many priests who raped her. She spoke to a prosecutor as well, but the prosecutor told The Blade that Mr. Robinson's name wasn't mentioned in that conversation. Seeing no action on her complaints, victims' advocates asked the attorney general's office in September, 2003, to investigate Father Robinson and others. The case was forwarded to prosecutors and Toledo police, who opened a probe in December, 2003. Detectives could not confirm the abuse allegations but reopened the murder case and charged Father Robinson last year. He pleaded not guilty. His trial is set for October.
Robert Thomas — Hours after saying Mass at Our Lady of Perpetual Help in South Toledo, he was arrested in a department store bathroom at Southwyck mall, accepting oral sex from a 16-year-old boy. The arrest was expunged, and the arresting officer said he was harassed by his peers for arresting a priest. The cleric was soon moved to a diocese in Tucson, Ariz., which said it didn't learn of the priest's 1984 arrest until a 2002 Blade article. Now 74, he was removed from ministry there.
Chet Warren — Accused of molesting at least eight girls in the 1960s and 1970s while at St. Pius X parish, the former Oblates of St. Francis priest was removed from the ministry in 1993. The priest's actions drew an unprecedented apology to victims in March from Bishop Leonard Blair, who called the priest's actions "grievously sinful and criminal" and lauded the courage of victims for "exposing an evil." Still, before the apology, child-welfare caseworkers delayed an investigation into whether the cleric has continued to have access to children.
Leo Welch — The former priest, 78, has admitted to molesting an unknown number of Bellevue altar boys he took to a cottage his family owned near Lake Erie. One family complained to the Bellevue prosecutor in 1961, but no investigation was done, and the diocese moved the priest to Toledo. He left the priesthood four years later, eventually working in Michigan as a licensed social worker, in group homes with mentally challenged youths before he lost his job after a 2002 Blade article.
Contact Joe Mahr at: jmahr@theblade.com or 419-724-6180.