Staying Healthy a Challenge for Aging Priest

By Martha Bellisle
Reno Gazette-Journal
October 9, 2005

http://news.rgj.com/apps/pbcs.dll/article?AID=/20051009/NEWS10/510090355

His heart's in Africa.
Father David Brusky, a priest in Reno in the 1970s, says he spent more time on that continent than any other place during his 79 years.
Fluent in Swahili, he said he loved the years he spent as a "bush padre" in Tanzania in East Africa, where he started new parishes, sometimes with grass roofs, helped villagers and conducted baptisms.
But staying healthy was a challenge, he said during a recent 90-minute interview at his home in a Milwaukee suburb. Once, he recalled, he was hearing confession on Christmas eve and suddenly passed out from jaundice and malaria.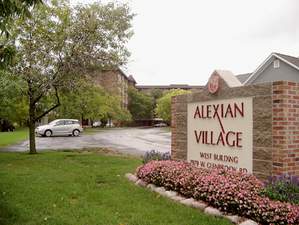 Father David Brusky, who spent much of his adult life in Africa, now lives in an assisted-living facility in a Milwaukee suburb. Photo by Martha Bellisle / Reno Gazette-Journal
He never learned what happened to the parishioner who was sharing secrets, he said with a smile.
Sharp, articulate and charming, Brusky says he's more forgetful since his stroke in 1997 and has trouble hearing in his left ear, but is generally doing fine.
That news ran counter to reports from Reno Bishop Phillip Straling and the lawyer for the diocese, Sharon Parker. During settlement negotiations last November with a woman who had claimed Brusky had molested and raped her, the bishop and Parker told her that Brusky was too ill to talk after his stroke, the woman said.
Parker said she did not have any firsthand knowledge about Brusky.
"What I learned about his condition when I was working on this case was what I was told by Brusky's religious superiors in Wisconsin -- namely that he had suffered a stroke, that he was physically and mentally fragile, and that he was prone to outbursts of anger," Parker said.
Brusky says he suffered the stroke eight years ago.
He now lives in an "assisted living" complex called the Alexian Village, and resides in a section that promotes "independent living." He's on the first floor with five other priests and brothers.
While each has his own apartment, they share a common living area with plush couches, a big-screen television and kitchen.
The rest of the Alexian Village offers housing for the elderly. It's several stories high, with a recreation center and a pool table. It also has several restaurants, a chapel, fitness room, gift shop and food store.
Access is easy. While the front swinging doors have no handles, a woman sits just inside the doors and presses a button to open them whenever anyone approaches.
No one asks questions and no security personnel were seen in the halls on a recent visit.
Mary Guenter of Milwaukee, whose aunt lives in the building, said families often visit the complex and grandchildren are seen in the hallways. The Northridge Mall and other shopping areas are down the street.
When told of the woman's allegations, Rev. Peter Schuessler, the head of the Society of the Divine Savior, or Salvatorians, told Brother Matthew Cunningham in a letter that Brusky does not have access to minors.
"Father David, now in his seventies, has not been in any active or public ministry for many years," Schuessler wrote. "He currently resides in a well-supervised assisted living facility that is owned and maintained by our community. Any ministry he has been given has been the kind we call 'internal ministry' which does not bring him into contact with the public and, in particular, with any minors."
However, a notice in the June 2002 newspaper for the Catholic Diocese of Green Bay, Wis., told of a celebration that Brusky would attend.
It said that on June 30, a priest would join three Salvatorian classmates, including Father David Brusky, "to celebrate their 50th anniversary of ordination at St. Ann's Salvatorian Campus in Milwaukee, with an 11:15 a.m. Mass followed by a social."
Although friendly and talkative during an interview at his home last week, Brusky became forgetful when asked about allegations that he had molested the woman when she was a girl in Reno.
She said he used to take her to the rectory and molest her, the priest was told.
"Oh really?" Bursky said. "I surely don't remember that."
And she said he used to French kiss girls on the playground at Our Lady of the Snows school.
"I don't remember any of this at all -- honestly I don't," he said.
And another girl said he molested her in an apple orchard, he was told.
"I don't remember that," he said. "I respected (her) very much and I can't see myself molesting her."