Camden Diocese Escapes Scrutiny
State and local prosecutors say they see no reason to open an inquiry into abuse by priests in N.J.

By Craig R. McCoy and Nancy Phillips
Philadelphia Inquirer
October 16, 2005

http://www.philly.com/mld/philly/news/12912008.htm
[See also Nancy Philips, Bishop: Sorry for 'Institutional Sin'; and Nancy Phillips and Craig R. McCoy, Profiles of 25 Priests Who Are Accused of Sexual Abuse]
One priest in the Camden Diocese was accused of molesting a 14-year-old boy - but was left in place. He abused more young boys.
Other priests passed teenage boys around in a "sex ring" that shuttled victims from South Jersey to Rhode Island.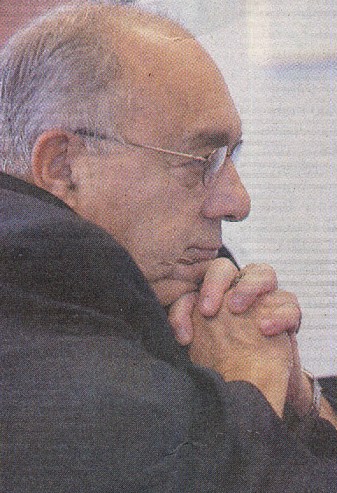 Camden Bishop Joseph Galante speaks of "the pain, the suffering" of those who were abused by priests: "In the name of the church, they deserve an apology." Michael Bryant / Inquirer Staff Photographer.
In another case, a priest was called in by his bishop and "did not deny" years of attacks on two brothers. In response, the bishop quietly transferred him to a new parish.
In all, The Inquirer has identified by name 25 priests in the six-county Camden Diocese who have been accused of sexually abusing children and teenagers during the last five decades, most during the tenure of Bishop George H. Guilfoyle in 1970s and 1980s.
Some were defrocked and sent to jail. Others escaped punishment because superiors kept the crimes quiet.
"All of us have to own up to the sins - institutional sins," said Bishop Joseph A. Galante, who took over the Camden Diocese last year.
"You can't defend the indefensible," he said.
But unlike the situation in Philadelphia, where a recent grand-jury investigation revealed a long history of sex crimes and concealment, there will be no independent investigation in South Jersey of the full scope of clergy sexual abuse - or how bishops handled it.
Prosecutors say any crimes committed in New Jersey's five dioceses would be too stale to prosecute. They see little value in digging into the church's archives to produce a report but no arrests.
"I don't think it's any secret there were efforts to conceal these things," said Camden County Prosecutor Vincent P. Sarubbi.
"I don't know what purpose a grand jury would serve, except to further expose things we already know."
Even if New Jersey prosecutors wanted to investigate the church, they made a deal with the church three years ago that would make it more difficult for them to take a tough stance now.
"I don't think it's any secret there were efforts to conceal these things. I don't know what purpose a grand jury would serve, except to further expose things we already know."
Vincent P. Sarubbi
Camden County Prosecutor
"They never, ever were required to show the public and the people in the pews what they knew and when they knew it. It's a moral issue, it's a legal issue, and it's a social issue."
Stephen C. Rubino
a lawyer who has filed suits against the diocese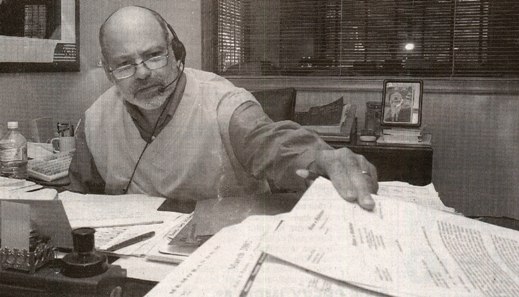 One who has pressed the church to make public its secrets is New Jersey attorney Stephen C. Rubino, here in his Margate office. He is leading efforts to extend the statute of limitations, and to limit "charitable immunity" for nonprofits. Brian Branch-Price / Associated Press
The Camden Diocese, like others in New Jersey and across the country, has reformed itself since the abuse scandal broke nationwide in 2002.
It now checks the background on all priests and others in contact with children, has hired a victim-abuse coordinator, and created a special panel to weigh complaints.
But the church hierarchy in New Jersey is still fighting any broad change in state law that could make it easier for victims to sue the church.
The lack of official appetite to pursue the church's treatment of sexual abuse infuriates critics.
They say a relentless official excavation in New Jersey would reveal the scope of the scandal, unearth fresh perpetrators, comfort victims and pull a church cover-up into the light.
Besides Philadelphia's, there have been tough reports and startling disclosures of internal church documents in Long Island, Boston and, in the last week, Los Angeles.
"They need to do this in Camden. We need to get the word out and the truth out," said former Camden County altar boy Gary Mulford, who says he will never shed the damage from childhood abuse by three diocesan priests.
A wave of new victims surfaced after the report's release in Philadelphia. Mulford said that could happen in New Jersey, too.
"The more it's kept quiet, the less people come forward and do what they have to do."
33 priests accused
In a mandatory survey imposed by the Catholic Church, the Camden Diocese reported last year that it had received "substantiated allegations" against 33 priests in the last half-century. Ten are dead, three defrocked, and the rest permanently removed from ministry, the church says.
Not all have been identified. A church spokesman, Andrew Walton, said Galante wants to make sure that the priests have had a chance to defend themselves before civil and religious courts.
Camden church officials have proved more willing to settle victims' lawsuits than their counterparts in Philadelphia. In Camden, total payouts to victims are more than $6 million. In Philadelphia, where a grand jury identified 63 abusive priests, victims have received a total of just $200,000.
The Camden Diocese covers six counties: Camden, Gloucester, Cumberland, Salem, Atlantic and Cape May.
The Trenton Diocese, which includes Burlington County, said it knew of 25 abusers.
In victims' testimony and a handful of damaging documents, a sickeningly familiar pattern of clerical abuse in South Jersey has emerged: the mistreatment of victims, the attacks on whistleblowers, the unfeeling response of church leaders.
In one case, a Catholic priest sued the Camden Diocese in 1993, saying that he and two friends were abused by a series of priests as teenagers.
When the Rev. Gary Hayes complained to the church, an official took down his complaint in a memo. But that priest said he never told his superiors.
"I basically did not believe this man's accusations," the Rev. Joseph Perreault, then director of the diocese's vocations office, said in a 1993 interview.
Five months after that interview, the church paid the three victims $384,000 in a settlement.
At one point, one priest in that "sex ring" wrote to another, warning him half-jokingly to keep away from a boy that he was abusing.
"Don't ever try to win his affection away from me or I'll stab you to death (vicious triangle stuff) because I get real jealous as you know," the priest wrote, according to another lawsuit.
Hayes, who has been an outspoken advocate for victims' rights, joined the church in Kentucky after the Camden Diocese refused to ordain him. He was the first and perhaps only Catholic priest to sue the church over sexual abuse.
A broad investigation, Hayes said Friday, would allow "people in the pews absolutely to see that their leadership has been lying to them for years and years. I know that's been the case for years in Camden."
Although the role played by Camden's former bishops remains murky, some information about their response to abuse charges has emerged:
Using internal church memos, the Philadelphia report showed that Guilfoyle arranged in 1985 for an arrested child molester from the Camden Diocese, the Rev. John P. Connor, to be hidden in the Pittsburgh Diocese.
Guilfoyle wrote in a 1984 memo that a top Camden church official, Msgr. Philip T. Rigney, didn't deny abusing two brothers. Guilfoyle then transferred Rigney to a new parish. His successor, Bishop James T. McHugh, later recommended Rigney to a new diocese in South Florida.
McHugh, who has since died, called the head of the Dominican order in an unsuccessful effort to block an expert in sexual abuse, the Rev. Thomas Doyle, from testifying about abuse in a lawsuit, according to Stephen C. Rubino, a lawyer who has filed a number of lawsuits against the diocese.
A defining characteristic of the church scandal nationwide has been how the hierarchy transferred abusive priests after learning of attacks, setting the stage for new crimes.
This happened in the Camden Diocese, one lawsuit said.
In 1966, the mother of a 14-year-old boy at St. John's parish in Collingswood went to church leaders to report that the Rev. Patrick Weaver had molested her son.
Two diocesan officials told the mother that the church would handle the matter internally - and threatened her with excommunication if she talked about it publicly.
Andrew Walton, spokesman for the diocese, said that one of those two officials is dead and that the other "does not recall any such meeting."
Weaver was moved to a new parish and struck again, according to a suit filed in 1994 against the diocese.
It says that in 1985 Weaver repeatedly molested a teenager at St. Joan of Arc rectory in Camden, once forcing him to urinate as the priest held the boy's penis.
Weaver was never charged with that assault. Despite a state law requiring notification of police, law enforcement was never alerted.
Eventually, he was convicted of sex offenses involving two other boys in the 1980s, one of them another parishioner at St. Joan of Arc.
Rubino said complaints about Weaver were brought directly to Guilfoyle's assistant, Auxiliary Bishop James L. Schad. Guilfoyle and Schad are dead.
After his first arrest, Weaver stopped serving as a priest. Now 70, he did not respond to a request for comment.
Despite these allegations, Sarubbi, the Camden County prosecutor, said he saw no general policy of a cover-up by leaders of the Camden Diocese.
"I still don't believe these one or two cases indicate a habit, a pattern or a course of conduct," he said.
New Jersey Attorney General Peter C. Harvey also sees no need for an investigation of how the church handled sex abuse. There's little chance of new charges, he agreed.
"A three-year investigation," Harvey said of the Philadelphia grand jury. "Was anybody prosecuted?
"We'd rather focus our attention on trying to make cases."
The possibility of aggressive grand-jury investigations in New Jersey dimmed three years ago as a result of an agreement reached among the Attorney General's Office, county prosecutors and the church.
Under that deal, the church agreed to alert police to all abuse allegations, even those involving old cases and adult victims, a step beyond state law.
But a little-noticed provision also required that all county prosecutors confer with the attorney general before subpoenaing any diocese - a requirement that some took as a brake on any investigations.
"This arrangement clearly reflects the state's desire to work cooperatively with diocesan officials," Sarubbi said.
One lawyer's efforts
Through his work with victims and hunt for documents, attorney Rubino has dug up a good deal of what has become public in South Jersey.
He said he was frustrated that no prosecutor in the state has broken into diocesan secret archives - the source of damning documents pivotal to the Philadelphia grand jury report.
"They never, ever were required to show the public and the people in the pews what they knew and when they knew it," Rubino said. "It's a moral issue, it's a legal issue, and it's a social issue."
When the church scandal erupted nationwide in 2002, Rubino asked prosecutors to help change the law. He wanted to abolish the state's two-year statute of limitations on lawsuits.
In addition, he and other activists want to repeal the state law granting nonprofits like the church "charitable immunity," blanket protection from civil suits.
Harvey and Sarubbi took no official position.
But the church's political arm, the New Jersey Catholic Conference, has fought any changes in the statute of limitations.
Such limits, said William F. Bolan Jr., the conference's executive director, "exist because in the passage of time, witnesses die, memories fade and documents may be lost."
A lawyer for the Paterson Diocese was more blunt.
"The victims are angry people trying to get revenge no matter how they can get it," Kenneth Mullaney told a newspaper. "They equate revenge with money."
The church now accepts ending so-called charitable immunity, but only for abuses from 1992 forward. Most abuse took place before that.
Such a repeal has passed the state Senate and awaits a vote in the state Assembly. A big fight is expected this winter.
Mulford, who said he was abused for years by priests in the Camden Diocese, said the church's political stance was at odds with its new message of caring.
"That's why I see some of what's going on as just damage control," Mulford said. "They're just trying to protect their backs."
Contact staff writer Craig R. McCoy at 215-854-4821 or at cmccoy@phillynews.com.