The Hidden Abuse
Secret list was compiled, then later destroyed

By Steven Church
The [Wilmington DE] News Journal
11/20/2005

http://www.delawareonline.com/apps/pbcs.dll/article?AID=
/20051120/NEWS/511200334/0/NEWS01&theme=PRIESTABUSE

[See links to other articles, documents, and transcripts of interviews in this series.]

When the U.S. Conference of Catholic Bishops commissioned a study of priest abuse in 2002, America's bishops began searching through the "secret archives" they are required to keep on every Roman Catholic priest under their authority.

The goal was to count the number of priests who had "credible allegations" of abuse made against them from 1950 through 2003.

One of the largest religious orders in Delaware, the Oblates of St. Francis de Sales, searched their confidential files to put together a list of names. The head of the order, the Rev. Joseph G. Morrissey, then sent the initials of one or more priests, along with their dates of birth, to researchers at the John Jay College of Criminal Justice in New York.

Afterward, Morrissey destroyed the original list.

"It is all supposed to be very privileged information," Oblates spokeswoman Beth Trapani said. "The Oblates were ordered to simply provide numbers, not names."

Victim advocates accuse Catholic officials of doing everything possible to prevent the names of molester priests from being made public.

To which legal experts reply: That's exactly the strategy any good defense lawyer would insist upon. The church is doing what any large institution would do in order to protect itself from court damages, said Thomas J. Reed, a law professor at Widener University School of Law.

"If you release information of this type in public you are inviting suit and these suits are very expensive," Reed said. "You wouldn't expect the DuPont Company to do that."

Since 1950, the Catholic Church has spent $1.06 billion on settlements with sexual abuse victims, verdicts, legal fees, counseling and other expenses, according to a study by the Associated Press released this summer. The Diocese of Wilmington has spent $2.3 million for legal settlements, victim assistance, treatment for accused priests and legal fees since the 1950s, said diocese spokesman Robert G. Krebs. About $950,000 of that came from diocese insurance companies.

Delaware's short statute of limitations has made it impossible for many victims to successfully sue for damages in the state.

When Lt. Cmdr. Kenneth J. Whitwell filed a lawsuit against the church in Delaware on Thursday, he also met with a state lawmaker to urge changes to court rules that only give molestation victims two years from the time they are abused to file legal claims. Whitwell claimed in his suit that a priest from Archmere Academy in Claymont molested him in 1984 and 1985 while they were on ski trips in Vermont. Because the abuse allegedly occurred in Vermont, that state's laws apply, giving Whitwell enough time to have his case heard in court.

"In a weird way, I was lucky to have been molested in Vermont," Whitwell said.

Church officials, including diocese lawyer Anthony Flynn, said they do not decide what kind of information to make public because of the possibility of legal action. But in Delaware and across the country, Catholic officials have fought to keep the information in their "secret archives" secret.

Philadelphia District Attorney Lynne Abraham
When Philadelphia District Attorney Lynne Abraham launched a grand jury probe of the Archdiocese of Philadelphia, prosecutors had to go before a judge to force church officials to turn over many records, according to a written response that Abraham posted on her Web site in reaction to criticism from archdiocese officials. One high-ranking church official invoked his Fifth Amendment right not to incriminate himself when he appeared before the grand jury to give testimony.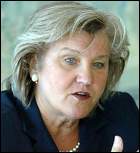 Delaware Attorney General M. Jane Brady
Delaware prosecutors launched a much more limited review of priest abuse in 2002 that did not include the use of a grand jury or any subpoenas. Attorney General M. Jane Brady said those tools were not necessary. Brady said that the diocese fully cooperated with her investigation.
"I'm satisfied that we had all the information that the diocese had," Brady said.
But Brady made no effort to determine whether church officials might have broken any laws, when, for example, they did not report molestation claims to the police. And Brady declined to release any details from the inquiry her office conducted in 2002 and 2003. Abraham, on the other hand, put together a detailed, 420-page report on clerical sexual abuse in the Archdiocese of Philadelphia.
Brady said her review found that no priests were in a position in Delaware to harm children, and no priest in Delaware could be prosecuted for past sexual abuse because too much time had passed. She declined to discuss what the review revealed about how Wilmington Diocese officials handled priests who sexually abused children.
Only 13 of 195 Catholic dioceses and archdioceses in the United States have faced a formal investigation by prosecutors looking into the scandal. The results of five of those investigations have been made public and none has led to criminal charges.
Under church rules, known as canon law, every bishop is required to maintain a secret archive, said Thomas Doyle, a priest and lawyer who was the canon lawyer for the Vatican's embassy in Washington during the 1980s. Similar files are kept by independent religious orders such as the Oblates, Doyle said.
Trapani, the spokeswoman for the Oblates, said the order does not hide information in any secret archives, but does have confidential files on priests that are not made public. Those files are no different from the kinds of records kept by private businesses on their employees, Trapani said, and were turned over to the grand jury in Philadelphia after they were subpoenaed.
Flynn said the diocese will always share information from confidential personnel files with any legal authority that requests access, but the diocese would not release such records to the general public.
Krebs said church officials have given information to some victims who have asked if their abuser was on the list of priests who had credible allegations made against them.
Bishop Michael A. Saltarelli has only released the names of three priests who had not already been publicly accused of molesting children. The name of one priest, Father William E. Irwin, was released only because the diocese mistakenly thought a potential police investigation would be discovered by The News Journal.
The other two priests, Charles W. Wiggins and Francis J. Rogers, had their names released under a 2002 policy that called for parishioners to be informed whenever a priest is removed from active ministry because of a "credible allegation" of molestation. But Saltarelli withheld further explanation.
The Oblates and another religious order, the Norbertine Fathers, who operate Archmere Academy, released the name of one priest each at the same time that the priests were removed from active ministry. Father James W. O'Neill was a former principal at Salesianum School, which is run by the Oblates, and Father Edward Smith was a former teacher at Archmere and administrator for the Norbertine Brothers. [See removal announcements from the diocese and the order regarding Revs. Wiggins, Rogers, Smith, Irwin, and O'Neill.]

STATUTE OF LIMITATIONS
Delaware's statutes of limitations not only have prevented prosecutors from putting priests on trial for molestation, but also made it nearly impossible for victims of abuse to sue in civil court. Only a handful of molestation-related lawsuits have been filed against the Catholic Diocese of Wilmington or a priest in Delaware.
Under state law, victims have only two years from the time they are molested to file a lawsuit.
The criminal statute of limitations in Delaware is longer. Prosecutors have two years to file charges after a victim comes forward, if the abuse occurred after July 1987. That means a victim can wait many years, which experts say is common, before finally reporting the abuse.

Contact Steven Church at 324-2786 or schurch@delawareonline.com.