The Hidden Abuse
Tormented by broken trust
In Philadelphia, a 3-year probe of church. In Delaware, limited investigation.

By David F. Ledford
The [Wilmington DE] News Journal
November 20, 2005

http://www.delawareonline.com/apps/pbcs.dll/article?AID=
/20051120/NEWS/511200338/0/NEWS01

[See links to other articles, documents, and transcripts of interviews in this series.]
The case of Barry Lamb illustrates how the Catholic Church's Wilmington Diocese has handled allegations of sexual abuse since the 1950s. Lamb was 15 in 1985 when he told church officials that the Rev. Edward Dudzinski had sexually abused him while on a trip to Virginia. Dudzinski was removed as an associate pastor at St. Mary Magdalen parish in Fairfax.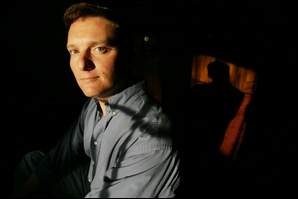 Barry Lamb, now 36, contends the church cared more about preventing a scandal than with helping him recover from the abuse he allegedly suffered at the hands of a priest. The News Journal / Ron Soliman.
The church helped Lamb get counseling. It did not report Dudzinski to police, nor did it help arrange for Lamb and his parents to speak with authorities.
"They said, 'You are not planning on having him arrested, are you, and causing any legal problems for us?' " Lamb recalled.

Few stories of hidden abuse here have been told. While the priest abuse scandal has touched Catholics nationwide, little information has been reported about the Diocese of Wilmington, which includes all of Delaware and the Eastern Shore of Maryland.
Diocesan bishops and leaders of the faith's religious orders have never given a full accounting of the 30 priests whose allegations against them were deemed "credible" by church investigators. Because the allegations were secret for so long, the statute of limitations had run out when prosecutors for the Delaware Attorney General's Office began its inquiry three years ago. Since no priest could be indicted, and none was in a position to harm children, Attorney General M. Jane Brady said she ended her inquiry.
Brady's actions stand in contrast to the investigation conducted by District Attorney Lynne Abraham in Philadelphia. After a three-year probe, Abraham recently issued a 420-page report that chronicles the actions of 63 priests accused of sexual abuse -- and the cover-up of the abuse by superiors in the Archdiocese of Philadelphia.
Delaware victims and their families say the healing won't begin until their story is told. But church officials refused to address specific allegations of abuse leveled against priests, and they declined to respond to many of the questions The News Journal submitted in writing.
Reporters Steven Church, Beth Miller and Gary Soulsman have for the past three years slowly gathered church and court documents, and traveled as far as Las Vegas to interview victims abused in Delaware. Yet the reporters also tell stories about changes the church is making to eliminate abuse -- and to win anew the trust of parishioners shaken by the sex abuse scandal.
Today, Lamb is 36 and lives in Wilmington, where he runs a small food-distribution company. His case was settled confidentially, providing him with an undisclosed cash payment. Lamb said he has struggled for years with the anger stemming from the broken trust, and that anger spilled into alcohol abuse. He stopped drinking three years ago and now occasionally attends church with his family.
It is a struggle, however, to regain the faith he felt so strongly as a boy.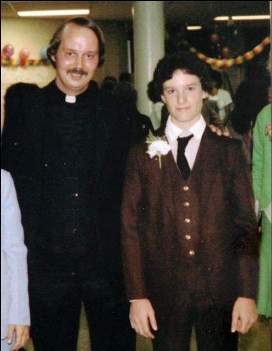 Barry Lamb, then 13, poses with the Rev. Edward Dudzinski in 1983 during the time Dudzinski was allegedly molesting him. When he was 15, Lamb told officials in the Wilmington Diocese about the sexual abuse.
Lamb's father, Nelson, said the diocesan investigation changed the way he viewed the church. Nelson Lamb is disappointed that the Vatican never defrocked Dudzinski, who remains a priest -- although he no longer is allowed to minister to the public.
Despite the heartbreak, Nelson Lamb holds firm to his faith, explaining that the church is bigger than rogue priests and those who provided cover for their betrayal.
"You've got to look beyond the priest at the altar," Nelson Lamb said. "You've got to look toward your faith in Christ and what your faith means to you."