Impact Extends beyond Sex Abuse Victims
'It was killing me and the kids'

By Beth Miller
The News Journal
November 21, 2005

http://www.delawareonline.com/apps/pbcs.dll/article?AID=
/20051121/NEWS/511210354/0/NEWS01&theme=PRIESTABUSE

[See links to other articles, documents, and transcripts of interviews in this series.]

When priests sexually abused kids like John Dougherty, Doug McClure and Tom English, the damage they did extended far beyond those boys.

They damaged the boys' futures, too -- their marriages, their friendships, their families, their faith in God, their trust in people. The effects can extend for generations.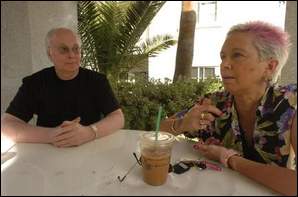 Jean Dougherty has stuck by her husband, John, despite his episodes of binge drinking and infidelity. John Dougherty was abused for more than 10 years by Father Edward B. Carley. The News Journal/Ginger Wall
"Abuse destroys relationships," said psychologist Diane Langberg in her book "On the Threshold of Hope," written for survivors of sexual abuse and their loved ones. "Instead of being known, we are hidden. Instead of being loved, we are used. Instead of having a voice, we are silenced. ... Relationships become painful, frightening, chaotic places."
Some have worked hard to recover the ravaged areas of their lives. But the wounds are profound -- and the damage extends far beyond the abuse victims.
"He has forgiven and accepted and moved on," said Janice English of Newark, whose husband was molested and raped orally by a priest when he was an altar boy in the early 1960s.
She hasn't. She lost the man she married, she said. The big, burly hardworking carpenter slowly deteriorated into a withdrawn, isolated shell of himself, engulfed in depression and thoughts of suicide. He struggled to work at all.
Janice English fought depression, too, finding the weight of the family's burden almost unbearable. It affected her work at an area bank, and she was put on probation.
"I swallow it for a while, then I don't think about it," she said. "If only they had addressed these children back then -- come to the parishioners and said, 'We're sorry this has happened. If your children have been touched, let's get them help.' "
After four decades of therapy, her husband is doing better. She is, too.
"We've grown together," she said. "And I'm not going anywhere."
Diocesan officials say they paid $68,000 to compensate English for the counseling and medication necessary because of the acts of Father Alfred John Lind at St. Catherine of Siena Church near Prices Corner.
But his wife remains bitter about his treatment by the church, about the long legal tug of war they went through and about the history of covering up such crimes, she said.
"He doesn't go to church because of me," she said. "I have a difficult time watching priests go down the aisles and seeing the altar boys. I just hope that boy or that girl is safe. God, I hope no one is taking advantage of them."
Involved in wedding
Father Edward B. Carley, who abused Dougherty for more than a decade, remained entangled in Dougherty's affairs even when he was planning his wedding. Carley wanted to officiate at the 1967 ceremony, but couldn't because Dougherty's wife-to-be, Jean, was Lutheran. Their wedding was planned in her church. Instead, the couple eloped and the priest arranged a small service at the Cathedral of St. Peter in Wilmington. Neither family attended.
The priest also paid for their honeymoon at Rehoboth Beach.
Dougherty, a jazz guitarist, soon slipped into a life of drinking binges and infidelity. He quit drinking after a 1974 heart attack. But he couldn't shake the depression, the violent headaches, the suicidal thoughts, the profound sense of hopelessness.
And he couldn't shake Jean. She stuck by him through it all, drawing on her own faith in God, the resilience passed on by her parents, the help of faithful friends.
"It hasn't been a normal married life, whatever a normal married life would be like with someone who never experienced this," she said. "Just living with the depression the abuse caused -- it's been very difficult. ... The person suffering dominates the whole atmosphere of the family. And just like if you had a chronically sick child, you expend most of your energy on that person. The other people get left.
"It was killing me and the kids," she said. "I always loved John -- and still do. If I didn't, once the kids were older I might have left."
Her husband's tenacity, a move to the sunshine of Las Vegas and a financial acknowledgement from the diocese all have helped restore health to the family, Jean Dougherty said.
"He's making a living again, playing music, teaching music," she said. "He doesn't have the episodes. He's well enough that he can realize if something is going to sidetrack him. ... He has faced all the demons."
Decades of silence
McClure's breakthrough was far more recent. He went decades without telling anyone -- including family members -- what he had gone through.
After he graduated from Wilmington High School in 1964, he drove a truck for a while, then joined the Marine Corps. He wound up in Vietnam, where a whole new kind of trauma was waiting.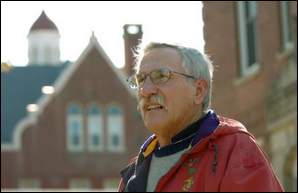 Doug McClure went decades without telling anyone in his family what he'd been through. Then, last winter, he saw a newspaper article naming his abuser. The News Journal/Carla Varisco
When he returned from Vietnam, a huge welcome-home party was held at the Logan House, where he was a regular. He stuffed the trauma of Vietnam into the same crowded place he had stuffed the trauma of child sexual abuse.
After a few years working in aviation, he went back to driving a truck -- a tractor-trailer, a liquor truck. He was drinking what seemed like truckloads, too.
"I disregarded everything in regard to mental health and physical health. I didn't care," he said. "If there were consequences, I'd deal with them when I needed to deal with them."
He married in 1973 and quit drinking that year, too.
One slip, though, lasted 13 years, he said. He had a couple of drunken driving charges. He attempted suicide, was hospitalized and sent to rehab. He got involved with Alcoholics Anonymous in 1987 and never drank again.
His family has gone through all of that with him, unsure what it was that tormented him.
McClure sought help in counseling and put his mind to helping anybody who wanted help getting free of drink or drugs. For years, he has led a support group for veterans with post-traumatic stress disorder.
But he never told anyone about the abuse by Carley until a newspaper article last winter named his abuser.
"Every time they tried to find out what was wrong, I'm giving answers for something else except what was wrong," McClure said.
When the article appeared, though, he told his wife for the first time. He called The News Journal to offer further verification. He told his stress disorder group. He told a few friends. He told the diocese.
"His name wasn't there before," he said of Carley. "Who would believe me? If you say something now, they just think you're trying to get a couple million from the church."
Paying to help son
James and Myrtle Curry, both of whom are in their 70s and disabled by emphysema, are nearly broke financially from trying to help their son through his traumatic childhood. Their son was abused by Carley for a decade and has been in and out of detention centers and substance abuse treatment centers ever since. He needs continuing treatment and mental health care, his father said.
"Before we go, we'd just like to see the books cleared on [our son]," he said. "We'd like to see him back in society."
Social events remain a problem for Tom English and his family. Earlier in their marriage, they traveled often, Janice English said. They enjoyed dinners out, going to hear a friend's band, visiting family in other states. But things went downhill, and it was all English could do to attend his stepdaughter's wedding in 2003.
"I'm still not making sense out of it yet," he said. "I'm still homebound. My good times are paying bills. We don't socialize at all."
"He has no problem going back to church," Janice English said, "just the problem of going out the door."
McClure, too, still struggles with depression.
"There's a toll for everybody," he said. "There are no free rides."
Telling trusted people about the abuse he suffered has helped.
"It's one less thing," he said. "While you're laying there at night, it's one thing that won't come through anymore.
"But this is not over. It's not over for the rest of the people who are still living with this."
Contact Beth Miller at 324-2784 or bmiller@delawareonline.com.