Voice of the Faithful calls for transparency
Despite official opposition, lay activists say more can be done


By Gary Soulsman
The [Wilmington DE] News Journal
November 22, 2005

http://www.delawareonline.com/apps/pbcs.dll/article?AID=
/20051122/NEWS/511220347/0/NEWS01&theme=PRIESTABUSE

[See links to other articles, documents, and transcripts of interviews in this series.]

The scathing report on sexual abuse in the Archdiocese of Philadelphia shocked the Rev. Richard Reissmann, and the first Sunday in October he gave a homily that called the Catholic hierarchy to task for a cover-up that deceived the faithful.

He urged parishioners at Holy Angels parish to read the grand jury report, warning the Newark congregation they would be appalled at the harm done to hundreds of families.

The report was especially important, he said, because it mentioned the Rev. Joseph A. McGovern, who was involved in sexual misconduct with minors while in the Diocese of Wilmington. McGovern was assigned to Holy Angels in the mid-1980s.

Reissmann said he was concerned that those harmed by McGovern might not have yet found help, and he asked that people talk with him if they had been abused. He also asked people to come to him if they were troubled by the report.

At the end of his impassioned homily, he received a standing ovation. And he urged people to attend the monthly meetings of the northern Delaware chapter of Voice of the Faithful.

"These are good people who love the church and are outraged by what has occurred with the cover-up of priest sexual abuse," Reissmann explained later. "They want to make sure it never happens again."

And like Voice of the Faithful, he's called for the public naming of all priests credibly accused, saying that a full healing can never occur until all information is released by the Diocese of Wilmington.

Reissmann's views on Voice of the Faithful differ from those of Bishop Michael A. Saltarelli of the Diocese of Wilmington. The bishop has described members of Voice of the Faithful as self-appointed church critics not accountable to anyone. Saltarelli also has forbidden their meeting on parish properties or having the meetings announced in parish bulletins.

The treatment has puzzled members of an organization hoping to revitalize the church.

"We're not a bunch of loony schismatics," said Bill Pare of Colora, Md., a retired research psychologist and vice president of the northern Delaware chapter.

"We're deacons, ushers, Eucharistic ministers, cantors and leaders of religious education. And we're not going away. We're committed to making the church work."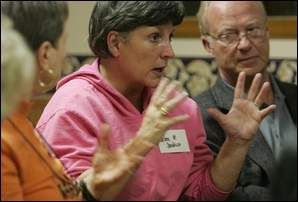 Shaken by what has happened in the Catholic Church, Carlene M. Sandella, a former nun and the director of worship at St. John/Holy Angels parish in Newark, has been attending monthly meetings of Voice of the Faithful, a group that wants to work for structural change in the church. Next to her is the Rev. Richard Reissmann, pastor of the parish. The News Journal / Ron Soliman.
They are people such as Carlene M. Sandella, a former nun with the Sisters of Mercy in Philadelphia for 25 years.
"I was in the Archdiocese of Philadelphia and up to 2002, I had no idea there was abuse in the church," Sandella said.
The abuse problem is real to Sandella, director of worship at Holy Angels. In 1999, she was working late one night at Holy Angels when a visiting candidate for the priesthood exposed himself.
Within weeks, he was removed from the parish, but Sandella has no idea what happened to the man. For all she knows, he is still in ministry.
Given her questions, Sandella is angry when she hears Catholics saying the ongoing press coverage of the crisis is hype.
"The truth for many of us is that it's hard to have faith in an institution that does not tell you what is going on," she said.
The Philadelphia grand jury report makes clear that more than 63 priests were involved in what Sandella calls the soul-murder of minors. The report also shows, she said, that bishops and cardinals have "succeeded in one of the best criminal cover-ups of all time with only the punishment of publicity -- nothing else."
Sandella wonders if ordinary Catholics can trust the hierarchy to prevent such abuse from happening again. But in her view, you are "labeled a malcontent, a troublemaker, one who has a problem with authority, a dissenter or perhaps even a 'vindictive witch,' " if you speak out.
Born of anger
People meeting in the suburban community of Wellesley, Mass., were stirred by reports that predatory priests in Boston had been allowed to abuse scores of minors and that this abuse had been covered up, with offending priests passed on to other parishes.
At a meeting of more than 700 angry Catholics, Voice of the Faithful was born. "This marked the end of 'pay, pray and obey'," said Peggy Thorp, a founding member.
Today there are 31,000 members, with chapters in every state, as Catholics throughout the United States have complained that bishops and cardinals have quietly allowed children to be sexually harmed.
There is a two-year-old chapter in coastal Sussex of as many as 100. In northern Delaware, a chapter formed this winter and more than 40 have attended meetings.
The interest locally represents less than 1 percent of the 220,000 members of the Diocese of Wilmington, but they are a vocal minority who vow to remain active in calling for greater openness and involvement.
"We're putting out a plea for all Catholics to take a stance," Sandella said.
Seeking change
At a recent meeting of the northern Delaware chapter, members said they were exploring:
• Asking the Delaware attorney general's office for a grand jury investigation of crimes against minors in the Diocese of Wilmington.
• Continuing to ask the bishop for the disclosure of all names of priests who have been accused of abusing minors.
• Exploring how to change Delaware law so that there is no statute of limitations for crimes of sexual abuse against children.
• Holding a mass of healing at Holy Angels during the Advent season for abuse victims and people who support them.
Since the meeting, members have sent letters of appreciation to priests of integrity.
Members also say they are interested in representation on parish councils, bodies of laity that address all sorts of issues within a church. Where the councils don't exist, Voice of the Faithful wants to start them.
"We're determined to change the church from the ground up," Pare said.
No special status
Bishop Saltarelli said he supports activism on parish councils and larger representative bodies. But he said he has no plan to give Voice of the Faithful a consulting status to his office.
Nevertheless, Pare said, church teachings call on ordinary members to offer their views to pastors "on matters which concern the good of the church."
"We need a voice in decisions," Pare said. "Do you think, if parents had this voice in the past, that abusive priests would have been allowed to go on harming children?"
Voice of the Faithful and the bishop have much in common, in that both want to protect children, Pare said. "I hate to cast it this way, but leaving everything to the bishops is a little like asking Enron to prosecute their own malfeasance," he added.
Saltarelli disagreed, saying that he's done everything that's appropriate. "We have released the names of those publicly accused, judged and found guilty," he said.
In some cases, people making accusations have requested that a priest's name not be released, Saltarelli said. In other cases, names have been withheld out of concern for a priest's family, given that charges have not been proven.
"We know people who've been falsely accused and their lives have been ruined," he said.
In addition, the diocese has said that 10 of the accused are dead. Lay Catholics have also been assured that none are in ministry.
Setting goals
To support those who have been abused, to support priests of integrity and to work for structural change within the church.
Members say the vast majority of priests have been faithful and to thank them, the coastal chapter sent cards of thanks at Easter, when priests traditionally celebrate their ordination. Many wrote back in appreciation of the group and its work, said John Sullivan, chairman of the coastal Delmarva chapter of Voice of the Faithful in Bethany Beach.
In Saltarelli's view, it's fine to support priests and laity who are hurting. But the goal of working for change is vague.
"What does that mean?" Saltarelli asked. "They don't know. I don't know."
It's not possible to call for change on issues such as married clergy or women priests, he said.
But, Sullivan said, he's met with the bishop to assure him these issues are not topics that Voice of Faithful wants to address.
"What we're saying is that anytime there is a sense of secrecy, there is something wrong," Sullivan said. "We're interested in transparency and accountability. We're interested in where priests are relocated -- and why. This whole crisis is far from over. There is a lot more to be talked about and fixed."
Voice of the Faithful is calling for one or more healing Masses for victims of sexual abuse and for all those who have suffered during these difficult years.
Saltarelli said he appreciates such opportunities for healing.
"Over and over, I've acknowledged this horrible pain and I will continue to do so," he said. "It's important to speak about the wrong that occurred."
TO LEARN MORE
Call (410) 658-4378 in northern Delaware or (302) 541-0254 in southern Delaware
Contact Gary Soulsman at 324-2893 or gsoulsman@delawareonline.com.