Anti-Gay Edict Stirs Priest to Step Aside
By Michael Clancy
The Arizona Republic
November 29, 2005

http://www.azcentral.com/community/mesa/articles/1129priestquit29.html

A Catholic priest in Mesa has resigned as a pastor because of "aggressive anti-gay positions" coming from the pope in Rome and bishop in Phoenix.
The Rev. Leonard Walker, 58, who as pastor was chief executive of Queen of Peace church, is the first priest in the Phoenix Diocese to resign over church treatment of gay men, specifically a new Vatican document aimed at keeping gay men out of the priesthood.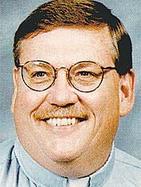 The Rev. Leonard Walker is the first priest in the Phoenix Diocese to resign over church treatment of gay men.
Walker declined to disclose his sexual orientation, but he said he was no longer comfortable "wearing the uniform" of the priesthood. advertisement

"It's like a Jew wearing a Nazi uniform," Walker said. "I could no longer stay in that institution with any amount of integrity."
His decision comes on the eve of the release of an instruction from the Vatican that limits entrance into seminaries primarily to heterosexual men.
Many Catholics believe the document addresses concerns that the clergy abuse scandal was caused by gay priests because so many of the victims were young men. They also believe it will lead to a much-needed reform of seminaries, where a gay subculture has thrived, according to some reports.
The Vatican document, leaked to the Italian media last week, says candidates for the priesthood who are "actively homosexual, have deep-seated homosexual tendencies, or support the so-called gay culture" cannot be ordained. It added that their sexual orientation "seriously obstructs them from properly relating to men and women."
The Rev. Chris Carpenter, pastor of Christ the King Catholic church in Mesa, said although the document speaks only about seminarians, "clearly it is sending a message that gay priests are unacceptable, not for what they are doing but for who they are."
The Rev. Fred Adamson, vicar general of the diocese and Bishop Thomas J. Olmsted's second in command, said no decision has been made about how they will implement the Vatican document. The diocese does not ask directly about candidates' sexuality.
Olmsted was not available for comment.
The new Vatican document reinforces long-standing policy for a church that teaches that homosexuality is immoral.
Walker said Monday that he had planned to resign quietly, telling his parishioners only that his decision was unrelated to any "accusation, suspicion or request by church authorities." But, he said, he changed his mind after what he called "mistreatment" by Adamson, who told him that he could not celebrate Mass for the final time at Queen of Peace and that his health insurance would be cut off immediately.
Adamson declined to disclose details of the discussion.
"I can tell you we were not aware of the reason for his resignation," he said.
Walker, a member of the Salvatorian religious order, said he also took a leave of absence from the order.
In the Catholic Church, a priest is ordained for life unless he resigns or is defrocked, a lengthy legal process. Priests serve in a variety of roles. Walker said he will continue to work as a hospice chaplain until he decides whether to leave the priesthood.
He said that Olmsted has been "aggressively anti-gay," unlike previous bishops, and that the Vatican also has taken anti-gay positions.
Among them:

• In 2000, the Vatican suspended the Rev. Robert Nugent, Walker's colleague in the Salvatorian order, from continuing a ministry to gays and lesbians in Washington, D.C.

• The Vatican is visiting American Catholic seminaries to assess their treatment of gay candidates, directly as a result of the clergy abuse scandal.

• Olmsted rejected the pro-gay Phoenix Declaration, signed by nine Catholic priests, after his two predecessors made no such move. He required the signers to revoke their support or risk their jobs. Walker did not sign.

• Finally, according to Walker, a Phoenix-area priest, whom he declined to identify, lost his job as pastor recently because of his homosexuality, a reason not disclosed by the diocese. Adamson said he knew nothing about that.
Carpenter, who is a diocesan priest, said Walker could be the first of many to step aside. He added that any priest who discloses that he is gay "risks immediate reprisals."
Walker was well-liked at Queen of Peace, which is in downtown Mesa.
"He will definitely be missed," said Loralynn Quintero, 33, of Mesa, who had worked with Walker on a counseling program.
"Everyone has an opinion" about homosexuality, she said. "(It's) a matter between him and God."
Maria Delgadillo, 29, of Mesa, said she was surprised and sad to hear Walker had resigned.
"I don't think he should be leaving," she said. "I don't think it is a good reason."
"We are sorry to see him go," said Sandra Lopez, a church member for a couple of years. "I'm going to stay neutral (on why he is leaving)."
Reporter Senta Scarborough contributed to this article.