Complete Summary of the Robinson Murder Case

WTOL-TV
April 24, 2006

http://www.wtol.com/Global/story.asp?S=4773744

TOLEDO -- As the State of Ohio prepares to try Father Gerald Robinson for the 1980 murder of Sister Margaret Ann Pahl, News 11 provides here an overview of the case unfolding in a Lucas County courtroom.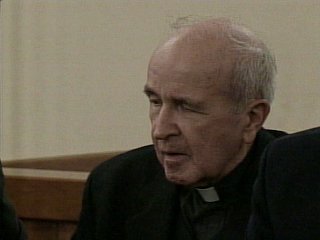 Father Gerald Robinson
The Crime:
Twenty-six years ago, on the day before Easter, Sister Margaret Ann Pahl, 71, was found dead by another nun in the sacristy of one of the chapels at Mercy Hospital in Toledo. She was lying on her back with an altar cloth covering part of her body. Sister Margaret Ann had been stabbed approximately 30 times in her chest and neck in a pattern that investigators said resembled a cross. Police believe the weapon used in the stabbing was a dagger-shaped letter opener that belonged to the priest serving as the hospital's chaplain.
Sister Margaret Ann, who police say was not sexually assaulted, had also been strangled.
The Victim:
Sister Margaret Ann Pahl was born in the small Williams County town of Edgerton, Ohio. She entered the Sisters of Mercy at the St. Bernadine Convent in Fremont in 1927. She had a nursing background and was the associate director of nursing at Mercy Hospital from 1962 to 1966. She also worked in pastoral care and did sacristy work at Mercy from 1971 to 1980. At the time of her death, Sister Margaret Ann was the caretaker of the hospital chapel.
Had she lived one more day, Sister Margaret Ann would have been 72.
The Investigation:
Investigator Tom Ross, 58, has investigated 200-250 murder cases. He retired as a Toledo Police detective after 30 years with the department. Ross now works for the Lucas County Prosecutor's Office, where he has helped solve 34 cold cases.
In April, 2004, Ross and Sgt. Steve Forrester arrested Father Gerald Robinson for the murder of Sister Margaret Ann.
Forrester, 50, has been a Toledo police officer for 27 years. In 2003, he added a law degree to his credentials. Forrester supervises the cold case unit.
Cold case investigator Ross testified in an earlier hearing that when he interviewed Father Robinson in April, 2004, the priest said he had just gotten out of the shower when a nun called him and said Sister Margaret Ann was dead. According to Ross, Robinson said he then hurried to the chapel.
"He advised us that he observed Sister Margaret Ann laying on her back in the sacristy, apparently dead. He said that he saw Father Swiatecki anointed the body," Ross testified.
Ross also said he asked Father Robinson about something he had said to a former detective in 1980 -- and this is a key element of the prosecution's case. Ross testified that Robinson was questioned about a statement he had made to Toledo Police detective Art Marx in 1980. Ross said the priest told Marx that someone had confessed to him concerning the murder of Sister Margaret Ann. Ross testified that the priest later said he lied about that confession.
Footsteps were another topic Ross raised with Father Robinson. They were found near where Sister Margaret Ann was found stabbed and strangled. Ross said in testimony, "The significance of the location is that they occurred on the floor where he was the only resident."
Investigators say Father Robinson admitted that the letter opener police believe was used to stab Sister Margaret Ann had been in his exclusive control before police seized it in 1980. Ross testified that he asked Father Robinson, "If that being the case, did you or did you not kill Sister Pahl? Wouldn't that point to you, Father?" Shortly after those questions, Father Robinson was arrested.
Police have not disclosed a motive for the slaying.
Some community members have accused the Toledo police and the Toledo Catholic Diocese of not aggressively investigating both the nun's murder and crimes involving priests accused of molesting children. "We know this is a trial about murder, but the cover-up can't be ignored," said Claudia Vercelloti, director of the Toledo office of Survivors Network of those Abused by Priests (SNAP).
Current and former police officers deny there was a cover-up, saying Robinson was not charged earlier because there was not enough evidence. There were no fingerprints or witnesses, and DNA technology was not available.
After the initial investigation in 1980, the case went cold. Investigators reopened the murder case in December 2003 after the prosecutor's office received a letter about a woman's claims that she was molested by priests for years as a child. Among the names she mentioned was Robinson. Police were unable to substantiate her allegations of sexual abuse.
There also have been whispers that a few priests, including Robinson, took part in ritual abuse ceremonies. A woman, who filed a lawsuit against Robinson and other clergy members, said they tortured and raped her in rituals performed in a church basement nearly 40 years ago.
Robinson's attorney, Alan Konop, has said the allegations did not "deserve the dignity of a reply." Police could not link any ritual abuse to Robinson, and no charges have resulted from the woman's claims.
However, police have said the nun's killing appeared to be some type of ritual slaying. They have refused to elaborate, other than to say that the body was posed to look as though she had been sexually assaulted. Sister Margaret Ann's underwear was pulled down.
Dave Davison, the first police officer to arrive in the chapel, said he saw no evidence of a ritual and called those claims a "smokescreen" set by the killer to throw off investigators.
It is not known if there will be any mention of ritual abuse at Robinson's trial. Dawn Perlmutter, an expert on religious violence and ritualistic crimes, has been assisting prosecutors. She said that she has advised prosecutors in other cases not to mention claims of ritualistic acts. "It just muddies the water," she said. "People do not want to believe these things go on. It can really affect the outcome."
The Accused:
Father Gerald Robinson was a popular priest. He was especially well-liked in Toledo's Polish neighborhoods because he delivered some sermons in Polish, and also heard confessions in Polish.
He was born in Toledo 68 years ago, and was ordained at Toledo Rosary Cathedral in 1964. He worked as an associate pastor at Christ the King and St. Adalbert in Toledo, and at St. Michael in Findlay . He also served as pastor at St. Anthony in Toledo, and was a chaplain at Sylvania's Flower Hospital.
In 1980 when Sister Margaret Ann was killed, Father Robinson was serving as chaplain at Mercy Hospital. He was transferred from the hospital a year after the slaying and became pastor at three parishes in Toledo. At the time of his arrest more than two decades later -- in April, 2004 -- Father Robinson was ministering to the sick and dying in nursing homes.
The priest was initially charged with aggravated murder. That charge was later reduced to murder, removing the need for the prosecution to prove that the crime was premeditated.
If convicted, Father Robinson could face 15 years to life in prison, rather than the sentence of 20 years to life he could have faced had he been convicted of the original charge. He is not eligible for the death penalty because it was not in effect at the time of the crime.
Father Robinson is currently on leave, but he is allowed to wear his priest's collar.
Jack Sparagowski, a parishioner at an inner-city church where Robinson used to celebrate Mass on Easter weekend, set up a legal defense fund that raised $12,000. Some family members and supporters put up their houses to post a $400,000 bond.
"For someone to commit murder, you have to have a violent streak," Sparagowski said. "I've never heard Father raise his voice or show any expression of anger. The whole thing seems so bizarre."
The Trial:
The State of Ohio's case against Father Gerald Robinson will unfold in a Lucas County courtroom beginning Monday, April 17th. After jury selection and opening arguments, the first witness is expected to take the stand on April 24th.
The Judge:
The presiding judge in The State of Ohio versus Father Gerald Robinson is 50-year-old Thomas Osowik. He is a graduate of the University of Toledo law school.
Judge Osowik started out in civil and administrative law, then became a Toledo Municipal Court judge in 1991. He took the bench as a Lucas County Common Pleas Court judge in 2005.
He is currently assigned to other high-profile cases, including the one involving Dellmus Colvin, who police say is a serial killer – and he will preside over Tom Noe's trial when the state prosecutes the more than 50 charges that have been lodged against him.
The Lawyers:
The lead prosecutor on the case is 52-year-old Dean Mandros, a graduate of the University of Toledo's law school. He has been a prosecutor for 24 years and has worked on several high-profile cases -- including the Summer El-Okdi murder case, which resulted in the conviction of Douglas Coley and Joseph Green. Summer's body was found near the Toledo Museum of Art in 1997.
Mandros also prosecuted Jamie Madrigal, who was convicted of the 1996 murder of Misty Fisher at a Toledo KFC restaurant. Madrigal has been granted a new trial. And Anthony and Nathaniel Cook, Toledo brothers who were serial killers in the 1980s, were prosecuted by Mandros and convicted.
Chris Anderson, 51, takes second chair on the prosecution team. He, too, is a graduate of the University of Toledo law school and has been a prosecutor for 23 years.
Anderson's key prosecutions include the Matthew Reiner case. Reiner was convicted of shaking his baby boy to death, but that conviction was later overturned. Anderson also prosecuted Timothy Hoffner and Archie Dixon. Both are now on death row, convicted of burying Christopher Hammer alive in 1995.
Anderson also handled the forgery case against business mogul Ed Bergsmark, who was owner of Cavalear Realty at the time of the crime.
Defending Father Robinson will be 69-year-old Alan Konop. He graduated from the University of Toledo law school and has been a defense attorney for 43 years. Konop has considerable experience in handling high-profile cases, including the defense of UT police officer Jeffrey Hodge, who confessed to shooting and killing UT student Melissa Herstrum in 1992.
Konop won an acquittal for Kim Anderson, who shot her husband to death in self defense in Wyandot County. He also represented Kelly Jagodzinski, the woman who left her dead baby in a wooden box behind Tam-O-Shanter ice rink in 2000.
Another attorney on Father Robinson's defense team is 44-year-old John Thebes, who -- like the judge, the prosecutors, and Konop -- is a graduate of the University of Toledo law school. He squared off against Dean Mandros in the Jamie Madrigal trial.
More recently, Thebes represented Jamie Pacheco, who was found not guilty of dropping from an overpass a steel plate that killed Dorothy Minggia in 2004. Thebes was also the lawyer for the defendants in a federal racketeering trial involving a group of suspects known as "The Outlaws."
Neither prosecutors nor defense attorneys will comment on the Robinson case. The judge has ordered them not to talk about it.
The Witnesses:
Key witnesses expected to testify during the trial include two well-known forensic scientists, a forensic anthropologist, and the local investigators who arrested Father Robinson.
Dr. Henry Lee is perhaps the most recognized forensic scientist in the world. He's expected to testify for the prosecution. Lee is a DNA expert, and is credited with helping law enforcement solve more than 6,000 cases.
Dr. Lee testified for the defense at O.J. Simpson's trial, and he has been consulted in the investigation into the death of JonBenet Ramsey in Boulder, Colorado. He also provided testimony at the William Kennedy Smith trial.
Forensic scientist Paulette Sutton could be one of the most important witnesses for the prosecution. She's one of only four people in the world who is considered an expert in bloodstain pattern analysis. She is expected to talk about blood transfer evidence.
Sutton testified at a February hearing when her qualification to be an expert witness was determined. She said, "A transfer is when a bloody object comes in contact with another surface, leaving some sort of imprint of the original bloody object."
Prosecutors allege that the letter opener they believe was used to stab Sister Margaret Ann left blood patterns on an altar cloth when it was laid down. Investigators claim the priest owned the letter opener, and that he was in sole possession of it at the time of the killing.
Defense witness Dr. Kathy Reichs is known worldwide for her work as a forensic anthropologist. She helped identify victims at Ground Zero in New York City. The television show "Bones" is based on her work. Dr. Reichs is also a best-selling novelist. Her books are based on her experience as a forensic anthropologist.
She testified at the February hearing, saying, "With trauma analysis, we look at the bones to determine if there's a gunshot wound, sharp instrument trauma, blunt instrument trauma."
Sister Margaret Ann's body was exhumed in 2004. The defense is expected to argue that other weapons could have caused the nun's bone injuries.
One of the first witnesses to testify is expected to be Sister Phyllis Ann Gerold. Police say Sister Phyllis can establish that Father Robinson was at or near the scene of the crime at the time of the murder.
Another notable prosecution witness will be Father Jeffrey Grob from the Chicago Archdiocese. He is considered an expert in Catholic ritual.
A timeline of events in the case:
April 5, 1980 -- Sister Margaret Ann Pahl's body is found in the chapel at Mercy Hospital . She had been strangled and stabbed in the chest and neck about 30 times.
April 9, 1980 -- Father Gerald Robinson celebrates Sister Margaret Ann's funeral Mass.
April 18-19, 1980 -- Robinson is questioned by police. He also is given two polygraph tests.
June 11, 2003 -- A woman tells the Toledo Catholic Diocese that she suffered years of ritual sex abuse by diocesan and religious-order priests during her childhood. She mentions Robinson's name.
December 2003 -- Authorities receive a letter about the woman's allegations and later reopen the investigation into Sister Margaret Ann's death.
April 23, 2004 -- Robinson is arrested at his home and charged in the slaying of Sister Margaret Ann Pahl.
May 7, 2004 -- Robinson pleads not guilty to an aggravated murder charge.
December 31, 2005 -- The Lucas County Prosecutor's office reduces the charge against Robinson from aggravated murder to murder, saying the killing was not premeditated.
The Associated Press contributed to this report.