Woman Credited for Events Leading to Gerald Robinson Trial

By Seamus McGraw
Court Television Network
April 27, 2006

TOLEDO, Ohio (Crime Libarary)

http://www.crimelibrary.com/news/original/0406/2701_rev_robinson_trial.html

The Case That Almost Wasn't

Her real name has never been publicly released, but the now 42-year-old woman identified in court papers and in the press as Jane Doe may well have done as much as anyone to set in motion the chain of events that led to the arrest of Father Gerald Robinson and his now ongoing trial for the murder of an elderly nun nearly two and a half decades ago.

And while those who know her say it was never her intention, there are some who believe that if the woman, described as accommodating and cooperative almost to the point of being self-effacing, had not come forward in 2003, then the case against Robinson might never have been made.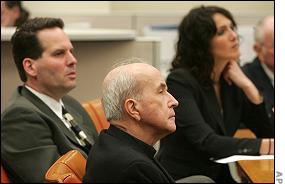 Robinson in Court
Ironically, says Claudia Vercellotti, an activist with the local advocacy group SNAP (Survivors Network of Those Abused By Priests and other church leaders) who has worked closely with Jane Doe, the woman had far different intentions when she first emerged in June of 2003 to recount what she described as an ordeal of ritualized sexual abuse, Satanic in its overtones, committed, she alleged, by priests years earlier. Among them, she alleged, was Robinson.
For years, she had kept her allegations largely a secret, but the haunting after effects, she claimed, had driven her to seek intensive, and expensive therapy. At last, she brought her story of abuse she endured years earlier to the Diocese of Toledo's Review Board.
By all accounts, she was not seeking the prosecution of those she alleged had molested her. At least not at first. Instead, swayed by the church's pledge that it would remunerate victims of sex abuse by priests, she came seeking $50,000 to cover the cost of years of therapy as a result of the alleged abuse.
What happened next remains a subject of controversy.
Did The Diocese Do Enough?
The Toledo Diocese has long maintained that it treated the woman professionally, and took her claims seriously enough that they hired two retired police officers to investigate them. According to published reports, the two former officers, John Connors and Lawrence Knannlein, spent some some interviewing the woman, They were, Connors would later tell reporters, stunned by her allegations that she had been abused by priests in bizarre rituals, often involving candles and altars from the time she was a preschooler until she was 14. Though she identified her primary abuser as Father Chet Warren, a priest who was later defrocked, she said three others also abused her. On one of those occasions, she alleged, Robinson was her abuser, though in that case, she said, the trappings of ritual were omitted.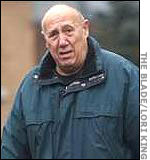 Father Chet Warren


At some point, the Diocese has maintained, it forwarded the information the woman had provided to the authorities.

But Vercellotti contends that the Diocese was far less proactive than it has claimed. Though a year earlier, the conference of American bishops, rocked by mounting allegations of sexual abuse by priests had met in Dallas, Texas, and agreed to what has become known as the Dallas Charter, pledging "openness, honesty and transparency" in their dealings with alleged victims, and through the Toledo Diocese itself had signed a similar special agreement with the local prosecutor, the Diocese, she contends dragged its heels on Jane Doe's complaint.

And there is evidence that she is not alone in that opinion. According to published reports and one member of the board, a psychologist named Robert Cooley insisted that the woman's allegations be reported immediately to police. In a letter dated June 12, one day after the woman had appeared before the board, and addressed to Diocesan Case Manager Frank DiLallo, the Diocese's attorney, Thomas G. Pletz argued that the board was under no legal obligation to do so.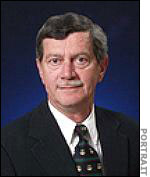 Dioceses attorney Thomas G. Pletz


Pletz further maintained "that this person's Diocesan file was reviewed by the Lucas County Prosecutor's Office last year. Vercellotti says she was and remains skeptical of that contention, arguing that Jane Doe had not approached the Diocese with her complaints until the day before Pletz' letter.

Two weeks later, Pletz again wrote, this time to Frank Link, chairman of the review board, again maintaining that prosecutors had been fully informed of the woman's allegations. And a short time later, Cooley, who had continued to insist that the board notify police, was dismissed from his post.

Throwing a dart with her eyes closed

For the next six months, Jane Doe's case languished. The woman at the center of it desperately wanted to cooperate with the Diocese, Vercellotti said. On several occasions during the late summer of 2003, Vercellotti urged Jane Doe to take the case to the prosecutor herself. But the woman demurred. "She didn't want to step on their toes," Vercellotti said, and told her that she believed the diocese officials when they told her "they've already got their investigation started."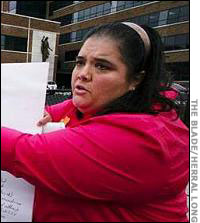 Claudia Vercellotti


At last, however, Vercellotti decided to pursue another avenue. "Finally I said to her, could I have your documents, could I go to the Ohio Attorney General's office?" Vercellotti recalled. "She gave them to me," Vercellotti said. Vercellotti in turn passed them along to the Attorney General and the state, apparently swayed by the allegations, urged the Lucas County Prosecutor to investigate. In December of 2003, six months after Jane Doe had first come forward, investigators for the county interviewed the woman. Since she came forward, at least two other women have also recounted similar tales of ritual sexual abuse at the hands of priests during the 1960's. And while investigators were not immediately able to substantiate the woman's allegations, they did recognize the name of one of the priests the woman claimed had abused her — Robinson.

The now retired priest had been considered the prime suspect in the slaying some 23 years earlier of Sister Margaret Ann Pahl, a 71-year-old nun who had been found strangled and stabbed to death on Good Saturday morning on the floor of the chapel at Mercy Hospital where Robinson had been chaplain. Authorities had never been able to develop enough evidence to arrest the cleric and the case had gone cold.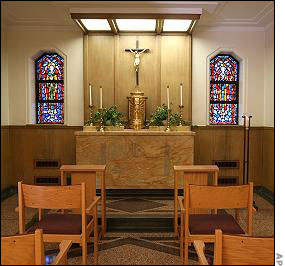 Mercy Hospital Chapel


But after two decades in limbo, Jane Doe's story had rekindled their interest in both the case and in Robinson. In early 2004, Robinson was arrested and charged with Pahl's murder. He has denied any role in the nun's death and is currently on trial in Toledo. As for Jane Doe, she is trying to maintain a low profile. As Vercellotti put it, she never had any intention "of reopening the Robinson investigation," but in telling her tale, it was "like she was throwing a dart with her eyes closed and hit a bull's eye."

And there is, Vercellotti contends, a powerful message in that. "Even more than her coming forward..... if she hadn't turned those documents over to SNAP, hadn't allowed us to go to law enforcement, to the Attorney General's Office on her behalf, this wouldn't have gone forward," she said. "So what it underscores is how its so important that victims not turn to lay review board, however well intended.... they need to go to the cops, they need to go to prosecutors."