A Half-Century Later, a Hidden Story of Abuse by a Priest Is Told

By Jim Stingl jstingl@journalsentinel.com
Journal Sentinel Online
April 20, 2002

http://www2.jsonline.com:80/news/metro/apr02/36687.asp

His shameful past finally caught up with Edmund Haen.

I'd call him Father Haen because he was a Catholic priest in and around Milwaukee for 57 years, but someone deserving that title would not do what Haen did to John Maurice when John was a vulnerable member of his flock.

And there were at least two other boys who also were sexually assaulted by Haen. As adult men, they've admitted that to John, he said.

John himself became a priest and was well known in Milwaukee for ministering to migrant workers and for helping found and run the Spanish Center on the near south side in the 1960s. He was an activist for change and social justice who marched with Father James Groppi for open housing.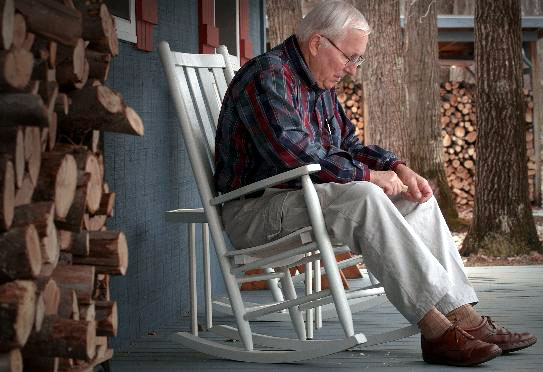 John Maurice, 70, carves a piece of wood on the front porch of his home in Wausaukee. Maurice, a former Catholic priest from Milwaukee, was molested by a priest numerous times while he was an adolescent.
Photo/Tom Lynn



But after 13 years as a priest, he surrendered the collar and married.

Today John is a believer but not a Catholic anymore. He follows what's happening now in the Catholic Church and he wonders how much has really changed since he was a boy. As a priest, he got to see behind the curtain of the fraternity that protects priests even when they sexually abuse children.

"The whole system breeds that kind of thing, and it never seems to stop," he said during an interview at his rural Wausaukee home, about 200 miles north of Milwaukee. "So beware of any promises from the system."

For decades he held tight to the terrible secret of his childhood, if you don't count the time as a high school student in the seminary when he told a priest about it in the confessional, hoping someone could help him make it stop.

"Try to separate yourself," he remembers the priest telling him. "And that was about it."

And there was the time when another priest witnessed Haen sneaking John into the rectory at night for sex. The priest never said or did anything about it, but he had to know, John said.

Haen, now dead, would take John as an adolescent to his family's farm in Sheboygan County. He would sleep in the same bed with John and force him to have sex while Haen's parents and siblings were under the same roof.

"That's why I didn't have a defense system. Everybody kind of let it happen. What did I know?" John said.

He was trapped by a monster whom everyone else loved, revered and trusted. As a priest, this was a man said to represent Jesus to the faithful. But this also was a man who would make John wait in the car as he stopped off at a church on the way home from these trips to the farmhouse to confess his sins.

"I got to be really disgusted with the guy. But it was so difficult to do anything about it because of everyone's - particularly my mother - confidence in him and this pride that she had a priest as a friend of the family."

John was abused over a period of several years in the 1940s when he was a member, altar boy and pupil at St. Lawrence Church near Layton Blvd. and Greenfield Ave., which was Haen's first parish assignment after he was ordained in 1940.

"He was the Father O'Malley of the parish. He was a great singer. He was an excellent athlete. He was a very affable guy," John said.

Haen became close to John's family, taking them to Chicago to see baseball games and giving them other special attention. His access to John was virtually unlimited. He estimates that the priest molested and sodomized him 100 or more times.

John still remembers the day when Haen brought an application to St. Francis Seminary to John's home. Everyone was thrilled that he might become a priest. Everyone but John. Haen even offered to help pay his tuition.

Even after John finally was able to refuse Haen's sexual overtures, there would be one final indignity. At the request of John's parents, Haen had the honor of preaching at John's first Mass as a priest.

John finally told his wife, Camille, about all this at least 10 years after they were married in 1971.

And it wasn't until 1989 that he reported the abuse to Archbishop Rembert Weakland. John was in a motel on a business trip when he saw a television news magazine show about pedophilia and the clergy. When the show was over, he reached for a pen and the words flowed out.

"Maybe I kept quiet to protect my parents, the church and me from my stupidity at letting it happen. Maybe I didn't want to believe it went beyond Ed Haen," he wrote to Weakland.

"The publicity, the sorrow of child and parent finally gives me the guts to speak out now. The church's unwillingness to hold its ministers accountable, the rule of celibacy which gives the unmarrying priest a lifelong commitment of the church to him and not vice versa, no matter how he victimizes others, leaves me with a sense of hopelessness for the 'Catholic family of God.' "

Weakland replied promptly with a greeting card, also hand-written, and praised John for his courage. He said there had been no other complaints about Haen, but that he would look into it.

Nearly three years later, Auxiliary Bishop Richard Sklba wrote to John and apologized that for "some unknown reason" no had ever let him know how the case was handled. Sklba said he had confronted Haen while he was being treated for cancer.

"When I shared your letter with him, he acknowledged responsibility for unacceptable behavior on his part," Sklba informed John.

Archdiocese spokesman Jerry Topczewski said last week that Haen was forced to retire in 1990. "He was not allowed any public ministry. He was not allowed to have any contact with minors. He was not allowed to hear confessions. He was allowed to say Mass in the nursing home (where he moved) with another priest," he said.

But the fact is that some of those restrictions actually came two years later, in 1992, after Sklba interviewed one of Haen's other victims, one of the men who had confided in John. That man also became a priest.

"He is no longer offering parish help-out on a weekday or weekend basis," Sklba wrote to John in late 1992.

As far as the parishioners at St. James Church in Mequon knew, their pastor from 1972 to 1990 had retired on his own. The gathering area of the parish center is named Haen Hall in his honor.

Haen at last had been unmasked as a sex offender, but few people outside the archbishop's office and John knew it until now. That includes Haen's family, who are shocked by the revelation. They knew young John Maurice was often in the company of Haen, including at the farmhouse, but they can't believe that allegations so horrible can be true.

Haen died in 1997 at age 81 after living out his days at Alexian Village on the far northwest side. Besides St. James and St. Lawrence, he was a priest at St. Kilian in Hartford from 1947 to 1955 and St. Frances Cabrini in West Bend from 1955 to 1972.

John, now 70, is telling his story publicly for the first time as the Catholic Church convulses from the exploding controversy over sexual abuse by priests, many who were allowed by church leaders to continue their duties and victimize others.

As a boy and later as a priest, he witnessed what happens when priests are put on a pedestal, when the fraternity of the priesthood makes silence the required answer to abuse when it occurs, when the church clings to rules like celibacy, an unmarried clergy and its refusal to consider ordaining women.

"Once you get in to the fraternity, you become convinced that is an elite group you belong to. That's why it's so difficult for bishops to deal with. They don't want to diminish the aura of the wonderful fraternity," John said.

As a priest, he never heard of a fellow priest engaged in pedophilia. But he knew priests who were sexually involved with women, often their housekeepers. He sees these women as another group of victims of the clergy. He also knew of other priests in homosexual relationships.

"I knew a lot of guys who weren't living a celibate life," he said. About 12 years into his ministry, that included him. So he went to then-Archbishop William Cousins and said he "wasn't doing well with celibacy and the loneliness."

After leaving Milwaukee with his wife in 1974, John directed a mental health program in Appleton and later moved to Wausaukee, where he is retired.

John's parents were both dead by the time he left the priesthood, so they didn't have to deal with that heartache. And they died without knowing that their son had been so badly abused by the priest they trusted.

John has had no therapy for his childhood trauma. And Haen never apologized to him.