Priest Charged with Youth Sex Assault
Alleged Contacts with His Accuser Occurred in 1988, '89

By Marie Rohde
Journal Sentinel Online
June 18, 2002

http://www2.jsonline.com:80/news/metro/jun02/52274.asp

Father Marvin Knighton, a priest and consultant to the Milwaukee Catholic Archdiocese office of youth and child ministry, was charged Tuesday with the second-degree sexual assault of a youth. The alleged incidents occurred in 1988 and 1989.

In the past, Knighton worked at area private and public high schools, including Pius XI, where the accuser was a student. Knighton has three adopted sons, two of whom are grown.

Knighton could not be reached for comment, but his lawyer, Gerald Boyle, denied the allegations. He said that if the charge stands up to a challenge that the statute of limitations has passed, "this will end up in front of a jury."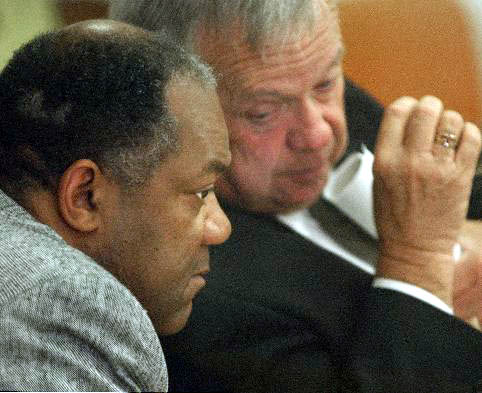 Father Marvin Knighton (left) consults his attorney, Gerald Boyle, during a court appearance Tuesday at the Milwaukee County Safety Building. Knighton is charged with second-degree sexual assault of a youth.
Photo/David Joles



Boyle said Knighton had heard from the youth's father about the abuse allegation in 1993.

Knighton "went to the archdiocese and said 'I want to clear this up,' and they said they couldn't do anything because there wasn't a complaint," Boyle said.

Knighton's accuser is [Redacted 1], who is now 28 years old. [Redacted 1] spoke to the Journal Sentinel and has agreed to allow his name to be used. The law regarding sexual assaults of minors has changed three times since 1989 and now allows a person who was a victim of sexual assault to seek charges before the age of 31.

Jerry Topczewski, a spokesman for the archdiocese, said the church had received two complaints regarding Knighton, both dating back many years. The other allegation was from 1975 and the man was older than 31.

[Redacted 1]'s complaint was brought in February and resulted in Knighton being restricted from dealing with minors. When the second complaint was received, Knighton was forbidden from any public ministry pending the outcome of the charges, Topczewski said.

Although [Redacted 1] went to the archdiocese in late February with his complaint, it was not referred to the district attorney's office until April, after the church arranged a meeting between [Redacted 1] and Knighton. Topczewski said church officials initially thought the statute of limitations had passed.

At the meeting, Knighton denied any misconduct, [Redacted 1] said. A woman who was a teacher at the school came with Knighton and asked [Redacted 1] why he hadn't come to her if he had been abused.

"I told her that she didn't know how many times I sat outside her house, but I couldn't tell anyone about it," [Redacted 1] said.

Peter Isely, a spokesman for Survivors Network for those Abuse by Priests, questioned why the accused priest would be allowed to confront the victim before the civil authorities reviewed the case.

"Why would they allow the perpetrator to confront the chief witness of the crime?" Isely asked. "It looks like witness tampering. The victim didn't request it."

Paul Tiffin, the assistant district attorney who issued the charge, said that law enforcement officials always prefer to be the first investigators and that it is his understanding that the church has changed its policy.

Topczewski said the archdiocese decided May 13 that all sexual abuse allegations would be referred to civil authorities, regardless of when the incidents occurred.

According to the criminal complaint, [Redacted 1] met Knighton in 1986 through his mother, Melinda, who was dying of breast cancer.

Knighton befriended [Redacted 1's] family, especially [Redacted 1], who was then 12. Knighton would take [Redacted 1] swimming at the Cousins Center, to movies and allowed him to spend the night in a room in the basement of Knighton's home about two dozen times.

[Redacted 1] said the contact involved kissing and touching. The priest would call [Redacted 1] "[a girl's name similar to Redacted 1's name]" and tell him how beautiful he was, according to the complaint.

"[Redacted 1] recalls that Knighton would frequently talk about his own penis and told [Redacted 1] that one day he, [Redacted 1], would have hair on his genital area and that when this happened, he would be a man and that he would take him out to dinner," according to the complaint.

If convicted of the charge, a felony, Knighton could be fined not more than $10,000 and be imprisoned for up to 10 years.