Sexual Abuse Trial against Priest Opens
Accuser Testifies about Incidents As a Teenager

By Reid J. Epstein repstein@journalsentinel.com
Journal Sentinel Online
August 21, 2003

http://www2.jsonline.com:80/news/metro/aug03/163959.asp

[Redacted 1], a 29-year-old [redacted], said he remembers precisely the first time Father Marvin Knighton touched him inappropriately.

Testifying Tuesday in Knighton's trial on charges of second-degree sexual assault, [Redacted 1] said it was Oct. 27, 1986, the day [Redacted 1]'s mother died. [Redacted 1], who grew up in [Redacted] and now lives in Milwaukee, had been asked to leave his mother's room at [Redacted] Hospital as she neared death. Knighton, who had been counseling [Redacted 1]'s mother through her battle with cancer, approached [Redacted 1] and his sister in front of the hospital, he said.

[Two-sentence quotation redacted.]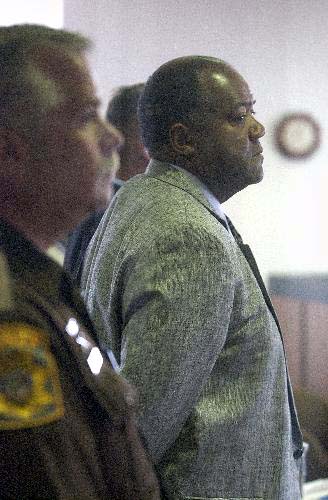 Father Marvin Knighton (right) appears in court Thursday. He is charged with second-degree sexual assault.Photo / Jeffrey Phelps
[Redacted 1] shows how he says Marvin Knighton used to hug him as he testifies Thursday in Milwaukee County Circuit Court.Photo / Jeffrey Phelps



The case is one of very few instances of a priest charged with sexual abuse to go to a criminal trial in Wisconsin.

Knighton, 53, is expected to testify today at the trial in Milwaukee County Circuit Court. One of his attorneys, Gerald H. Boyle, told the jury in an opening statement that [Redacted 1]'s recollections are too vague. As a boy, he spent "far fewer" nights at Knighton's home than he now claims and that there was "no inappropriate touching," Boyle said.

[Redacted 1] testified that Knighton molested him at the priest's home and at the Cousins Center in the late 1980s. He never confided it to anyone until 1993, he said, and went to law enforcement only after therapy in 2001 and 2002.

Knighton, who was charged in June 2002, has been forbidden from any public ministry pending the outcome of the charges. He had been a consultant to the Milwaukee Catholic Archdiocese office of youth and child ministry.

After the incident outside the hospital, [Redacted 1] said, he did not have contact with Knighton until autumn of 1987, when he began spending nights at the priest's Wauwatosa house. There, [Redacted 1] said, Knighton would get into bed and would rub against [Redacted 1], run his hands through the boy's hair and call him "[female name similar to Redacted 1's first name]."

Knighton also took [Redacted 1] and other boys to the Cousins Center in St. Francis, where they would play basketball and swim. In the pool, [Redacted 1] testified, Knighton would "wrestle" with him, wrapping his arms and legs around the boy and rubbing pelvises together.

On cross-examination, Gerald D. Boyle suggested that Knighton was only trying to reassure [Redacted 1], who had expressed to him his insecurities about his body image.

When the two finished showering after their first outing to Cousins Center, Knighton wrapped a towel around [Redacted 1], rubbing his hand against the boy's penis in the process, [Redacted 1] said. He said it was the only time he remembered the priest touching his genitals directly.

Knighton was a teacher at Milwaukee-area high schools, including Pius XI, which [Redacted 1] attended on Knighton's advice, [Redacted 1] said. With his mother dead and a fractured relationship with his father, [Redacted 1] said Knighton was a trusted confidant.

"One of the biggest fears that I had (entering high school) was that I would have lost him as a support person. He was a father figure for me. He advocated for me throughout high school."

Because of that, [Redacted 1] said, he didn't tell anyone what Knighton did to him until 1993, when he told his soon-to-be stepmother. She, [Redacted 1] and [Redacted 1]'s father then spoke with an attorney, but [Redacted 1] said he was not emotionally ready then to pursue civil charges.

[Redacted 1] said that he was finally able to pursue criminal charges after seeing a therapist during 2001 and 2002.