Priest in Eureka Is Accused of Abuse, Denies It at Mass

By Dawn Fallik
The Post-Dispatch
April 22, 2002

http://www.stltoday.com/stltoday/news/special/probpriests.nsf
/0/D074A91782B707FF86256BA3004DEAB1?OpenDocument

As thunder rumbled in the distance, the Rev. Alex Anderson stood before the members of Most Sacred Heart Church in Eureka Sunday and faced his own storm head on.

He had been accused of molesting a boy about 15 years ago, Anderson said simply. The boy, now in his late 20s, accused the priest of sexually abusing him at the St. Joseph's Home for Boys in St. Louis, when Anderson was the home's chaplain.

"I want you to know, plainly and simply, that I did not abuse this child and have not sexually, physically or emotionally abused any child," Anderson told 800 people gathered for the 11 a.m. Mass.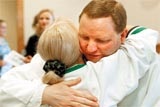 A parishioner at Most Sacred Heart Catholic Church in Eureka shows her support for the Rev. Alex Anderson, after he told church members Sunday that he had been falsely accused of child sexual abuse.
Photo by the Samuel Leone/P-D


Anderson said he would not step down from the parish, and Bishop Joseph Naumann of the Archdiocese of St. Louis said the archdiocese supported his staying. Naumann, who also spoke at the Mass, said the church investigated the complaint, found it without merit and turned the matter over to St. Louis Circuit Attorney Jennifer Joyce's office.

"We fully support you, Father Anderson," Naumann said as the congregation rose to its feet and applauded for a full minute.

The direct speeches marked a dramatic change in how the church is handling an issue previously cloaked in secrecy and silence. Other churches found out about accusations concerning their priest through the media, through letters from the church or by word of mouth.

The archdiocese has removed three priests and accepted the resignation of a fourth for alleged child sexual abuse as revelations of sexual abuse by priests in Boston prompted the archdiocese to take a new look at old allegations of abuse here. A fifth priest was removed temporarily after his computer was confiscated as part of a federal investigation of child pornography.

The removals resulted from a stricter policy the archdiocese enacted in March. Under the policy, priests with a substantiated allegation of child sexual abuse will not be allowed to serve in a pastoral setting or a post that provides access to children.

Compared with the cases against the other priests, the church believes the allegation against Anderson is without merit, Naumann said. The archdiocese learned about the accusation a few weeks ago and received a formal notification Wednesday, the bishop said.

"We have no reason to not believe what Father Anderson is saying," he said.

Anderson said he offered to step down, but Bishop Timothy Dolan, who heads the archdiocesan office concerned with allegations of sexual abuse, told him that would not be necessary. Archbishop Justin Rigali issued a statement commending Anderson's 27 years of service, adding that the allegation was "without any apparent merit." Rigali encouraged the circuit attorney to complete a full investigation.

Messages left on the circuit attorney's cell phone and office were not returned Sunday.

Anderson, who would not discuss any details of the allegation, said he wanted to address the parish members directly about the situation.

After 10 years as a priest at Most Sacred Heart, Anderson, 52, said he knew his parishioners would want him to just "say what needed to be said."

After the service, parishioners lined up to offer him words of comfort, repeating the phrase, "I'm so sorry." Members said they were glad to hear about the accusation from their priest and not from the newspaper.

"It's important to get it out in the open and not to hide," said Pat Grimshaw, who attended Mass with his wife and three children. "I support him 100 percent."

Anderson said he would continue his church duties and try to move forward while Joyce investigates the case.

"I've had an easy life up until now," he said.

Reporter Dawn Fallik:
E-mail: dfallik@post-dispatch.com
Phone: 314-340-8183