Silver Jubilee to Be Observed
By Seneca Missouri
" Gateway to the Lake of the Cherokees"
June 5, 1975

http://freepages.genealogy.rootsweb.ancestry.com/~debsplace/frtom25th.htm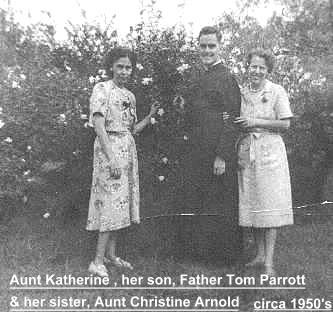 This is an earlier picture of Father Tom, Mother Kathryn (left) & Aunt Chris



The Reverand Thomas W. Parrott, Seneca, will be honored at a Silver Jubilee celebration Sunday afternoon, June 8, at St. Mary's Church, commemorating the twenty-fifth anniversary of his ordination to the priesthood. Rev. Parrott is pastor of St. Mary's Church Seneca, and Church of the Nativity, Noel. Both parishes are participating in the courtesy in his honor.

A Mass of Thanksgiving at 4:00 p.m. will be followed by a dinner in the parish hall. Over two hundred parishioners and friends are expected to attend. Many of his friends and associates of the past twenty-five years from several states have been invited to share in the celebration.

Father Parrott entered the Novitiate at St. Mary's of the Barrens in 1942 and was ordained June 4 , 1950, in the Church of the Assumption, Perrysville Missouri, for work in the Congregation of the Missions ( Vincentian Fathers ) earning also at the time a B. A. degree from St. Louis University. He sang his first Solemn Mass in St. Bernard's Church, Bradford, Pennsylvania on June 11, 1950. His first assignment was teaching English at St. Francis Seminary, Bethany, Oklahoma, where he was also master discipline. In 1953 he obtained his M. A. degree from Catholic University of America, Washington, D. C., majoring in Sociology and minoring in English.

Teaching assignments followed at DePaul University, Chicago, (1954-1966), St. John's Seminary, Kansas City (1966-1968); St. Vincent's College, Cape Girardeau (1968-1972). Father Parrott was assigned to the Seneca and Noel parishes in January, 1973. His first interest in the priesthood began in his early school days, and he became an altar boy of his home church in Bradford, Pennsylvania. He graduated from St. Bernard's High School there in 1940. During his college days he was editor of the school paper and contributed to Vincentian magazines. One of his feature articles written on cancer was published in the National Catholic Digest. Father Parrott was also interested in dramatics and took active part in school plays. He resides in Seneca at St. Mary's Rectory with his mother, Mrs. Katherine Ottoson, and his aunt, Mrs. Christine Arnold.

NOTES:

Rev. Father Thomas Welker Parrott: born Sept. 27, 1923 -Bristow Creek Co., Oklahoma

, to Clarence Everett (Ted) Parrott and Katherine Welker.

Mrs. Katherine ( WELKER) Ottoson: born Feb 16, 1903, Kane

Mrs. Christine ( WELKER ) Arnold: born Dec 10, 1900, Kane

Mr. Elmer Ottoson ( 2nd husband of Katherine: born Aug. 21, 1903, Kushequa , Hamlin Twp.