Holy Unsuitable
Another Priest--A Former High School Teacher at Bellarmine and Pastor at a Grammar School--Is Named in the Sexual Abuse Suit Filed on Behalf of the Mentally Disabled Men Living up at Sacred Heart Jesuit Center. Was There a Cover-Up and Will the Jesuits Come Clean?

By Corinne Asturias
MetroActive
May 9-15, 2002

JESUIT PROVINCIAL Thomas H. Smolich holds up well under pressure, even when he is having a really hard day in a string of hard days. The tough times began in late March, when the Los Angeles Times reported that two mentally disabled men were suing the California Province for the Society of Jesus, which he oversees, for $10 million over alleged sexual abuse by priests living at the center.

What ensued was an onslaught of media interviews, television cameras and calls from higher-ups, worried parishioners and bewildered colleagues all wanting to talk about the sex scandal that has rocked the nation.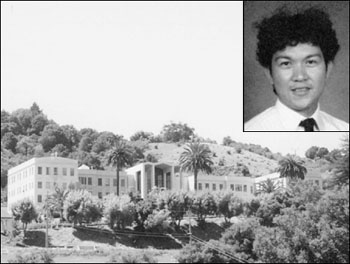 Full Retreat: The Jesuit Center, where two mentally disabled men claim they were subjected to repeated sexual abuse by priests, sits in the hills above Los Gatos. Inset: Father Angel Crisostomo Mariano, now 47, is the fifth priest named in the men's suit. This photo was taken in 1990.
Photo by Corinne Asturias


Today, Smolich pauses gently and then stops before answering questions about the fact that another priest in his care, Angel Crisostomo Mariano, was just added to the civil suit and accused of sexually abusing one of the mentally retarded men who worked as dishwashers at the center.

Like some of the other priests named, Mariano is a registered sex offender who lived at the Sacred Heart Jesuit Center above Los Gatos, where the alleged molestations occurred. At 47, he is much younger than the other priests named in the suit (and the same age as Smolich).

Mariano has the unique distinction, however, of being a cross-dresser who was convicted of child molestation in 1998 for performing oral copulation on two teenage boys in Campbell while posing as a 25-year-old Hawaiian woman named "Kim."

Complicating matters is the fact that, according to statements made in court documents, Jesuit leaders had reprimanded Mariano for sexual misconduct at least five years prior to the Campbell incident. And since 1988, the province has moved Mariano from location to location, often around children or young adults, including a post at Bellarmine College Preparatory and an associate pastorship at Most Holy Trinity Church, which contains a grammar school. Currently, Mariano lives across the street from Santa Clara University.

And giving Smolich pause today is the fact that he has said he knows very little about the background of Mariano, about the things that went on before Smolich became Provincial in 1999. And yet for the past two years, Mariano has been Smolich's roommate.

Angel of Mystery

Father Angel Mariano drew renewed attention from plaintiff's attorneys four weeks ago when, during a routine deposition for the case, he took the Fifth Amendment for almost an hour of questioning. Providing only his name, birthplace and birth date, he was subsequently advised by his attorney to answer none of the dozens of questions about his past, not even whether he was a Jesuit.

Attorney Rob Mezzetti II says the name "Angel" had been mentioned by one of their clients, James Doe, 50, in earlier conversations. "Our client told us somebody named Angel had molested him, and he told his sister and his psychologist the same thing." Mariano was named as a defendant April 17.

Smolich, who serves as head of the California Province of the Jesuits and works out of the headquarters above Los Gatos, acknowledged that Mariano had previously served five months' time for a child molesting incident in Campbell and was a registered sex offender. He said that, to his knowledge, Mariano had only lived at the center for a few months both before and after getting out of jail, and that Mariano had done "intensive therapy" at the church's St. Luke's treatment center in Maryland.

"Given the treatment program and follow-up Father Mariano has been doing, I believe he was a very minimal risk [to the men at the center]. I did not look at him as a risk to the men at that time," he said.

As provincial, Smolich supervises 457 Jesuit members in four Western states and Hawaii. Currently, about 65 Jesuits live at the center where Smolich keeps his office, although he lives off-site at a house on Benton Street with Mariano and another priest. Smolich emphasized that when he took his post as provincial in 1999, he knew nothing about Mariano's past. "I was not the provincial when he as arrested, nor was I the provincial when he began serving his time. I took over in July 1999. I don't know what happened before that."

Sticky Business

What happened before that was that on Sept. 22, 1998, Campbell police responded to a call from a neighbor complaining about two illegally parked vehicles on Hoffman Lane, at about 11:40pm. According to the police report, the officer shined his flashlight into the driver's side window and discovered Mariano, then 43, frantically wiping makeup off his face while a young man, aged 16, scrambled to fasten his belt buckle in the reclined passenger seat of Mariano's gold Chevy Cavalier, which was registered to the Jesuits. Another young man, age 17, waited in another vehicle parked a short distance away.

A second officer arrived at the scene and noted Mariano, who was wearing a black sweatshirt and sweat pants, stuffing some cone-shaped, peach-colored-looking things under the seat, which later turned out to be two fake rubber breasts. After interviewing the boys, police arrested Mariano for sexually molesting a minor. They collected from Mariano's car a multicolored floral makeup kit, a black headband and two 3-inch hoop earrings.

Police also confiscated a bottle of hand lotion, a nearly empty bottle of baby lotion, a towel with "sticky stuff on it," two pagers, a cell phone and a list of names and phone numbers. One police officer noted on his report that both of Mariano's pagers were going off the entire time he was logging evidence. And almost all the phone numbers would be followed by the number "69."

The youths told police they had met Mariano on the Internet and thought he was a 25-year-old Hawaiian woman named "Kim" who wanted to meet them and give them massages.

According to the police report, the youths were shocked to learn that Mariano, a Filipino of slight build, who wears his black hair long and tied into a ponytail, was a man.

Where Would You Put Him?

Following his conviction on two felony counts of oral copulation with a minor, Mariano was removed from his post at Most Holy Trinity and served five months in the Santa Clara County Jail. Parishioners and members of the Holy Trinity Church community, which includes a grammar school, were not told of Mariano's arrest or given any reason for his removal.

In a Los Angeles Times article published March 24, Smolich was quoted saying that Mariano's case was kept private and that parishioners at Holy Trinity were not told because "this is an Internet cruising thing. This is anonymous sex. This doesn't involve people at the parish. It wasn't a priest thing. He wasn't dressed in a collar."

Today, he responds differently:

"What I should have said was, I don't know why they weren't told, because I wasn't provincial at that time. I might guess that one of the reasons might have been that this particular incident did not involve parishioners, people that he knew. Again, I don't know why the parish wasn't told. In today's day and with hindsight, it is important to make an appropriate level of disclosure."

Smolich, who has lived with Mariano for two years, insists that he had no knowledge of any alleged sexual misconduct involving Mariano before the Campbell incident. And he refused to say whether, having lived with Mariano for two years, he knows anything now.

However, Smolich's predecessor, Father John Privett, who served from 1993 to 1999, has said in court documents that Mariano was reprimanded for sexual misconduct sometime before 1993, although he couldn't recall the exact time and wouldn't reveal the circumstances. But he said that out of all the priests with sexual misconduct in their pasts, the only priest he was "warned about" by his predecessor was Mariano.

When asked in court documents why, knowing about Mariano's misconduct, he allowed Mariano to be placed at Most Holy Trinity Church in east San Jose, Privet's response was that "he was preassigned there."

Mariano worked at Most Holy Trinity, which contains a small K-8 school, as associate pastor for four years, from September 1994 to September 1998.

Before Most Holy Trinity, Mariano taught religion courses at Bellarmine College Preparatory, a private Jesuit-run high school in San Jose, from 1988 to 1991.

When asked whether there had been any reports or allegations of sexual misconduct against Mariano stemming from either of these posts, Smolich says, "I'm not aware of any reports that came out, and to my knowledge there are no complaints stemming from his [Mariano's] time at Bellarmine or Holy Trinity."

As to whether a house near a college was a good place for a registered sex offender to live, Smolich responds: "Well, where would you put him? He has successfully completed the program at St. Luke's; he continues to follow an after-care program. He's not living at a Jesuit program at a school. He's a registered sex offender, so the police system knows where he is. He's living in our community, living under supervision."

With Their Pants Down

The addition of Mariano brings to five the number of priests from the Jesuit Center named in the civil suit, including Charles Leonard Conner, Edward Burke, Hal Ellis and Cliff Winger.

In the suit, the plaintiffs are seeking $10 million in damages for negligent hiring, supervision and retention of the priests at the center and infliction of emotional distress stemming from repeated acts of sodomy, molestation and false imprisonment which occurred over approximately a 30-year period.

Many of the alleged abuses, the suit contends, took place in the men's rooms, in the guest rooms and often in the "shoeshine" room, where the mentally disabled men were locked in and sexually assaulted.

The complaints were filed on behalf of the mentally retarded men by Holly Ilse, a Los Gatos shopkeeper who had befriended the men, and by the sister of one of the men, Debra Sullivan.

Ilse and Sullivan say they had taken their concerns to leaders at the Sacred Heart Jesuit Center but felt that the church had not responded adequately.

"The hardest part for me has been to see my two friends go through so many years of abuse and to realize that priests lie," Ilse says. "I feel it's my moral responsibility to help these men."

Attorney Mezzetti, who represents the plaintiffs, says he's hopeful the suit, which has been in settlement negotiations with the Jesuits for nearly a year, will be settled out of court--and soon.

"The Jesuits take a vow of poverty and say they don't have any money. One would think the Catholic church might help in these matters. Hopefully, they'll settle in negotiations. From conversations we've had, I believe they will settle with us."

Asked why the church has been slow in dealing with the problems at the Sacred Heart center, plaintiff's attorney Bob Tobin said, "I think they've been covering things up for so long it was second nature to them, and now they've gotten caught--I hate to say it--with their pants down."