Yanta Mum on Sex Abuse Issue

By Don Munsch
Amarillo Globe
May 10, 2002

Bishop John W. Yanta of the Diocese of Amarillo said Thursday he won't discuss whether accusations have been made against priests locally or whether priests accused of abuse have been sent here from other places.

Yanta said last week he would not discuss whether the diocese had received complaints about other pastors after a Hereford priest, Monsignor Orville Blum, was accused of abuse by a former Alamo Catholic High School student. The alleged abuse was to have occurred in the 1970s.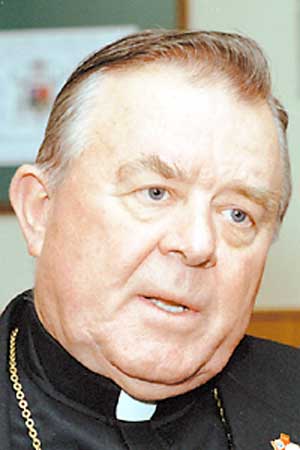 Bishop John W. Yanta: The bishop cited canonical law in refusing to comment on personnel issues.
Photo by


Deacon Floyd Ashley of the Diocese of Amarillo said the investigation continues into the accusation made against Blum, pastor of St. Anthony's Church.

Ashley said he was not sure when the investigation - conducted by a diocesan committee composed of clergy and laity - would be finished. He said priests from other parishes have conducted Masses for Blum during his absence. Deacon Jonny Cloud is conducting administrative duties at the church and is acting as the parish life coordinator.

Fred Griffin, diocesan attorney, said he can't comment on personnel matters in the diocese, and said he knows of no civil suits or criminal charges filed against the diocese in the northern 26 counties of the Panhandle.

Despite the huge publicity the national sexual abuse scandal has received, Yanta said he thinks church attendance may be up and said he's not aware of whether donations have dropped in light the scandal, which erupted in January.

"Catholics love their priests," said Yanta, who said, despite the heavy hearts and anger that abound, "There's been a reinforcement of love and respect for priests. We're only talking about a small number (accused of abuse)."

Regarding attendance, Yanta said, "most of us feel there might be an increase," explaining that when people go through a crisis - such as the Sept. 11 attacks or the ongoing war - they turn to God for guidance.

The Associated Press recently reported that at least 177 priests suspected of molesting minors have either resigned or been taken off duty in 28 states and the District of Columbia since the scandal broke in January. None of those priests was from the Diocese of Amarillo, the AP reported.

"There's been a reinforce- ment of love and respect for priests."

Bishop John W. Yanta


Yanta said the diocese is trying to reassure parishioners that it follows a policy regarding any allegations of abuse and that the diocese endeavors to ensure that "justice is meted out to all people. In the church, there is equal protection for all. Truth and justice must be observed. We, like Christ, have to have love for everyone."

When refusing to comment on any possible sexual abuse cases here, Yanta referred to the church's Code of Canon Law: Canon 220. It states, "No one is permitted to damage unlawfully the good reputation which another person enjoys nor to violate the right of another person to protect his or her own privacy."

He said the diocese takes allegations seriously and that it does have a group of clergy, professionals and laity that regularly meets to discuss sexual abuse policies.

Rebecca King, 47th District Attorney, said the statute of limitations for serious offenses, such as sexual assault of children, is 10 years from the 18th birthday of the victim.

As far as priests accused of abusing children, King said, "I have had not any cases like that reported to us. I don't remember one."

King said any accusations revolving around clergy would receive no special treatment.

"We would not nor we could not treat the position of the accused any differently, and it would be and should be treated by this office the same no matter what he did for a living," she said.