Former Omaha Priest Faces Abuse Charges

Parishioners Do Not Believe Allegations
June 17, 2002

OMAHA, Neb. -- A former Omaha priest has been removed from his duties amid allegations of sexual abuse.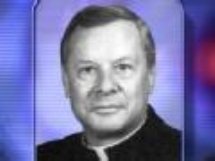 Former Priest Now Lives In Florida



The Rev. Anthony Petrusic (pictured, right) served an Omaha parish for more than two decades. The victim says the abuse happened during the 1970s when Petrusic served in Omaha.

Petrusic has since retired and moved away from Omaha.

However, parishioners at Omaha's Sts. Peter and Paul Church do not believe the allegations. They talked Monday to KETV NewsWatch 7's Trisha Meuret.

"I've known Father Tony for more than 50 years, been with him on numerous occasions and never, anything, never," said Jim Kresnik who has been a parishioner at Sts. Peter and Paul church for 63 years.

"A lot of people are in a state of shock. Here's somebody well-known, well-liked, not only in Nebraska but all over the nation and even into Europe. The guy is a personal friend of Mother Theresa's," Kresnik said.

Over the weekend, parishioners were told the news about the allegations against Petrusic. Some have not seen him for years.

Petrusic retired about 10 years ago, moved to Florida and was working in a church there, interpreting Mass for Croatian immigrants.

When the Omaha archdiocesan officials were told of the allegations, they said they followed their guidelines for dealing with the situation. They said they informed church leaders in Miami immediately.

A representative for the Archdiocese of Miami told KETV NewsWatch 7's Trisha Meuret that they were informed of the allegations by Omaha. The Archdiocese of Miami said Petrusic was ordered not to perform Mass publicly anymore.

Parishioners at the church say they hope the allegations aren't true. Either way, they say they are praying for their old friend.