BC High Ex-Coach to Face Charges

By Sacha Pfeiffer
Boston Globe
September 18, 2002

The Rev. James F. Talbot, a Jesuit priest who was transferred under a cloud of suspicion in 1980 from his teaching and coaching job at Boston College High School to an all-boys school in Maine, was indicted yesterday on charges that he sexually abused three students at the prestigious Boston preparatory school in the 1970s.

A grand jury convened by Suffolk District Attorney Daniel F. Conley charged Talbot with one count of rape, one count of assault with intent to rape, and five counts of indecent assault and battery, according to a lawyer involved in the case.

The indictment alleges the crimes took place on Saturdays in the locker room at BC High, where Talbot encouraged student athletes to improve their physical fitness by wrestling one-on-one with him, sometimes clad only in jock straps, and then forcibly molested them.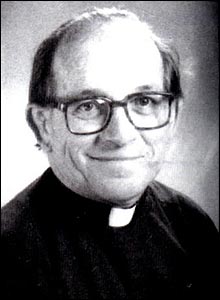 Rev. James F. Talbot



"As the wrestling got more involved he'd say, 'It's hot in here,' and he'd progressively lose more and more clothing and encourage the student to do the same," the lawyer said, citing the victims' allegations. "He'd say the bare skin made it more like a street fight, and would toughen them up. Then he'd pin the victim in a sexual position and sexually assault him."

The victims, who ranged from 14 to 17 and lived in Dorchester, Milton, and Quincy, were sometimes given beer by Talbot before the matches, according to the lawyer.

Talbot, 64, who taught history and economics and coached soccer and hockey at BC High from 1972 to 1980, is expected to turn himself in to law enforcement officials and be arraigned later this week, the lawyer said. For the past two years, Talbot has been living at the Campion Center, a Jesuit residence and renewal center in Weston. He did not return a call for comment.

Yesterday's indictment makes Talbot the third cleric this year, after the Rev. John J. Geoghan and Brother Fidelis (Francis) DeBerardinis, a Franciscan, to face criminal charges in Suffolk County for allegedly molesting minors. He is the first New England priest from the Society of Jesus, one of the Catholic Church's largest religious orders and the one that runs BC High, to be prosecuted since the clergy sex abuse crisis erupted in January.

"We hope that the indictment of Father Talbot will bring a measure of relief to those students who were victimized by his alleged actions more than 20 years ago," BC High principal William J. Kemeza said in a statement yesterday. "We have faith that justice will be served."

Abuse allegations against Talbot first became public in 1997, when a Maine man, Michael S. Doherty, filed a lawsuit accusing Talbot of molesting him in 1984 and 1985 when Doherty was a student at Cheverus High School in Portland.

Talbot taught and coached at Cheverus from 1980 until 1998, when he lost his job in the wake of Doherty's lawsuit. From 1998 to 2000, Talbot was at the St. Luke Institute, a Maryland treatment center for sexually abusive priests.

Doherty, 34, who said he and his family were ostracized by many Cheverus alumni for bringing the suit, received a private settlement in the case last year. But no criminal charges were brought in Doherty's case because the alleged abuse fell outside the statute of limitations.

At least 12 other former students, including 10 from BC High and two from Cheverus, came forward after BC High announced in March that Talbot had been accused of "inappropriate conduct" dating to the 1970s, Kemeza said.

And because Talbot moved to Maine in 1980 and did not return to Massachusetts until two years ago, the statute of limitations on many of his alleged abuses at BC High has not expired, allowing prosecutors to pursue criminal charges. The statute clock stops when the accused leaves the state.

The Jesuits are also facing numerous civil claims alleging abuse by Talbot, with the victims represented by Boston attorney Roderick MacLeish Jr.

In a Globe interview in March, Jesuit officials said Talbot's 1980 transfer to Maine was "routine." But correspondence from 1979 and 1980 suggests inappropriate behavior prompted his move.

"No outward talk about internal situation here so it looks like a smooth transition," Talbot wrote in a Dec. 17, 1979, letter to the Rev. Stephen F. Dawber made available to the Globe. Dawber, then a former BC High teacher, was principal of Cheverus at the time.

And Dawber, in a 1980 letter recommending Talbot for a job at Cheverus, described the school as having better "oversight" and being "far more conducive to a healthier lifestyle than BC High."

In March, BC High announced that Dawber - who returned to BC High after working at Cheverus - and the Rev. Francis J. McManus had also been accused of abuse dating to the 1970s. Dawber was then suspended from his teaching duties at BC High. McManus, who left the school in 1983, was placed on administrative leave from his job as chaplain at St. Luke's Hospital in New Bedford.

Before teaching at BC High, Talbot worked at Immaculate Conception Church in Boston's South End. From 1969 to 1972 he worked with the Urban Sisters Task Force.

Sacha Pfeiffer can be reached at pfeiffer@globe.com