Priest Challenges Accounts of Abuse

By Bob Campbell
Midland Reporter Telegram
December 2, 2004

Facing up to a life sentence in prison if convicted, a tense but soft-spoken Rev. Domingo Gonzalez Estrada Wednesday disputed testimony of the now 21-year-old Midland man who said the former Our Lady of Guadalupe Catholic Church head pastor molested him six times between 1989 and 1993.

Estrada, 63, is accused of making anal and genital contact with the boy.

Among key issues broached Wednesday included a dispute between the priest and the alleged victim's father about the number of times Estrada visited the boy's home and a contentious 55-minute telephone conversation Midland police recorded between the priest and alleged victim last year.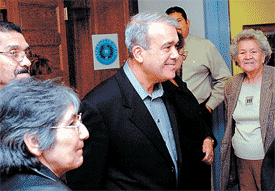 Gonzalez Estrada



With the prosecution and defense brandishing transcripts of the conversation, Estrada said he admitted then that the young man probably had been abused and suggested that it was another priest, not him.

"He said, 'You are the one that did this,' and I said, 'There must be some mistake,'" Estrada said. But he affirmatively answered Clingman's questions that he was also recorded saying he "didn't think you did it and didn't believe you did it?"

While he had made somewhat contradictory statements, the priest said, he steadfastly maintained his innocence throughout the conversation.

Estrada, a still-ordained priest who lives near San Antonio, also parried questions between his attorney, Tom Morgan, and First Assistant District Attorney Teresa Clingman about a "demand letter" Odessa attorney Steve Brannan wrote to Archbishop Patrick Flores of San Antonio last March 18.

Introducing the letter into evidence and showing it to the 10-man, two-woman jury, Morgan said Brannan told Flores he was representing the alleged victim and his family and the Archdiocese of San Antonio could avoid a civil lawsuit if it would "settle the claims."

Clingman elicited testimony from the formally dressed young man that he knew Brannan had been contacted in his behalf, but he never wanted any money from the archdiocese and wrote Brannan an Oct. 26 letter, askinghimto stop.

Before Clingman's cross-examination of Estrada started late Wednesday morning in a full courtroom of 80 spectators, the mustachioed priest answered each of Morgan's questions about the charges by emphatically saying, "No, I did not."

Disputing Tuesday's testimony of the alleged victim and his brother, Estrada and a series of witnesses who knew him while he was an associate pastor and pastor of Our Lady of Guadalupe from 1986 to 1996 said he rarely wore a clerical collar or sweaters, the blanket on his bed was beige, not maroon, and he had no green metal cabinets in his room at the 1405 Garden Lane church.

Referring to Sunday, June 6, 1993, the priest and other witnesses said the whole church frenetically worked to prepare for a bishop's visit to dedicate a shrine.

"I was in the midst of just a beehive of activity," said Estrada, adding that his mother, brother, sister and sisters-in-law arrived from South Texas at the height of the project.

Estrada said he only remembered visiting the home twice -- to bless it and later to attend a backyard barbecue -- while the alleged victim's father said the priest visited "more than 20 times."

Morgan zeroed in on a May 2001 visit Estrada paid to La Promesa Foundation, across from the church, when the alleged victim came in to return videos, hugged the priest, laid his head on Estrada's chest and said, "I can't believe my good fortune to be here to see you! My parents are going to be so sad they didn't see you here."

La Promesa Director Toyah Hall and staffer Pat Hull backed Estrada's version of the young man's asking for his address so he could be sent a high school graduation invitation.

"He came up to me and embraced me and said he was glad to see me," the priest said. "He looked genuinely happy to see me, but I couldn't quite place him."

Hall and Hull both said Estrada raised his hands in a quizzical manner when asked after the young man's departure who he was.

Former Our Lady of Guadalupe altar servers Gabriel Estrada and Brad Gibson disputed descriptions and a diagram by the alleged victim and his brother of Estrada's bedroom and its features.

Morgan held up the priest's reversible beige and burnt orange blanket with jungle animals on it for a series of witnesses, eliciting Gibson's assurance it was undoubtedly the same blanket.

"It's pretty hard to miss," said Gibson, drawing a round of laughter from the spectators. "It's kind of ugly."

Judge John Hyde said after both sides rested at 3:30 p.m. it would take until nearly 5:00 p.m. to write the jury's charge, or instructions, and he set final arguments for 8:30 a.m. today in 238th District Court.

Free on a $50,000 bond, Estrada is charged with aggravated sexual assault of a child and five counts of indecency with a child by contact. The first count carries possible punishment of five to 99 years or life in prison and the other five counts a potential of two to 20 years in prison each.

Jury deliberations are expected to begin this morning.