Father Dan Wetzler: 'The Lord Sought Me out and Here I Am Today, a Changed Person, a Better Priest'

By Mitch Finley
Inland Register
December 1, 2005

Father Daniel Wetzler, one of the diocese's retired and senior priests, was born in Fort Collins, Colorado, on October 28, 1938, and grew up in a large family, the ninth of 13 children. "Our family was a family that prayed together, nightly Rosary included," he said. "I am sure prayer had much to do with my call and the staying of that call in my life for over 40 years."

Following his ordination by Bishop Bernard Topel on May 25, 1963, Father Wetzler served as assistant pastor for what was then called Holy Ghost-St. Anthony (now St. Anthony) Parish, and then St. Ann Parish, both in Spokane. In May of 1967, he became Diocesan Director of the Catholic Youth Organization (CYO) and, simultaneously, Chaplain of Students and head of the Religion Department at Marycliff High School, which later closed.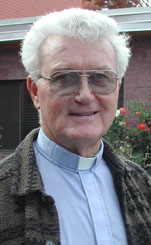 Father Dan Wetzler retired in 2002, but continues as the diocesan liaison for the Catholic Charismatic Renewal
Photo by Mitch Finley


From 1963-68, Father Wetzler taught at Mater Cleri, the now-closed diocesan high school seminary in Colbert, Wash. Subsequent years saw him serve as pastor at Sacred Heart Parish in Tekoa and St. Joseph Parish, Rockford (1976-1982); St. Paul Parish in Eltopia and St. Vincent Parish in Connell (1991); and back to Spokane, at St. Paschal Parish (1992-2002).

In 1976, Bishop Topel also named Father Wetzler Diocesan Director of the Charismatic Renewal. The title was later changed to Diocesan Liaison, a position he continues to hold today, despite official retirement on July 1, 2002.

Father Wetzler's first contact with the Charistmatic Renewal was in 1968, when a woman came to the door of the rectory wanting to talk with a priest. She told him, "My beautician is a Catholic and speaks in tongues. What do you think about that?" He calls his response at that time "typical": "Stay away from it."

The following year, when he was assigned to teach at Marycliff, the girls in his religion classes also were curious about the Charistmatic Renewal. "I said, 'I don't know, I don't go there.' I was getting all these questions, so I finally went to one of the prayer meetings. I thought, 'Well, this is not so bad. They're just singing, and clapping, and feeling good about whatever they're doing."

He was taken aback, however, by some of the people he recognized at the prayer meeting. "I thought they had their heads screwed on straight. What are they doing here? And that's the way I got moved into it."

This was happening during his days as diocesan youth director. Part of his ministry was doing weekend retreats for kids. "I had geared almost all of mine toward the college level rather than high school, and I had these kids from the University of Idaho, and WSU, and Whitworth College. And Saturday evening I was supposed to go out and talk to the kids, and these three college kids on the team asked if they could pray with me, which we were doing with all the speakers, and we had someone in the chapel, in adoration, during each talk, and we were really spiritual. And when those kids prayed with me, I describe it as 'puddled out.' I couldn't have told you where my toe was from my head. And then all of a sudden I found myself speaking in tongues. That was the beginning of one tremendous journey.

"I know for a fact that if [the Charistmatic Renewal] had not happened when it did I wouldn't be here, because at that time it was kind of 'cool' to leave [the priesthood]," he said. "All my buddies, including my roommate for four years, called me up [and said], 'Wetzler, come on down here to California, and get your degree, and we can make money.' I was getting these calls from all over the place, to leave. All I could tell them was, 'I haven't heard the Lord tell me to leave.' That's all I could tell them. And I hadn't. Still haven't."

The role of the priest in the Charismatic Renwal is critical, he said.

"Without the pastor's involvement, his encouragement and leadership, the renewal suffers greatly and thus it is indeed challenging to be involved in local parishes where the pastor is not involved. Over the past years we have tried a variety of ways to connect with parishes and have not been very successful. I don't think it would be out of order to quote our bishop, who just recently said he 'wished more priests were involved.' This has been my burden and prayer for years."

His "share in the priesthood of Christ" has changed in many ways over the years, beginning with Vatican II and the Charismatic Renewal. "I was probably the most unlikely of the priests to get involved in the Charistmatic Renewal," he said, "but the Lord sought me out and here I am today, a changed person, a better priest. I can remember when some folks, who knew me early on in my years as priest, saw me many years later and could hardly believe the change. I am not where I want to be but I am not where I used to be, and for that I am grateful to the Lord and the people who have been so much a part of, and the reason for, my ministry."

Ordained in 1963, for a couple of years Father Wetzler was a pre-Vatican II priest who liked the old Latin Mass. "I loved it; that was my security," he says with a laugh. "I handled the switch to the new English Mass fairly well. There were some elements of it that I didn't handle well. For example, I tend to be very shy, and introverted, and quiet, and when they turned that altar around I like to have died, because all of a sudden I had to look at all these people, and that really was difficult for me, very, very difficult.

"The part of opening it up to a better understanding of lay people in the church, and flipping the pyramid upside down, that sort of thing I just thrived on, I loved it. It's the People of God we're here to serve, not the pope and the hierarchy, so I really loved that dimension of it.

"The focus on the power of the word of God" is what he sees as the most positive development in the post-Vatican II Mass. "One of the most positive things for me is the emphasis on celebrating the Word of God and taking more time to do it. I know there are priests who say, 'five-minute homilies, and after that people don't listen.' I don't believe that. I think if you're feeding these people, they're going to pay attention. I think we're starving our people by our lack of celebrating the Word in some depth."

He does think that something was lost when the old liturgy was left behind: "I think we lost a sense of awe, a sense of mystery. I don't mind the folksy, hugging kind of stuff. I had to grow into that because I wasn't trained that way, but we're human and we can do these things. But [recently], we had Benediction and a Holy Hour [at Immaculate Heart Retreat Center], and the folks hardly even know the songs anymore – 'Tantum Ergo,' and 'Down in Adoration Falling,' in whatever language. And I know the young people haven't a clue what a Holy Hour is, or Forty Hours, or Benediction. The generations coming along haven't a clue. What are we giving now that can foster some of this awe, and wonder, and mystery?"

Sadly for everyone concerned, in late 2002, Father Wetzler was charged with sexual abuse, by an accuser who remains anonymous. Four months later, the priest was exonerated of all charges. This experience was the worst thing that ever happened to him, but he feels it was not without its lessons.

"I guess that the first thing that I learned during that experience," he says, "was the awfulness of isolation, not being able to be a priest. After doing it for 40 years, what else do I know?

"I learned, along with being fragile, how much I had to really try to put in practice a lot of things I preached to others, like keeping the focus on the Lord. If I worked at keeping my eyes on Jesus I could move forward. I don't know what all I learned. I'm still learning from it. I can't go a day without thanking the Lord that I was reinstated, and that the accusations were false."

Now living in a rural setting near the south end of Idaho's Lake Coeur d'Alene, Father Wetzler has no trouble staying busy. Almost every weekend he fills in for priests in Idaho who must be away from their parishes, anywhere from Lewiston up to Priest River.

"What I most enjoy" about being retired, he says, "is the peace and quiet of where I live. It's mountains, and deer, and the lake, and fishing. I just love to be able to walk in the woods with my little schnauzer, and she chases the deer. I love the peace and the quiet," he says. What does he miss about parish life? "I miss the people, dearly. I don't miss all the meetings, but I do miss the people."

Woodworking and making stained glass windows are hobbies that Father Wetzler has cultivated over the years, and he relishes the opportunity to spend more time with these avocations. Guitar is also on his agenda.

Looking back over more than 40 years of priesthood, Father Dan Wetzler has no hesitations about being positive.

"It has been a happy journey of sharing in the priesthood of Jesus Christ. The happiness comes, I believe, from the joy of the Lord that continued to strengthen me throughout the years of ministering to God's people as priest. I love to help the people to realize they are a priestly people, appointed and anointed by God, and their response expresses itself in happiness, theirs and mine."