Father Weitensteiner to Retire from Morning Star

By Mitch Finley
Inland Register
April 27, 2006

The life of Father Joseph Weitensteiner – "Father Joe" to just about everybody – is inextricably linked to the history and development of Morning Star Boys' Ranch, a Catholic home and safe haven for boys that the world has treated with all too little kindness. Located on farmland south and east of Spokane, Morning Star has been helping boys get a better start in life since 1956, and Father Joe first became involved with its mission even before he discerned his vocation to the priesthood.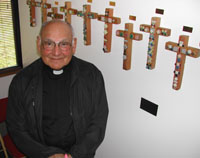 Father Joseph Weitensteiner was ordained a priest in 1966



On May 1, nine years after his retirement from active parish ministry, Father Weitensteiner will officially retire from his position as Executive Director of Morning Star, a position he has held continuously since 1966, even while serving as pastor of Spokane's St. Patrick Parish from 1982-1997.

On June 15, 1932, Joseph Michael Weitensteiner was born at Spokane's Sacred Heart Hospital, the second of the three sons of Wolfgang and Marie Weitensteiner, German immigrants who settled in Spokane. "I was a Depression baby," he quips; "my folks got depressed when they saw me." Joseph grew up knowing Spokane like the back of his hand. The future priest's father was a tailor, his mother a fulltime homemaker. Young Joseph attended Spokane's Sacred Heart School and graduated from Gonzaga Prep in 1950.

"I fled, seriously, I fled from being called" to the priesthood, he says, "and I did a good job. I remember in grade school Sister Muriel, a Holy Names nun, coming to me one day after school, and she said, 'Joseph, we have been watching you, and we think you should go to the seminary,' and that would have been right out of the eighth grade. The first thing that bothered me about that was, I thought, 'Who's this "we"?' But I was in love at that time, and there was a thought about becoming a priest, but not serious."

During his high school years, Joe worked at a meat market as a butcher, and in a grocery store. During his senior year, along with all his classmates, Joe took an aptitude test which required him to list his top three vocational choices. He wrote, in order of priority, salesman, pilot, and priest. "I don't know why I wrote down 'priest,'" he said. "I pushed that one out of my mind. I was in love, you know," with Sylvia, or was it Gladys, or Pam? He can't remember for sure. Whoever it was, he had given her a year's supply of chewing gum, and that was a gift that could not be walked away from.

At various times in his life, Father Joe became all three of his choices, including earning his pilot's license.

Following high school, the future priest attended Spokane's Kinman Business School and worked at Appleway Motors and the Palace Department Store. As a youngster, Joe had enjoyed being a Boy Scout, and after high school he became a Scoutmaster himself. Among the boys in Joe's Scout troop was a boy who today is Msgr. Robert Pearson, a retired priest of the Diocese of Spokane. In 1956, Joe was named Inland Empire Council Scoutmaster of the Year.

In 1951, while taking evening courses at Gonzaga University, Joe Weitensteiner joined the U.S. Naval Reserve. Assigned to active duty, he didn't have to go far – only to the U.S. Naval Air Station in Spokane, which today is Felts Field. His duties included personnel work, membership on a fire and rescue team, and teaching First Aid. "I still had thoughts sometimes of becoming a priest," he says, "but I was in love, again."

After his release from active duty with the navy, Joe worked at numerous jobs. He obtained his realtor's license and sold real estate. In his few leisure hours he made a bee-line for the outdoors. Mountain climbing and skiing were activities that would remain high on his list of fun things to do for the rest of his life, activities that he would share countless times with the boys at Morning Star and with kids from Spokane's St. Patrick Catholic School during the years when he was pastor there. "Kids need to have fun," he said, "and they need to have fun in the outdoors."

In 1957, not long after Bishop Bernard Topel founded Morning Star Boys' Ranch, he appointed Father Marvin Lavoy (d. 1994) as Executive Director, and he asked Joe Weitensteiner to become the ranch's first counselor. After agreeing, the first thing the new counselor did was visit a boys' ranch in California run by a Catholic Religious order. "One thing I noticed was that the adults ate behind a curtain, and they had the steak, and the kids had the hamburger and wieners. I made a rule that at Morning Star the staff will eat the same thing that the boys eat, and if the boys are going hungry so will the staff. If we're down and out everybody's going to share and share alike. That's been a set rule at Morning Star from day one."

Soon, Bishop Topel sent Father Lavoy away to get a graduate degree, so Father Lavoy asked Joe Weitensteiner to run the show in his absence. "So Father Lavoy comes back after a year," Father Joe recalls, "and he tells me that he's going to be another year at his studies. So I stay another year, and then when he comes back he asks me to stay another year to help him out. So I was there about two and-a-half years, and by then I've lost my girlfriend, and my real estate sales thing has fizzled."

Bishop Topel kept prodding Joe to give the seminary a try. "One day," Father Joe recalls, "he said, 'If you don't try you might be sorry. Go and try it,' and Father Lavoy was saying, 'Go and try it.'" So in 1959, Joe left for Boston and St. Philip Neri School, a pre-seminary program for what was then called "delayed vocations." He was all of 27, which was considered rather "old" to begin studying for the priesthood.

While in Boston, to help pay his expenses, Joe worked part-time as a counselor at the Catholic Boys Guidance Center. "It was a lock-up center for very disturbed children," Father Joe says. The soon-to-be seminarian helped organize a "settlement house" for children in the Cambridge, Mass., area.

Following his two years in Boston, Joe Weitensteiner headed back west, to Missoula, Mont., where he took classes at Carroll College, "mainly to get the philosophy there." After two years at Carroll College, the future priest then moved to St. Thomas Seminary, near Seattle. After four years of theological studies, on May 14, 1966, Joseph Michael Weitensteiner was ordained a priest for the Diocese of Spokane by Bishop Bernard Topel.

Bishop Topel first sent the new priest to his old home parish, Sacred Heart. Very soon, however, he made Father Joe the Assistant Director of Morning Star, and two months later Father Joe took over the reins as Executive Director, and that is where he has been for the past 40 years.

When asked what he has found to be the most rewarding in his more than forty years of priesthood, Father Joe does not mention first his life's work at Morning Star Boys' Ranch, because his experience of being a priest has been even more central than that. "The Mass is the center of a priest's life," he explains, "so the most enjoyable things were weddings, Sunday liturgies, even funerals – there is something joyful about going on to new beginnings. I always believed that funerals should be a celebration. Celebrations with people, celebrating births and baptisms, celebrating the sacred liturgy on weekdays and weekends, that's the center."

Father Joe also highlights his experience of celebrating the Sacrament of Reconciliation. "I'm always inspired when people come and speak to God through the ministry of the church. I'm telling you, it helps you become a better person. You think, hey, wait a minute, this person is holy. That very often impressed me, especially people who have been away (from the church) for a while, and they come back and just pour out their heart, like I say, to God through the ministry of the church. That just really impresses me, and it always did – the sincerity of people."

The most difficult part of his priestly ministry, Father Joe says, has been generating enough money to keep Morning Star Boys' Ranch solvent. "I've seen it go from $93 a month for a boy to $170 a day! So many of these boys have nobody behind them, and they're not state supported, so the ranch supports them."

Father Joe recently read the new encyclical of Pope Benedict XVI, Deus Caritas Est ("God is Love"). He pulls out his copy and points to the text. "He says that caring for the orphan and the poor, and so forth, is as central to the church as the ministry of the sacraments and the preaching of the gospel. It's really good!"

Unfortunately, some months ago allegations were aimed at Father Joe charging him with abuse by men who lived at Morning Star back in the 1970s. Father Joe admits that the stress of the highly publicized allegations have taken a toll. "However," he says, "I cannot thank enough the hundreds of (Morning Star) alumni and supporters who have contacted me over the past months."

In March, Morning Star Boys' Ranch made public the findings of a polygraph examination that Father Joe himself voluntarily requested. Administered by a nationally recognized agency in New York, the test required replies to clear and specific questions addressed to Father Joe about the allegations against him. Father Joe passed the polygraph test 100 percent.

On Dec. 23, 2005, Father Joe issued a statement in which he offered "forgiveness and reconciliation to those who are making these false accusations." He also emphasized that he has "never been sexually inappropriate with any child at any time." He also said: "Creating a positive and safe environment at Morning Star Boys' Ranch has been one of my primary priorities for 40 years. These allegations have hurt me deeply, but I have confidence that those who know me and have worked with me throughout my career know what is real."

Morning Star has received numerous awards over the years, most recently the 2005 AGORA Award for Excellence for non-profit organizations from the Spokane Chamber of Commerce. But Father Joe himself, now age 74, has received many awards and recognitions, as well, including the Spokane City Bar Association's Liberty Bell Award; membership on the National Commission on Accreditation of the National Association of Homes for Children; an honorary doctoral degree from Gonzaga University; an achievement citation by the Spokane County Juvenile Court; and induction into Gonzaga Preparatory High School's Hall of Fame.