Rachel's Sanctuary: Fernley's New Safe House
Lahontan Valley News
September 19, 2006

http://www.lahontanvalleynews.com/article/20060920/REGION/109200040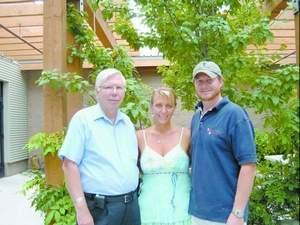 Board members for Rachel's Sanctuary include Father Tom Cronin, president, left, and Tiffany and Jason Doyle, treasurer and vice president and owners of The Pizza Factory. With the help of other volunteers in the community, the Doyles established a safe house for battered women in Fernley. The board plans that Rachel's Sanctuary will some day consist of at least three shelters in the community.



Fernley Today Correspondent

Thanks to philanthropists Tiffany and Jason Doyle, Fernley women now have a safe house to go to in times of abuse.

Rachel's Sanctuary originated when Tiffany Doyle saw a need for something she and her husband, Jason, owners of The Pizza Factory, could supply.

"It came about from personally wanting to unconditionally help people," Tiffany Doyle said.

The couple had a house that was available and saw a women's shelter as a good use for it.

"My mom has always helped people out a lot. My dad is the potentate of the Shriners in Sparks. I was raised to be involved with the church and have done stuff with the community since I was little," she said.

"There are approximately 100 calls a week for domestic violence in Fernley alone," Doyle said.

Although Rachel's Sanctuary is just getting off the ground, fund-raisers are being held and a board of directors has been named. Father Tom Cronin, who retired from St. Robert Bellarmine Catholic Church two years ago, has agreed to serve as president of the organization.

Cronin is well known in the community. He has several degrees in counseling and psychology. He suggested the shelter house be named after Rachel in the New Testament of the Bible who lost her children when King Herod ordered all children under 2 to be killed. She wept because they were gone.

In forming the organization, Cronin did considerable research. He acquired information from other shelters to assist in establishing a direction for the Fernley shelter. Along with statistics and protocol, he also received ideas for fund-raising.

Currently, collection boxes are set up at many businesses in Fernley and an account has been established at Wells Fargo Bank for monetary donations. Cell phones are being collected for recycling. Food, clothing, dishes, furniture and linens are being gathered and can be dropped off at Curves for Women, Desert Valley Cleaners or The Pizza Factory. Larger items such as furniture can be taken to Pack it-Store It Mini Storage.

Recently, the Pizza Factory had a large turnout for a family game night to benefit Rachel's Sanctuary. The Doyles plan to make the family night a once-a-month event. On Thanksgiving Day, they will hold a free, traditional holiday dinner for the community, with donations of money or food being accepted at the door for the shelter.

The current home will shelter six women and three children when it is completely set up. A volunteer staff will hold weekly group meetings. There will be counseling available.

"The goal is to purchase two more homes," Tiffany Doyle said. "We want to open one for men because there are a lot of men who are abused, too."

Those in an abusive situation can get help by calling 911 or the Lyon County Sheriff's Department.