Reverend Thomas Kloppenborg, CM

The Vincentian
September, 2007

Father Tom Kloppenborg, CM, was born in Rock Island, Illinois to Ted and Dolores Kloppenborg. He attended St. Vincent de Paul High School Seminary in Lemont, Illinois, entered the Congregation of the Mission as a novice in 1969 and was ordained a deacon for the Midwest Province in 1978. With the permission of the provincial, Fr. Kloppenborg decided to remain a deacon in the Congregation, and was assigned first to St. Vincent de Paul Church in Chicago (1978-80), and then St. Vincent de Paul Church in St. Louis (1980-82). When St. Thomas Seminary needed an assistant treasurer, he took up the challenge and agreed to a change in apostolate. He served in the finance office of the seminary for four years, learning the basics of bookkeeping and the special skills needed to manage the physical needs of a seminary. In due time, these skills would be needed elsewhere, and he was transferred to St. Mary's of the Barrens, where he took the position of treasurer (1987-93).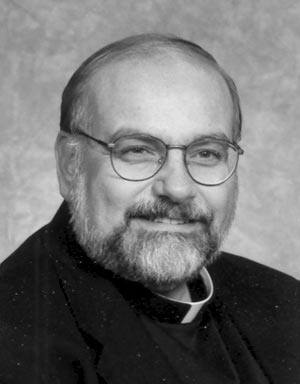 Reverend Thomas Kloppenborg, CM



At some point during these years of finance work, Fr. Kloppenborg began to reconsider his decision to remain a deacon. Finally, he took the necessary steps to become a priest, and in 1991 he was ordained a priest by Archbishop John May at the St. Louis Cathedral. He continued to work as a treasurer for St. Mary's of the Barrens, but began celebrating Mass at the Shrine Church and the many small churches in Perry County.

In 1993 he returned to full-time pastoral work at a brand new location: Cheyenne Wells, Colorado, where the Province had recently agreed to staff a cluster of small country parishes in the Diocese of Colorado Springs. Fr. Kloppenborg worked out on the eastern plains of Colorado for nine years, faithfully serving Sacred Heart Parish in Cheyenne Wells, and St. Augustine Parish in Kit Carson.

In 2002, Fr. Kloppenborg was called upon again to use his financial skill – this time as regional treasurer for the Vincentian houses in the St. Louis area. He held his position for only two years, until a new and very different call came. The Province mission in Kenya was suddenly in need of a skilled treasurer who could bring stability to the growing mission work there. He took up the challenge and moved to Nairobi, where he undertook the transformation of the finance office at DePaul Centre. During his tenure there he oversaw the completion of the new novitiate building, the establishment of two new parish residences, and the expansion of Ravasi Hall. He supervised dozens of employees, saw to the care of the buildings and grounds, and made sure the temporal needs of the confreres and seminarians were attended to.

In July of this year, he began to show signs of serious illness. He was hospitalized in Nairobi, but soon transferred to St. Louis, where he was diagnosed with pancreatic cancer. Fr. Kloppenborg died on Saturday, July 21. His funeral was held at St. Catherine Labour Church on July 24, and he was buried at Resurrection Cemetery in St. Louis.

Family, confreres, and friends were all shocked by the sudden and swift onset of his illness and death. Father George Busieka, CM, the vocation director for Kenya wrote this about Fr. Kloppenborg:


It is a great loss for us in Kenya. Indeed [he] streamlined our finances at DePaul Centre, and we have a new system which everybody follows. He made my vocation work easier by ensuring what I needed from his office was available. Indeed, I learned a lot from him and will miss him. We thank God for sending us such a great gift to Kenya. May he rest in eternal peace.


Fr. Kloppenborg is survived by his parents, Ted and Dolores Kloppenborg; his brothers Ted Kloppenborg and Tim Kloppenborg; and his sister, Julie Olson.