Father Kirchmeyer, Former Pastor in Beverly

By Father Robert M. O'Grady
The Pilot
March 7, 2008

Father Robert W. Kirchmeyer, the first native son of St. Agatha Parish in Milton to be ordained a priest of the Archdiocese of Boston, died in Florida on Feb. 26.

Father Kirchmeyer was born on June 4, 1926 the only child of Mr. and Mrs. William Kirchmeyer. His father was for many years a teacher of German at Boston College High School. After attending Milton public schools young Robert was enrolled at BC High and graduated in 1944. He entered the archdiocesan seminaries and on completion of seminary formation Archbishop Richard Cushing ordained him to the priesthood at Holy Cross Cathedral Jan. 10, 1952. He had been awarded a Master of Arts in philosophy from Boston College in 1950.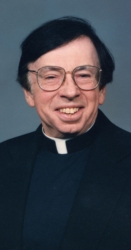 Father Robert Kirchmeyer



Following ordination he was assigned to the first of five parishes he would eventually serve in 52 years of active priestly ministry. That first assignment as an assistant was at St. Stephen, Framingham (1952-1956); St. John the Evangelist, Winthrop (1956-1971); St. Gregory, Dorchester (1971-1975) and St. Joseph, Holbrook (1975-1983) where he was named an associate pastor.

On June 28, 1983 Cardinal Humberto Medeiros named him pastor of St. Alphonsus Parish serving sections of both the city of Beverly and the town of Danvers. During almost 21 years as pastor of the parish he earned the reputation as an attentive and warm-hearted priest. When I announced his death at a meeting of Knights of Columbus on March 1, a young lady asked about him and related how much she appreciated his personal attention to her preparation for marriage and further attention when he determined she had not been confirmed and he spent extra time preparing her for that sacrament as well. She said "he was wonderful to us. I want to get to his funeral." That was some 15 years ago!

Cardinal Seán P. O'Malley was the principal celebrant of Father Kirchmeyer's funeral Mass at St. Agatha, Milton on March 4. A classmate and longtime friend, Father Arthur Driscoll, also a senior priest of the archdiocese, served as homilist. Joining him and the cardinal as concelebrants were friends and classmates including Father Richard Erikson, vicar general of the archdiocese; Fathers John Donovan and Edward Cowhig, and Father Austin Nagle, SSCC.

Following his funeral Mass he was buried in Holyhood Cemetery, Brookline. Father Kirchmeyer is survived by his cousin, Ann Pearce.