Father Elwood F. 'Woody' Figurelle

Altoona Mirror
July 18, 2008

March 29, 1933 - July 16, 2008

Father Elwood F. "Woody" Figurelle, 75, of rural Williamsburg died Wednesday afternoon at Altoona Regional Health System, Altoona Hospital Campus, as the result of injuries suffered in a tractor accident near his residence near Clover Creek, Woodbury Township. He was born in Williamsburg, a son of the late Anthony and Carmela M. (Spallone) Figurelle.

Surviving are three brothers: Theodore Figurelle (wife, Joanne) of Estero, Fla., Anthony Figurelle (wife, Barbara) of Brookhaven and Richard Figurelle (wife, Carol) of Williamsburg; four sisters: Josephine Twardowski (late husband, Charles) of Linwood, Angela Ellis (late husband, Francis) of Williamsburg, with whom he resided, Regina Seidel (husband, Jerry) of Duncansville, and Alfreda Hite (late husbands, John Hite and Howard Estep) of Hollidaysburg; 44 nieces and nephews in surrounding areas; and many great-nieces and great-nephews.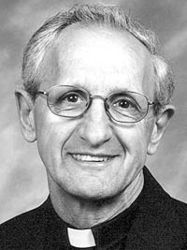 Figurelle



He was preceded in death by three brothers: Eugene Figurelle of Altoona, Edward Figurelle of Wallingford and Alfred Figurelle of Williamsburg; and a sister, Gloria Twardowski of Boothwyn.

Father Figurelle was an Air Force veteran of the Korean War, serving from 1951-55. He was a 1951 graduate of Williamsburg High School, a 1959 graduate of St. Francis College, Loretto, and was ordained into the priesthood from St. Francis Seminary May 18, 1963. Father Figurelle was a former instructor at Bishop Guilfoyle High School. He was a pastor at several parishes during the past 45 years, including St. Mary's Catholic Church, St. Leo's Catholic Church and St. Rose of Lima Catholic Church, all in Altoona; St. Joseph's Catholic Church in Renovo; St. Michael's Roman Catholic Church in West Salisbury; St. Mary's Catholic Church in Pocahontas; St. Michael's Catholic Church in St. Michael; and St. Catherine's Catholic Church in Mount Union. He was an active member of the Knights of Columbus while serving as pastor at St. Catherine's Catholic Church in Mount Union.

Father Figurelle was a renowned craftsman. He completed numerous renovations at the parishes previously stated. Parishioners who attended those churches were able to appreciate his generosity, talents and kind-heartedness. Through his hard work and dedication to his craft, all of the churches that he served were remodeled with little or no debt.

Everyone remembered Father Figurelle as having "a cross in one hand and a hammer in the other." One could say that he was a definite "jack of all trades and a master of all." It always seemed that everyone and everything "Uncle Woody" touched turned into gold. His passion, other than being a priest, was crafting beautiful clocks in the wintertime and building rock gardens and cutting lumber in the summertime. Words alone will never express all that he had done and all the hearts that he had touched. One comment that he always instilled in everyone was "the ultimate goal in life is to get to heaven."

Friends will be received from 2 to 4 and 7 to 9 p.m. today, July 18, 2008, at St. Joseph's Catholic Church, Williamsburg (the church will be open from 2 to 9 p.m.), where a vigil for the deceased will be held at 7 p.m., and from 9:30 until the 10:30 a.m. funeral Mass Saturday at the church.

In lieu of flowers, the family prefers contributions in memory of Father Figurelle be made to St. Joseph's Catholic Church's church air conditioning fund, Williamsburg.

Arrangements are being conducted by the Bolger Funeral Home Inc., Williamsburg.