Lifeteen Founder Msgr. Dale Fushek Excommunicated

Catholic News Agency
December 16, 2008

Phoenix, Ariz., Dec 16, 2008 / 07:23 pm (CNA).- Bishop of Phoenix Thomas J. Olmsted has issued a decree of excommunication to Monsignor Dale Fushek, founder of LifeTeen, and Father Mark Dippre for their establishment of and leadership in an "opposing ecclesial community."

Fushek, one of three founders of LifeTeen, has not been active in the youth ministry for four years.

The priests had served together in the 1990s at St. Timothy's Catholic Community in Mesa, Arizona, the East Valley Tribune reports. A year ago, they founded the non-denominational Praise and Worship Center, which meets Sundays at the Fiesta Fountains Recreation Center in Mesa.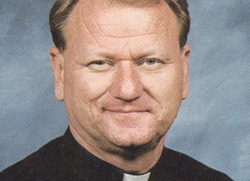 Monsignor Dale Fushek, founder of LifeTeen



Their meetings regularly draw 250 to 300 people. The priests' 90-minute services begin at 10 am each Sunday and feature much music but do not include sacraments. Reportedly, the priests have repeatedly said their services are not to be considered "Catholic" in any way.

"They always claim that they are not doing something in opposition to any denomination, but they are always holding their worship services at a time that coincides with a lot of Catholic Masses." Jim Dwyer, a Diocese of Phoenix spokesman, told the East Valley Tribune.

The East Valley Tribune quoted two attendees of Monsignor Fushek's service who also attend Catholic Mass.

"I go to Mass for my sacraments, and I go to Praise and Worship for my Christian fulfillment," Stan Nicpon said, adding that it has a "good community feeling."

His wife Jan described her reaction to the service, saying "It is kind of a fulfillment beyond church. It is just a lot of great music that kind of fills you with a good spirit, inspiration and hope — a lot of hope."

Monsignor Fushek, the former vicar general of the Diocese of Phoenix, is also awaiting trial on seven misdemeanor counts including contributing to the delinquency of a minor, indecent exposure and assault.

A statement from the Diocese of Phoenix explained the excommunications, saying that the two priests refused to comply with Bishop Olmsted's "explicit directions" to discontinue public ministry.

"The excommunications were incurred after repeated offers of reconciliation were ignored," the diocese said.

The diocese's statement remarks that the priests brought the excommunication upon themselves and explains that the priests cannot celebrate Mass or participate in any other ceremonies of worship.

"They are also prohibited from celebrating or receiving any of the sacraments. In addition, they forfeit the benefits of dignity, office, or any function that they had previously acquired in the Catholic Church," the diocese statement reads.

The diocese said that Bishop Olmsted continues to express "grave concern" for Catholics who may be "misled or confused" by the priests' actions. The statement encouraged Catholics not to attend or support the Praise and Worship Center and reminded Catholics that "the ultimate form of praise and worship is and always will be the Holy Sacrifice of the Mass."

"There is no substitution for the graces received at Mass and no prayer more edifying," the diocese said.