Clergy Sex Abuse Advocate Says Victims Still in 'Shadows,' Hope Is for Others to Come Forward

By Cliff Buchan
Forest Lake Times
February 5, 2009

A legal settlement with the Crosier Catholic religious order over clergy sex abuse cases could reverberate from Little Falls to Milaca to Forest Lake.

So said Bob Schwiderski of the Survivors Network of those Abused by Priests (SNAP) in St. Paul on Thursday moments after attorney Jeff Anderson detailed the results of the settlement of nine clergy sex abuse cases. The settlement will require the Catholic order to pay $1.7 million in damages and embark with a process of reforms and the disclosure of clergy predators.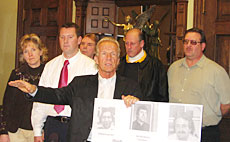 Attorney Jeff Anderson, center, holds a poster board filled with photos of Crosier priests who have been identified as being involved with sexual abuse of boys. A legal settlement was announced Thursday in St. Paul against the Crosier Order. The suit was brought by nine men who alleged sexual abuse. Pictured right to left are: Jeff Athman of Bloomington, David Bidley of Pine City, Anderson, Fred Guenther of Roseville, Bob Skjonsby of Port Orchard, WA, and his wife, Susan. Anderson was assisted in the case by attorney Mike Finnegan.
Photo by Cliff Buchan


The settlement is tied to many years of alleged sexual abuse by members of the Crosier order in and around Onamia and at churches in the Twin Cities. The abuse cases span from the 1960s to the 1980s, Anderson said at Thursday's press conference.

It is the vast scope of time and geography that leads Schwiderski to believe other victims today are "standing in the shadows" after years of bottling up bad memories of their youth.

Schwiderski pledged that SNAP would stand behind and support abuse victims who may now want to come forward.

The case

The case against the Crosier order took shape in 2006 when Bob Skjonsby of Port Orchard, WA, came forward to disclose he had been molested in the 1980s by Father Wendell Mohs in the Twin Cities and the Onamia area. Skjonsby is originally from Wahkon which is near Isle and Lake Mille Lacs.

He was the lead plaintiff among a group of nine men who emerged to allege that they had been abused by members of the Crosiers which at the time ran the Crosier Seminary and School in Onamia.

By a twist of fate, Skjonsby was entitled to bring his lawsuit which for the others was not possible because the statute of limitations had expired. Skjonsby's 20-year career in the Navy ended in 2004 but that service time exempted him from being time barred, Anderson said.

The agreement

Anderson said the settlement with the Crosiers was reached and thus kept the matter from proceeding further in Ramsey County District Court. All nine men involved in the case were sexually assaulted as boys by clerics with the Crosier order, he said.

The settlement resolves their civil lawsuits in exchange for non-economic abuse prevention steps and $1.7 million, of which $1.2 million will go to Skjonsby and $500,000 will be shared by the eight other men who now range in age from 43 to 52.

As part of the settlement, the names of all living ex-Crosiers with credible allegations of child sex abuse will be disclosed. The Crosiers also agreed to disclose documents regarding Crosier sex abusers.

Anderson said the disclosure steps should be completed within the next month.

Along with Father Mohs, the names of other clergy now tied to sexual abuse were released on Thursday. They include Frs. Gabriel Guerrero, Gregory Madigan, Roger Vaughn and Jerry Funcheon.

Information released last week revealed allegations that Mohs, who was last known to live in Rice, MN, was abused when he was 12 or 13. In a legal deposition that led to the settlement of the case, Mohs made a claim that he was abused by a Crosier Brother.

In a statement released on Monday, the Crosiers said the claim was "unsubstantiated" and has been denied by the Crosier Brother.

The abuse alleged by Mohs occurred in 1964, three years before Mohs was admitted to the Crosier Order in 1967. It was 10 years later when Mohs allegedly began to abuse young boys through the church.

Comments

In St. Paul Thursday, Skjonsby was joined by three of the other eight men who brought the suit. He was joined by David Bidney, 49 of Pine City, Fred Guenther, 48, of Roseville, and Jeff Athman, 52 of Onamia.

Bidney and Guenther were friends as youth and both reported being abused by Fr. Funcheon at St. Odilia in Shoreview.

Athman reported being abused by Fr. Madigan at Holy Cross in Onamia which is affiliated with the Crosier Seminary..

Athman's cousin, Chuck Spahn, grew up in Onamia where he reported being abused by Fr. Madigan at Holy Cross. Both Athman and Spahn were mass servers at Holy Cross but did not attend Crosier.

Other incidents of abuse were documented in the settlement at the Epiphany School in Coon Rapids in 1980 and again at Epiphany and St. Stephens in Anoka in 1981.

Anderson applauded the nine men for coming forward. It was an effort, he said, to prevent abuse from happening to others. "So the sins of the past are not repeated in the future," Anderson said.

Skjonsby said the monetary settlement was outweighed by the ability to help others deal with abuse. "I want to know if there are others out there," he said.

By telephone on Thursday from his new home in Snoqualmie, WA, where he moved a year ago, Spahn said the youth of those times were victims of a "culture" that took no action, even when youth did speak up. Spahn, who is 49, said he first spoke of the abuse when he was 29, but received no help.

"No one did anything," he said. "That was the culture of the day. I didn't even know it [the abuse] was a crime."

By stepping forward, Schwiderski believes the nine men may provide inspiration for others to seek help. As a state official for SNAP, Schwiderski said help can be found.

"Call me," Schwiderski ssaid. "I will help you."

He said he will use the momentum from the events of Thursday to reach out to others whose names have been brought to his attention by family members. They include residents of the Forest Lake, Little Falls and Milaca areas, he said.

For more information on SNAP, visit http://www.snapnetwork.org, or call Schwiderski at 952-471-3422 to report any form of sexual abuse.

Crosiers comment

In the wake of the settlement, the Crosiers Fathers and Brothers Province of Phoeniz released the following statement:

"Through this settlement we are working to respond to these men with a sense of justice, and we hope this settlement helps them move toward peace of heart and healing in their lives," said Thomas R. Carkhuff, osc, Prior Provincial of the U.S. Crosier Province.

"We are deeply sorry for these wrongs that were committed in the past by some Crosiers, and for the pain that this abuse has caused these men and their families."

Fr. Carkhuff said the four men, all of whom were Crosiers at the time the abuse took place, were named in the claims that are subject to the settlement. Two of these men continue as members of the Crosier Order: Gabriel Guerrero, osc, and Greg Madigan, osc.

These two Crosiers had been identified publicly in the 2002 report of a Crosier-commissioned comprehensive, third-party investigation of sexual misconduct allegations. These Crosiers had been removed from public ministry prior to completion of the 2002 investigation, and they continue to live under restrictions.

The other two men involved, Mohs and Funcheon, had been members of the Crosier Order, but left the Order in the 1980s.