Update: Sex Charge Brings Resignation of Pawtucket Priest

By Thomas J. Morgan
August 24, 2009

PROVIDENCE, R.I. -- The Roman Catholic Diocese of Providence announced on Monday that the Rev. Kevin R. Fisette has resigned as pastor of St. Leo the Great Church in Pawtucket because a "credible allegation" of sexual abuse of a minor surfaced after more than 20 years.

Father Fisette has been suspended from performing public ministry and placed on administrative leave with pay pending a Vatican review, the diocese said. He's to move out of St. Leo's rectory, where he had been living until now, to a house that he owns.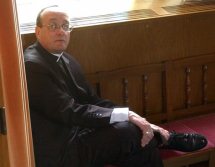 The Rev. Kevin R. Fisette -- 2002
Photo by Mary Murphy


The Rev. Kevin R. Fisette -- 2002 Journal file photo / Mary Murphy

The situation was explained to parishioners at Mass on Sunday. Father Giacomo Capeverdi, of Cumberland's St. Joan of Arc Church, has been appointed St. Leo's new administrator, diocese officials said.

The diocese said that the allegations were reported to law-enforcement officials in March.

State Police investigated the 27-year-old allegations and found that "they were credible," said Capt. David Neill, State Police detective commander.

But prosecutors found "there was not a viable case to file" due to statute of limitations and inconsistencies in the complainant's recollection of events, said Michael J. Healey, a spokesman for Attorney General Patrick C. Lynch.

At the time, Healey said, the law did not recognize child molestation and charges of second- and third-degree sexual assault carried a three-year statute of limitation from the time the alleged crime was committed.

"You can't use today's law to prosecute a crime that may have been committed almost 30 years ago," Healey said., adding, "If any credible evidence where to emerge, obviously we would look at it and consider it."

According to the diocese, Father Kevin Fisette was ordained on Nov. 21, 1981, and has served in the following assignments: Rhode Island Hospital chaplain 1981-1982; St. Mary, Cranston, 1982-1985; St. Catherine, Warwick, 1985-1990; St. James, West Warwick; and Bishop Hendricken High School 1990-1993; Pawtuxet Valley CYO spiritual director 1990-1993; Saints Peter and Paul, West Warwick, 1993-1997; and Holy Name of Jesus, Providence 1997-2004. He was appointed pastor of St. Leo the Great in 2004.

"I am saddened by this unfortunate news. However, the Diocese of Providence takes seriously this allegation," Bishop Thomas J. Tobin said. "I offer my prayers and support for the individual who came forward with this allegation and his family during this time, Father Kevin Fisette and his family, as well as the faithful of St. Leo the Great."

The Survivors Network of those Abused by Priests (SNAP) issued a statement criticizing Tobin for not notifying the public sooner.

"For almost six months, Bishop Tobin and his staff recklessly and callously chose silence over warning and opted to alert no one about a credible allegation of child sexual abuse against a Catholic priest," Barbara Dorris, director of SNAP, said.

She added, "Tobin had a moral and civic duty to promptly warn the public and his parishioners about this serious allegation."

The diocese urged anyone who has been the victim of sexual abuse or with credible

knowledge of such abuse by any member of the church to report the information to local law-enforcement or the Diocesan Office of Education and Compliance at (401) 941-0760, (401) 941-0760.

-- Journal staff writer Maria Armental contributed reporting.