Becker, Community Volunteer, Dies at 63
Historical Group President Had Charges Pending in Court

By Brian Donahue
The Sentinel
February 5, 2009

HELMETTA — Ronald Becker, who had served as president of the Jamesburg Historical Association for several years, died on Jan. 21 at the age of 63. Friends said his health had been failing recently.

Becker, a former priest, was a native of Jamesburg but had lived in Helmetta in recent years. He was heavily involved with historical endeavors in Jamesburg, including caring for the Lakeview mansion on Route 522 and coordinating historical-themed events and programs there. He also served as treasurer for the Jamesburg Civic Association and was a member of the Jamesburg High School Alumni Association and the town's Patriotic Committee.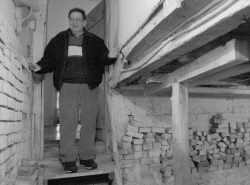 FILE PHOTO During a January 2007 tour of Lakeview, Ron Becker pointed out the instability of the walls in the basement of the historic mansion, which was slated for fix-ups.



In March 2007, he was arrested on charges that he allegedly sexually assaulted a female family member in the 1980s when she was between the ages of 3 and 7. Becker was released on bail and had been living at home in Helmetta for the past two years.

According to the Middlesex County Prosecutor's Office, the case was still open, and no plea had been made. In fact, Becker was due to appear in court the day after his death, according to Assistant Prosecutor Nicole Albert. She said the case was expected to go to trial, with a tentative date set for late March.

Services for Becker were held Jan. 26 at the Lester Memorial Home, with a funeral liturgy Jan. 28 at St. James Church in Jamesburg.

"Ron Becker was an asset to Jamesburg that will be missed," said Elliott Stroul, president of the Jamesburg Revitalization Coalition. "He believed in this community. It was where he grew up and gave his heart and soul to keeping the history of Jamesburg alive."

Stroul said Becker, in addition to his other civic roles, was one of the founders of the Revitalization Coalition a few years ago.

"He was a driving force in the townwide yard sales, the historic carriage rides, as well as many events at the Buckelew house," Stroul said. "Even though his health was failing, he continued to work toward the continued prosperity of this community. He was an inspiration, he was my friend, and I will miss him every day."

According to Becker's obituary, donations may be made to the Jamesburg Historical Association, P.O. Box 182, Jamesburg, NJ, 08831.