Obituaries
By Mike Nelson
The Tidings
May 31, 2011

http://www.the-tidings.com/index.php?option=com_content&view=article&id=1327:obituaries&catid=113:local&Itemid=402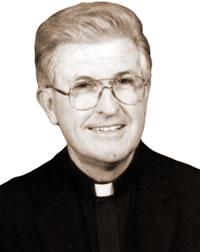 Father James M. Ford



Father Ford served as pastor at San Roque from 1994 until his retirement in 2005, after he had served six years as pastor of Our Lady of Peace.

Born March 6, 1940 in Los Angeles, he attended Chaminade High School, Queen of Angels Junior Seminary and St. John's Seminary. He was ordained to the priesthood by Cardinal James Francis McIntyre April 30, 1966, and assigned as an associate pastor to Holy Family Cathedral, Orange.

As an associate pastor, Father Ford also served at Our Lady of Lourdes, Northridge; St. Raphael, Goleta; Our Lady of Mt. Carmel, Santa Barbara; San Buenaventura Mission, Ventura; and St. Rose of Lima, Simi Valley, where he served six years before being named pastor at Our Lady of Peace in July 1988.

At San Roque, Father Ford oversaw the renovation of the worship space, and regarded parish work as his great love. He also was active in animal rescue efforts and was a classic car enthusiast.

He is survived by his sister, Joanne Lopez-Rojas; brother-in-law Delfino Lopez-Rojas, and several nieces, a nephew and great-nieces and nephews. Condolence cards may be sent to Father Ford's sister, Joanne Lopez-Rojas, 3639 Nimes Lane, Oxnard, CA 93036.