John B. Nadzam

Steubenvilletruth.org
August 14, 2011

http://www.steubenvilletruth.org/Peltz_Carl_pg1.html



Statement re Fr. Nadzam 04/03/2009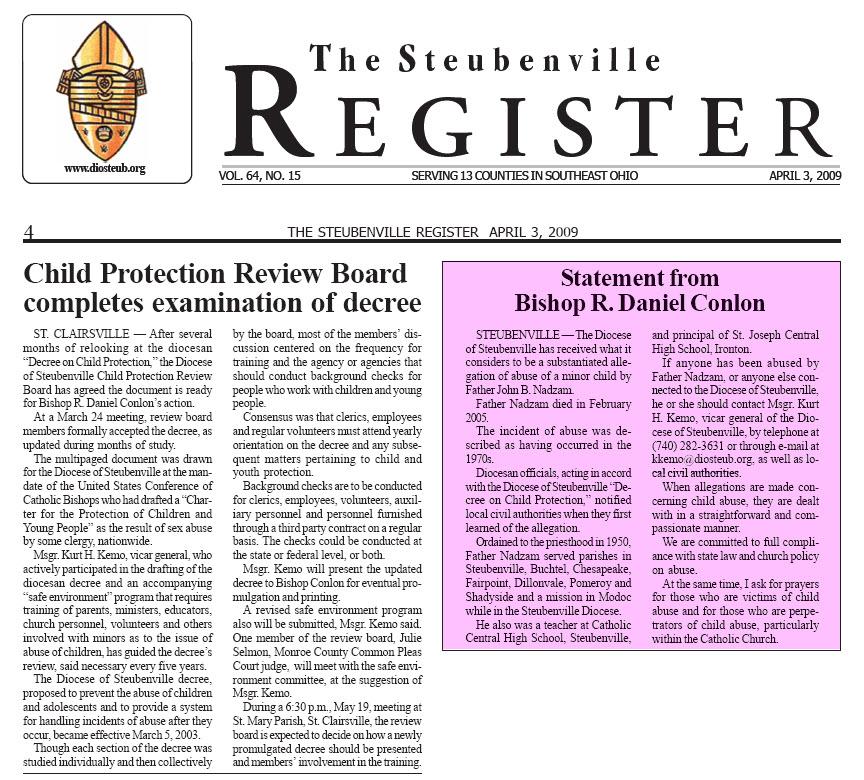 TIMELINE:

NADZAM, JOHN B. ORD. 1950 STEUBENVILLE DIOCESE

native of Pennsylvania

served in army for 5 years in World War II

priesthood training:Duquesne University, St. Vincent Seminary, St. Francis Seminary, all in Pennsylvania

1950 Buchtel, OH St. Patrick administrator

1952 Chesapeake, OH St. Ann administrator

Ironton, OH principal, St. Joseph's Central High School

1955 Steubenville, OH Holy Name Cathedral 3rd of 3 priests

1959-62 Fairpoint, OH St. Joseph, administrator

1965, 1968, 1971-4 Dillonvale, OH St. Adalbert, administrator/pastor (1965-1974 at Dillonvale, presumably)*

1975-9 absent on leaveIn residence, (Erie Diocese)

St. Walburga, Titusville, PA

1980-6 Shadyside, OH St. Mary Church 2nd of 2 priests

1987-2002 retired Munhall, PA 258 Schwab Ave.

2003-5 retired Steubenville, OH Lancia Country Club

Manordied February 18, 2005



Obituaries

NADZAM

FATHER JOHN B.

Of Munhall, on February 18, 2005, age 87. Brother of the late Mary A. Lenkner and Margaret, George and Michael Nadzam; uncle of Sr. Scholastica Lenkner, O.S.B., William, John, James and George Lenkner, Michael and Kevin Nadzam. Friends received St. Rita Church, 219 West Schwab Ave., Munhall, Monday 9:30 am until mass time of 11 am celebrated by Most Rev. Daniel Conlon, Bishop of the Diocese of Steubenville. Father John was retired from the Steubenville. Catholic Diocese after over 50 years of priestly service. He served his first mass at St. Michael Church in Munhall. He was also a veteran of the Army Air Corps and Silver Star recipient in WWII. Arrangements by the SAVOLSKIS-WASIK-GLENN FUNERAL HOME, INC. 3501 Main St., Munhall (Member Selected Independent Funeral Homes)

Send condolences at post-gazette.com/gb

Munhall, PA.