Dennis Riss

KirkFuneralHome.com
No Date

Oct 14 1950 - May 30 2009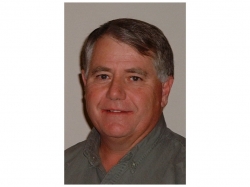 Dennis Riss



Dennis Ray Riss, 58, died of natural causes in his home in Rapid City, Saturday, May 30, 2009.

Survivors include five brothers: Michael and wife Letty of Grapevine, Texas, Steven and wife Dee of Gillette, WY. Joseph and wife Rosalyn, Leslie and wife Mary, John and wife Carol all of Rapid City. He is also survived by many nieces and nephews aunts and uncles and step mother Mary Helen Riss.

Dennis was born October 14, 1950 in Rapid City to Joseph J. Riss and Alice M (Mackey) Riss. He attended schools in Rapid City, graduating from Rapid City High School. In 1985 he graduated from St. Thomas Seminary, Denver, CO. He was ordained in the Rapid City diocese that year. Dennis went on to serve in Bonesteel, Faith and Lemmon. He also completed training and worked as an EMT in those rural communities.

He returned to Rapid City in 2002 and was employed by A&A properties and Bob's Service Station at the time of his death.

Dennis enjoyed spending time with his dogs, gardening, fly fishing, photography and wood working. He especially enjoyed Friday evenings happy hour spent with his brothers.

His greatest love of all was caring for and serving the spiritual needs of many.

He was preceded in death by his parents and grandparents.

Dennis requested in lieu of flowers donations be made to a favorite charitable organizations.

A visitation will be from 6pm to 7pm on Wednesday, June 3, 2009 at Kirk Funeral Home in Rapid City with a prayer service at 7pm.

A Mass of Christian Burial will be at 10am on Thursday, June 4 at the Blessed Sacrament Catholic Church in Rapid City with Father Ray Deisch as Celebrant. Burial will follow at Mount Calvary Cemetery in Rapid City.