No Vow of Silence Here
Fernando Guido Wants to Talk, but Investigators Don't Want to Listen

By Gustavo Arellano
Orange County Weekly
December 25, 2003
http://www.ocweekly.com/news/ex-cathedra/no-vow-of-silence-here/20409/
[See also other articles by Gustavo Arellano.]

Two years after he discovered child porn on a priest's laptop computer and alerted Catholic officials, Fernando Guido has a question: Why don't police, prosecutors and federal investigators want to know what he knows?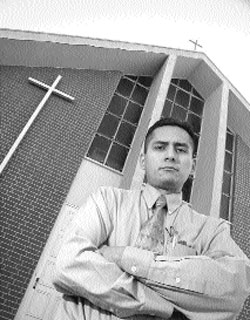 Photo by James Bunoan
A 28-year-old Fountain Valley real estate agent, Guido was a lay employee of the Diocese of Orange in August 2001 when he found graphic kiddie porn images on a laptop once owned by Father César Salazar, then a priest at St. Joseph's Catholic church in Santa Ana. After a two-week investigation, Santa Ana Police Department detectives asked the Orange County District Attorney to prosecute Salazar. The DA's office declined.

Did the Santa Ana PD have a case? Even today, they think they did.

"I'll stay away from passing judgment on another agency," said Baltazar de la Riva, spokesman for the SAPD. "All I can say is that we decided to file charges against Mr. Salazar and the DA refused our request."

Guido was similarly incredulous—neither the police nor the DA had ever contacted him during their investigations—and he was outraged by the behavior of his own church. Despite the allegations against him, Salazar continued to say Mass at St. Joseph's.

His defenders might point out that Salazar hadn't been convicted, let alone prosecuted, and that the diocese's zero-tolerance policy against child-abusing priests at the time didn't apply to possession of child pornography. That only infuriated Guido further.

"Around the time I told the diocese about Salazar, my first son had just been born," said Guido, whose home parish is St. John the Baptist in Costa Mesa. "I didn't want the case to go public—if I did that, I knew that it would explode into something unpleasant and the diocese would lose face. But then I thought about my son. I wouldn't want him to receive communion, hear confession, or be an altar boy with a priest like Salazar. I didn't want any parent to suffer that. And yet the diocese continued to allow Salazar to officiate over [Mass]."

Guido soon arranged a meeting with Michael McKiernan, secretary to the top diocesan official, Bishop Tod D. Brown. McKiernan assured Guido that Salazar was not allowed to interact with children at St. Joseph's K-8 school and had undergone psychological counseling for what Guido says the secretary called Salazar's "sexual immaturities."

Guido was ecstatic. "My convictions were reaffirmed that I wasn't making a big thing out of nothing," he said. McKiernan's response "gave me assurance that someone was going to deal with Salazar. It showed that the secretary to the bishop thought the charges serious enough and that hopefully they'd get in contact with law enforcement again."

But nothing happened and time was running out. Under California law, possession of child pornography can only be prosecuted a year after its procurement.

Guido wrote a letter to the DA's office on Jan. 29, 2002, imploring the agency to reopen the case against Salazar and to act quickly.

The DA didn't respond until the statute of limitations had run out. On Oct. 6, 2002, Fell wrote that "no criminal charges could be proven against the accused" and that "the specifics of the investigation are confidential and cannot be released without a specific order."

That's when Guido went public. He talked to reporters and, in July 2003, contacted the FBI, who promptly began an investigation. That triggered something like a panic elsewhere. The DA scrambled to explain why the agency had allowed the statute of limitations to expire on the case. The Diocese of Orange immediately placed Salazar on administrative leave following a public uproar; the Orange County-raised priest remains on leave until the FBI's investigation is concluded.

Guido has lots of questions, and not just why no one has talked to him—the guy who found the child porn on the laptop—but also why it took the DA almost a full year to respond to his letter.

"We're not saying we didn't get [Guido's letter], we're saying maybe Fell didn't immediately receive it," said DA spokeswoman Susan Schroeder. "And we're not an investigating agency. In the Salazar case, the SAPD did the investigation. All we could do was study it to see if we could prosecute the case. In America, 'under investigation' means you're being investigated—even if you're charged with a crime, we have the burden to prove the case. We didn't feel we had that at the time."

Schroeder welcomes a reexamination of the Salazar case, noting, "A police agency can bring [cases] back to us at any time. It's not a dead end, it's a two-way street."

But no one has contacted Guido since he got in touch with the FBI in July. Laura Bosley, media spokeswoman for the FBI's Los Angeles office, could say only that the Salazar case was "pending," and declined comment. De la Riva at the SAPD said his department would reopen the Salazar investigation "if we get leads or more info that would help us strengthen our case. Unfortunately, we have not received any additional info that would warrant a reinsertion in the [DA's] office."

More information might come from Guido, the man waiting vainly for their call.

"When they saw the child porn on the computer, detectives could've reasonably obtained a search warrant to search his personal computer. They could do it now," said Guido. "They could do so much more. Whoever handled the case didn't do their work. They are negligent."