Parishes Fail to Run Notice on Ex-Priest's Alleged Abuse

By Robin Erb robinerb@theblade.com
Toledo Blade [Toledo OH]
Downloaded June 29, 2004

At least five parishes in the Toledo Catholic Diocese have not yet been informed of allegations of sexual misconduct by a former priest, as required by a court settlement.

Under the terms of the settlement with brothers who charge that the Rev. Bernard Kokocinski abused them years ago, the parishes were expected Sunday to run a notice in their weekly bulletins about him, the "credible" charges against him, and his removal from the ministry.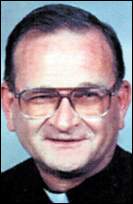 Kokocinski
However, a review of several bulletins by a local victims' group showed that a number of parishes, including St. Joseph's Parish in Fremont where the priest worked at the time of the alleged abuses, did not run the notice this week.

Claudia Vercellotti, local leader of Survivors Network of those Abused by Priests, or SNAP, was angered by the news. The case was settled about two months ago, she said.

"They're still making excuses. It's pathetic," she said yesterday.

A diocesan spokesman said the notices did not get into some church bulletins Sunday because of missed deadlines. Any parishes that did not run the notice are likely to run them this week, spokesman Sally Oberski said.

In a letter dated June 18, Father Michael Billian, the diocese's episcopal vicar, directed 13 parishes where Father Kokocinski served to publish a notice in Sunday's bulletins.

The notice was to read: "Bernard Kokocinski, who was assigned here as a priest, was removed from priestly ministry by the Diocese of Toledo in 2002 as a result of credible allegations of sexual misconduct with a minor. He has not appealed his removal within the church and will not seek any reinstatement."

The case against Father Kokocinskiwas bought by William and Scott Claar.

Father Kokocinski spent time at the Claar's Fremont home during family functions, and they accused the priest of raping them when they were younger.

William Claar first bought the lawsuit against the diocese and the priest in 2002.

Father Kokocinski was prominently featured in The Blade series "Shame, Sin, and Secrets," which listed 24 church clerics accused of sexually assaulting minors and women and uncovered a routine practice of transferring an accused priest, ordering counseling, or allowing him to step down quietly.

Father Kokocinski declined comment yesterday, and neither Claar brother could be reached for comment yesterday.

However, William Claar's wife, Pat, said she and her husband were stunned to learn that some parishes had not yet run the notice as required.

She said the couple, who live in Alaska, now want Bishop Leonard Blair to personally tell the congregation at Fremont St. Joseph's about the allegations against the priest.

"We're going to pick the dates so there's no misunderstanding," she said. "We're going to ask [the diocese] to pay for our flights, and we're going to sit in the front row.

"It seems like every time there's a hint there might be some way for him to heal," she added, "They slice open another wound."

The parishes asked to run the notice were: Our Lady of Lourdes, Toledo; Saint John, Payne; Saint Anthony of Padua, Columbus Grove; Saint Jude, Toledo; Saint Michael, Hicksville; Most Pure Heart of Mary, Shelby; Sacred Heart, Bethlehem; Saint Mary, Defiance; Saint Joseph, Fremont; Saint Patrick of Heatherdowns, Toledo; Saint Adalbert, Toledo; Saint Mary, Vermilion, and Saint Mary, Antwerp.

Contact Robin Erb at:
robinerb@theblade.com
or 419-724-6133.