Siblings Sisters Share Accusations against Priest and Others
Sisters of Charity Sued by Seven in All

By Peter Smith psmith@courier-journal.com
The Courier-Journal
July 20, 2004

Recently reunited after 50 years, five sisters clasped hands and choked back tears yesterday while recounting what they allege was a childhood of physical and sexual abuse at a Roman Catholic orphanage in eastern Jefferson County.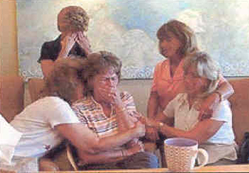 Ann Wilson, 59, center, was embraced by her sister Darlene Kustes, 55, left, as their other sisters reacted to her comment about allegations of sexual abuse. The others are, from left, Helen Edwards, 61, Carol Gilbert, 52, and Alicia Sinnott, 52.
They told of a widely admired priest who they said raped and molested them after telling them their parents didn't want them and that only he thought they were "special."

They told of nuns who they said beat and molested them, and locked them in dark rooms and deprived them of food.

They alleged incidents so intense they said they still had not told each other the full details, which emerged in a lawsuit they filed last week against the order of nuns that ran the St. Thomas-St. Vincent Orphanage in Anchorage.

Gathering in their attorney's office for a press conference before traveling to a family reunion in southern Kentucky, the sisters at one point surrounded the second oldest, Ann Wilson, as she shuddered with tears while describing her alleged abuse in graphic terms.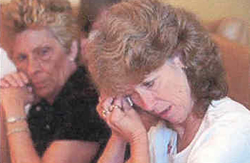 During a press conference at their attorney's office, Darlene Kustes wept as Helen Edwards, her sister, looked on yesterday. The two and three other sisters are among seven plaintiffs suing the Sisters of Charity of Nazareth, an order of about 600 nuns
"I'm sorry I didn't protect you," said her older sister, Helen Edwards.

"You couldn't protect her," said another sister, Darlene Kustes. "None of us could. You couldn't even protect yourself."

The five sisters, ranging in age from 52 to 61, are among seven plaintiffs suing the Sisters of Charity of Nazareth, an order of about 600 nuns based outside of Bardstown, Ky.

They're represented by attorney William McMurry, who also represented 243 abuse-case plaintiffs who settled with the Archdiocese of Louisville last year for $25.7 million. McMurry and his legal team, who received 40 percent of most plaintiffs' payments, also has filed a lawsuit accusing the Vatican of covering up abuse.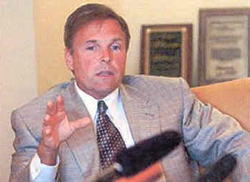 Attorney William McMurry, who won a settlement with the Archdiocese of Louisville, represents the five sisters.
McMurry claims the normal time limits on filing lawsuits should not apply in this case, contending the Sisters of Charity covered up the abuse.Leaders of the Sisters of Charity have begun preparing a response with their attorney, said spokeswoman Barbara Qualls, who said the nuns "are more and more saddened at the memories of these individuals."

The five sisters suing the order said they reported the abuse to nuns at the time and were met with disbelief or physical abuse. They say they regained contact with each other within the past couple of years, reuniting for the first time in April. After realizing that each of the sisters allege abuse, they decided to sue.

"We were in their care, they were our protectors and they chose a man who was sexually abusing," said one of the sisters, Carol Gilbert of Lexington, Tenn.

The lawsuit alleges that the Rev. Herman J. Lammers — a longtime director of Catholic Charities who died in 1986 — molested or raped each sister, impregnating one, who had a miscarriage. A sixth plaintiff also accuses Lammers, and a seventh plaintiff claims abuse by a nun, as does one of the five sisters.

The five sisters, plus two brothers, were transferred from their parents' custody to the care of the orphanage in the early 1950s.

The three oldest sisters stayed at St. Thomas-St. Vincent and other institutions, while the youngest, twins, were adopted.

"We were told by Father Lammers we were not wanted by our family" but were "special" to him, said Kustes. "You went (with him) because you thought you were special."