Diocese Settles 18 Abuse Suits

By Tim Townsend ttownsend@post-dispatch.com
St. Louis Post-Dispatch
August 26, 2004

The St. Louis Archdiocese has agreed to pay more than $2 million to settle 18 civil cases of sexual abuse, according to lawyers representing the accusers.

Edward Goldenhersh, an archdiocesan lawyer, said Wednesday that using the word "settle" is "wordsmithing."

"They've brought claims and I can beat them in court, and they know that," he said.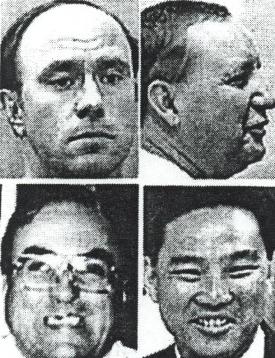 (Clockwise from left) Reverend Bryan Kuchar, Father Alex Anderson, Rev. Robert Yim and Michael McGrath. [Photos and caption did not appear in the VOTF-News version of this article. They were added by BA.org from a printout of the article.]
Negotiations between the accusers' lawyers and the Roman Catholic archdiocese have been ongoing since January in more than 20 cases involving five priests and a nun, who is now deceased. The archdiocese did not reach agreements in at least three other cases.

At least 30 more cases against the archdiocese are pending, according to Susan Carlson, one of the attorneys representing the accusers. Those cases probably will be mediated in the same way over the coming months. Attorneys would not say exactly how much each accuser received in each settlement.

"The archdiocese has agreed to help people with their counseling expenses in response to their claims of sexual abuse," Goldenhersh said. The accusers otherwise would receive nothing "because of the statute of limitations defense."

The $2 million is distinct from the $1,675,000 paid by the archdiocese in June to a St. Louis family that said the Rev. Gary Wolken sexually abused their son, for which the priest was sentenced to 15 years in prison.

In addition to the $2 million, the archdiocese agreed to provide "safe touch" education to all children in the archdiocese, and education on recognizing child sexual abuse to all archdiocesan employees, according to Carlson. It also agreed to post the state child abuse hot line in all workplace areas of the archdiocese, and in some cases to write a letter of apology to the accuser.

The five current or former priests involved in the settlements are Michael McGrath, Romano Ferraro, Robert Yim, Alexander R. Anderson and Bryan Kuchar. The late Sister Judith Fischer was the lone nun named.

McGrath was removed from the ministry in 1997 after working as a priest in St. Louis since 1975. Seventeen people have accused McGrath of abuse. The latest three, which alleged sexual abuse in the mid-1980s, were filed in March. McGrath lives in Richmond Heights and has worked as a bus driver.

Ferraro was convicted in May of raping a boy in Massachusetts in the 1970s. A man in St. Louis filed a suit in January alleging that Ferraro had abused him in the early 1980s. Ferraro was suspended from priestly duties in 1988, and is serving a life sentence in Massachusetts.

Three men accused Yim of abuse while he was a priest in the archdiocese from 1974 until 1995, when he resigned from the priesthood. In 1990, then-Archbishop John L. May removed Yim from parish ministry and assigned him as a chaplain at Barnes-Jewish Hospital. He later became a minister in the United Church of Christ but was suspended from that denomination.

Anderson, currently pastor of Most Sacred Heart church in Eureka, was accused of abusing a boy in the 1980s at St. Joseph Home for Boys in St. Louis, where he was chaplain at the time. Anderson filed a suit against the man in return. The settlement of the case came in February with neither the priest nor his accuser apologizing or withdrawing his accusations. The church, in what it called an act of kindness, agreed to pay Anderson's accuser $8,000 for past counseling and $14,500 for future medical costs.

"In my case, the diocese paid counseling fees for someone who had alleged abuse," Anderson said on Wednesday. "There was no financial settlement other than that."

Kuchar is serving three years in the St. Louis County jail for abusing a boy in 1995. Other allegations of abuse against Kuchar include incidents said to have occurred in the rectory of the St. Louis Cathedral Basilica as recently as 2001.

Reporter Tim Townsend
E-mail: ttownsend@post-dispatch.com
Phone: 314-340-8221