Ex Cathedra: Loftus' Luster Lost
Controversial Professor Is Latest UCI Employee Associated with Pedo-Priests

By Gustavo Arellano
Orange County Weekly
February 17, 2005
[See also other articles by Gustavo Arellano.]

For years, attorneys for the damned have called upon UC Irvine Professor Elizabeth Loftus to save their clients' asses. And save asses she did—Loftus signed on with numerous defense teams and earned a reputation as an academic get-out-of-jail-free card. Her job: share with jurors her controversial research that argues memory can be manipulated, that sexual abuse isn't something that the human mind can merely seal into some dark crevasse, that repressed memories are—as her most-famous book states—a "myth."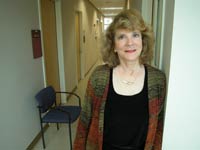 Photo by Slobodan Dimitrov.
More often than not, individuals who hired Loftus successfully fought off criminal and civil cases. A short list includes the McMartin Preschool folks, professors accused of bio-terrorism and scads of dads suspected of raping their daughters. But her tenure as a star defense witness may be over. On Feb. 7, a jury in Middlesex County, Massachusetts, found Loftus' most-recent client, former priest Paul Shanley, guilty on two counts of child rape and two counts of indecent assault and battery on a child under 14. Last week, Shanley received his sentence: 10 to 15 years in prison.

The Shanley case gained worldwide attention, primarily because prosecutors offered no hard evidence of molestation. The Middlesex County district attorney's office instead relied solely on the testimony of a victim, now 27, who claimed to have repressed memories of his abuse at the hands of Shanley until three years ago.

Shanley's attorney, Frank Mondano, derided the victim's story, maintaining during opening statements on Jan. 26 that "the simple truth is that [the accuser's] story is not reliable." Mondano was so confident jurors would accept his arguments against repressed memories that the lawyer called but one witness: Loftus.

During her two-hour testimony on Feb. 4, Loftus told jurors the same theme she's repeated in courtrooms across the country. "I don't believe there is any credible scientific evidence that years of brutalization can be massively repressed," she told Mondano. But Middlesex prosecutors were ready for this.

According to Middlesex County District Attorney Martha Coakley, lead prosecutor Lynn Rooney combed through hours of previous Loftus testimony for other cases, looking for discrepancies. Rooney also pored over Loftus' studies and experiments on the inconsistencies of memory, experiments that Coakley dismissed as "fairly trivial kinds of manipulation with memories."

"It would make sense for [the defense] to call [Loftus]," said Coakley, Middlesex County's DA since 1999. "She is the most experienced [in the repressed-memory field] and has the most widely known reputation. At least, from our point of view in the local media, she was billed as the big gun, as the best known.

"But she wasn't at the [Shanley] trial to talk about the victim; she was there to talk as an expert," Coakley continued. "And her studies just weren't applicable to these facts [in the case]."

During cross-examination, Rooney devastated the work of Loftus. Rooney asked the professor why, in prior depositions, she admitted that people could repress memories yet was now insisting otherwise. Loftus then admitted to the jury that her celebrated experiments have never used memories involving deep trauma due to ethics concerns.

"In the end," Coakley said proudly, "Lynn's cross-examination had marginalized the effects that Loftus had done in her testimony [for Mondano] and made irrelevant her expertise to the sets of facts."

Loftus has worked with other diocese across the country, and Coakley believes others will still contract her, the Shanley verdict notwithstanding. "She still is and will be the best known in her field," Coakley said. "I just think that people will review her work a bit closer in the future."

But Coakley wouldn't speculate on why Loftus agreed to work for Shanley in the first place, a decision that puzzled many church sex-scandal watchers. Shanley, after all, was one of the most notorious figures of the Boston Archdiocese sex-abuse scandal, a man who publicly spoke on the virtues of man-boy love and was present at a meeting that would spark the creation of the North American Man-Boy Love Association (NAMBLA). And Rooney had previously successfully tried John Geoghan, the former Boston priest whose predilection for raping children ultimately brought down Cardinal Bernard Law.

Instead, Loftus' involvement with Shanley will most likely be remembered as the latest UCI connection to the Catholic sex-abuse scandal. The journalist who outed Shanley as an advocate of pedophilia was former Weekly contributor Daniel C. Tsang, who would go on to become a librarian at UCI during the 1990s. Tsang's 1979 article "Men & Boys: The Boston Conference" originally appeared in the magazine Gaysweek and was introduced as evidence in a 2002 civil suit against Shanley. And as previously revealed in the Weekly, Louis Gottschalk, professor emeritus and founding chairman of UCI's Department of Psychiatry and Human Behavior, was the personal psychologist to former Mater Dei and Santa Margarita High Principal Michael Harris [see "Personnel Bile," Feb. 3]. According to sources who spoke to the Weekly on condition of anonymity, Harris would steer many of his victims toward Gottschalk when they sought solace from Harris' systematic abuse.