Breaking His Long Silence
He Claims He Was Molested by a Priest As a Minturn Teen in the '70s. the Church Says It Takes Allegations Seriously, but He's Not Convinced

By Eric Gorski
Denver Post
July 26, 2005

http://www.denverpost.com/frontpage/ci_2890452

Minturn - He is 49 years old now, with thinning hair, a goatee and an art career on the West Coast. But a drive through the town where he grew up brings childhood back to Brandon Trask: picking blueberries by the river, Sunday Mass at the old yellow church, the priest who lived across the street and touched him like a priest shouldn't.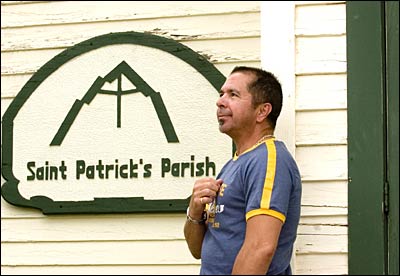 Brandon Trask's visit this month to his childhood town of Minturn and his old parish has brought back some disturbing memories, he says. He claims the Rev. Harold Robert White molested him more than once. White, who is no longer a priest, says he doesn't remember Trask. (Special / Ed Kosmicki)
In the early 1970s, when he was in his early teens, Trask said, the Rev. Harold Robert White invited him to the famous mineral pool in Glenwood Springs.

The boy figured it was a group outing. But driving off in the priest's black Mustang, it was just the two of them.

In the chest-deep water, Trask alleged, the priest reached into his swim trunks and molested him, holding the boy back when he tried to swim away.

Returning that night to this Eagle County town, White led the boy into his bedroom in the church rectory and molested him again, Trask alleged.

Even now, he remembers the wooden crucifix that hung on the wall.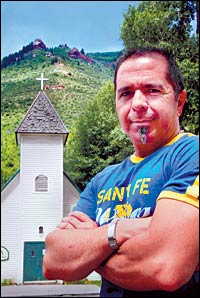 Brandon Trask, 49, stands in front of St. Patrick's Church in Minturn. Its former pastor says he doesn't recall Trask or what he says happened. (Special / Ed Kosmicki)
"I was asking myself, 'Why is this happening to me? Is there something I did wrong?"' Trask said. "I could have never, ever said anything about this to anybody. It would just not have been believed."

Contacted by The Denver Post last week, White said he had no recollection of Trask or what he described.

After a life of silence, Trask formally brought the allegations to the Denver Roman Catholic Archdiocese this spring.

What happened next is usually shrouded in secrecy: The archdiocese will not discuss specific complaints or disclose names of accused priests. In talking to The Denver Post, Trask provided an unusual glimpse into how complaints are handled.

On the essentials, church officials followed protocol: They invited Trask to appear last month before a sexual-conduct response team, offered to pay for his counseling and notified Minturn police of the allegation against White.

But the tensions between accuser and archdiocese that have since developed illustrate the difficulties and conflicting priorities that persist more than three years after the U.S. Catholic Church was plunged into scandal by a flood of allegations against priests accused of molesting minors and bishops covering it up.

Trask is pushing for full disclosure and demanding to know what church officials knew about White and when - including whether others had accused White. Trask said he is planning to sue the archdiocese.

The archdiocese says it takes allegations seriously and is committed to protecting children but draws the line at disclosing details of allegations, citing the privacy of accuser and accused.

Fran Maier, chancellor of the archdiocese, would not say whether other allegations have been leveled against White. But Maier confirmed that White worked in 11 parishes over 33 years, has been out of active ministry since 1993 and was laicized - or reduced to lay status - by the Vatican last year.

That process can be started by either priest or archdiocese, and the Denver archdiocese would not say which happened in this case or why. Though reforms adopted by U.S. bishops in 2002 in response to the scandal mention laicization as a remedy against problem priests, the process is sought for other reasons as well.

A search of public records found no evidence that White has faced criminal charges of any kind.

Reached last week at his apartment in a Denver retirement community and told of Trask's allegation, the 72-year-old White replied, "Aw, geez." He paused, then continued: "I sure don't recall that. I have no recollection of that person."

Asked whether he had ever been accused of child sexual abuse, White said, "That's sort of a personal question. I don't think you have the right to ask that."

He was asked the same question twice more.

"That I don't think I have to answer," he said. "I was in Minturn in the late 1960s and early 1970s. That's a long time ago."

Distancing from the past

The son of a zinc miner and a homemaker, Trask said his teen years were mostly happily spent skiing in the trees at Vail and clambering up mountain peaks.

Back then, Trask's name was Jesse Gonzales. He said he changed his name in 1997 to help his art career and distance himself from the past.

Across the street lived White, who graduated from St. Thomas Seminary in Denver in 1960. White arrived at St. Patrick's Church in Minturn in 1970; it was his fifth parish and his first assignment as a pastor.

Trask recalls one other incident of abuse, the last one: He said White cornered him in the rectory hallway, zipped down his pants and attempted oral sex.

"I told him, 'No,"' Trask said. "I told him I wanted to have a girlfriend because this is not me. He said, 'Well, this is just for fun.' I walked out the door."

Trask left Minturn for good after high school, moving to Oregon to study photography, then relocating to Los Angeles. A bodybuilding career was cut short when he was struck crossing the street by a drunken driver. He worked for a fitness center and started making art, crafting body casts of male nudes.

Trask believes what happened to him in his hometown changed him profoundly. He said he became distant from his parents, three brothers and one sister. He couldn't trust people as before.

He struggled with his sexuality. Growing up, Trask said, he always thought he was gay. But in his late teens, he became involved with women, even fathering twins out of wedlock. Trask said it took years to realize that being gay was who he was and that White had nothing to do with it.

It wasn't until two years ago that Trask said he started thinking about White again. He said the trigger was a neck injury on the job that laid him up, causing him to think about things.

"The thought of Father White blindsided me," Trask said. "It's hard to explain. This is helping me cleanse my life, to close some doors that have never been closed before."

Dealing with the church

Trask's first contact with the archdiocese came last year when he called the current priest in Minturn. He referred Trask to Nancy Walla, hired in 2003 to oversee the Denver archdiocese's compliance with reforms adopted by U.S. bishops to quell the abuse scandal.

Walla called Trask, and the two talked for two hours. In June, Trask traveled to Colorado to meet the conduct response team, composed mostly of lay people, that reviews allegations.

Before the meeting, Trask sought advice from Troy Gray, who heads the Colorado chapter of the Survivors Network of Those Abused by Priests. Gray, who won a settlement against the Tucson diocese, advised Trask, "Watch what you say, and don't sign anything."

Seated at a long wooden table, Trask described what had happened. He was asked what he wanted. He said he wanted an apology from White.

Trask said Walla asked whether a phone call from White would suffice. He replied that he wanted a face-to-face meeting.

Walla told Trask that White was no longer a priest, but she would not answer questions about his other parish assignments, where he is now or whether he left the priesthood on his own or was forced, Trask said.

Walla asked whether Trask wanted therapy, and he accepted the archdiocese's offer to pay for it. Maier, the chancellor of the archdiocese, said the archdiocese tends to offer counseling "for any allegation with any credibility" but emphasized it is not an admission that abuse occurred.

Trask said he left the meeting unsatisfied.

"I told them, 'I'm leaving here with an empty heart.' It isn't that they didn't believe it. It's that nothing will come of it."

Trask also is upset by a May 18 e-mail in which Monsignor Thomas Fryar, the archdiocese's vicar for clergy, details Trask's claim in a report to Minturn Police Chief Lorenzo Martinez.

Since 1991, the archdiocese has followed a policy that it report child- abuse claims to authorities. The Colorado legislature in 2002 made it state law: Clergy must report child-abuse allegations to police. However, the criminal statute of limitations on child sex abuse - 10 years past the victim's 18th birthday - had long since passed for Trask.

In Fryar's e-mail, Trask's name, address and phone number are listed. White is identified, but the report lacks his full name, date of birth or last known address.

"Police reports have information on both parties," Trask said. "It made it look like it's all me."

Maier said victims' information is included so police can reach them. He said that because White is no longer an employee, the archdiocese doesn't have his address. Martinez was unavailable for comment.

Scandal limited in Colorado

Exploding in Boston in 2002 and reaching nearly every corner of the country, the clergy abuse scandal has become the worst crisis in the church's U.S. history. More than 4,300 priests allegedly abused more than 10,000 minors since 1950.

In Colorado, the damage has been limited. The Denver archdiocese has reported credible allegations against seven priests involving 21 victims and $997,730 spent on settlements and counseling since 1950. The archdiocese also revealed it fielded additional allegations in 2004 against eight priests, most involving decades-old cases.

Denver Archbishop Charles Chaput has said no priest in active ministry has been credibly accused of molesting a child, which Maier said remains true.

U.S. bishops three years ago adopted a policy that stated, "When even a single act of sexual abuse by a priest or deacon is admitted or is established ... the offending priest or deacon will be removed permanently from ecclesiastical ministry."

But the issue of disclosure remains controversial. When U.S. bishops renewed the abuse reforms in June, victim advocates demanded that dioceses be required to disclose perpetrators' names, to no avail.

Maier said the Denver archdiocese takes seriously and acts promptly on all allegations. But he said priests deserve protection from potentially false allegations, and many victims desire privacy out of fear of being retraumatized.

"Our policies have always been guided by sensitivity and discretion to the people who might be hurt by the information," Maier said.

David Clohessy, national director of the Survivors Network of Those Abused by Priests, dismissed the idea that victims' privacy is at risk because identifying perpetrators does not identify their victims.

Clohessy said there is value in disclosing the names of abusers, even if the cases date back 20 or 30 years.

"There may well be dozens of other men and women who were molested by these guys, each suffering in shame and self-blame and thinking they're the only ones," he said.

White doesn't recall teen

Over three decades, Harold Robert White moved from urban to rural settings, from being an assistant pastor to pastor and back to assistant pastor. He is also identified in archdiocese directories as H. Robert White and Robert White.

In a brief phone interview last week, White said the archdiocese had not contacted him about Trask's allegation. He said he remembered a family named Gonzales across the street from him, but no Jesse.

White said he left the archdiocese in the early 1990s because he was suffering from heart problems and to care for his ill mother. He cut the interview short, referring further questions to the archdiocese. He has not responded to further interview requests.

Trask has changed his mind about wanting only an apology. Now he said he hopes that other victims come forward as a result of his going public and that he can file a lawsuit against the Denver archdiocese.

In general, child sex abuse victims in Colorado must file a civil suit by the time they reach age 24 except in select circumstances, including cases of repressed memory. Some plaintiffs, however, have sued Catholic dioceses and argued that statutes of limitations should be extended.

Before leaving Colorado to return to Southern California, Trask talked with his family.

He told them how much he enjoyed his time back home, how it brought back memories of foraging along the Eagle River, of climbing Mount of the Holy Cross, and of the priest who lived across the street.

"I have to say something," he told his mother, father and sister. "I have to tell everyone."

His mother, he said, was shocked by what he described.

"Father White?" she said. "Him? I don't believe it."

"Yes, Father White," her son replied. "It's taken me 30 years to tell you."