Priest Convicted on Sex Abuse, Faces 100-Plus Years in Prison

By Jim Walsh
The Arizona Republic
November 17, 2005

Mesa AZ - A jury Thursday found a Catholic priest guilty on six counts in the sexual abuse of boys when he was stationed in the West Valley after a trial that included powerful testimony from four Indiana men who said that they, too, were victimized by him.

The Rev. Paul LeBrun, 49, was found guilty after three weeks of testimony in a Mesa courtroom. LeBrun, awaiting trial in the Maricopa County Jail since 2003, was the first priest to be judged on sexual charges by a Valley jury since the Catholic sex scandal broke nearly four years ago. Other cases ended in plea bargains or, in two cases, the accused fled to other countries and have not been extradited.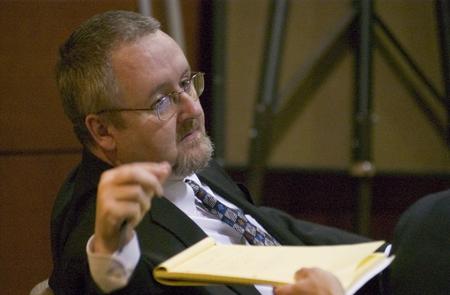 Jurors deliberated for four days before returning a guilty verdict against priest Paul LeBrun. James Carreno / The Arizona Republic

LeBrun, who could face more than 100 years in prison, has been stripped of his priestly duties, but has not been defrocked. He stood trial on eight counts of sexual conduct with a minor and five counts of child molestation. Jurors deadlocked on five counts and acquitted LeBrun on a sixth; one other count was dropped.

Prosecutors Suzanne Cohen said in closing arguments that he preyed on vulnerable young boys whose parents were abusive, divorced or abandoned by their fathers in Arizona and Indiana.

"He was basically a wolf in sheep's clothing," Cohen said. "Everything he did was to get close to these little boys. Everything he did was to abuse these little boys."

But defense attorney Ken Hulls said the accusers didn't step forward for decades and are motivated by greed.

Hulls said four accusers, at least three of whom have felony records, have filed civil suits, and that one offered one of LeBrun's cellmates a $500,000 bribe to falsely testify that LeBrun confessed to the molestations.

The cellmate, Larry Ponte refused the bribe and testified instead as LeBrun's only witness, saying that the victim hoped to make millions after he was "supposedly molested" by LeBrun.

LeBrun was accused of abusing West Valley boys ranging from 11 to 16 from 1986 to 1991 at St. John Vianney Church in Avondale and Blessed Sacrament Church in Tolleson.

Four Indiana victims ranging from 9 to 13, were abused between 1979 and 1986.

LeBrun cannot be tried for the crimes committed in Indiana because the statue of limitations has expired.

But Maricopa County Superior Court Judge Crane McClennen allowed their testimony in Mesa. He ruled that jurors could use the evidence to determine if LeBrun has "a character trait that predisposes him to commit the crimes charged."
Sidebar: Priests in trouble
• The Rev. Wilputte "Lan" Sherwood pleaded guilty to attempted sexual conduct with a minor and attempted sexual exploitation of a minor at St. Benedict Church, Chandler. Sentenced in August 1993 to 10 years in prison.
• Father Karl LeClaire, former pastor of Queen of Peace Church, Mesa, stood trial for one day in Maricopa County Superior Court on child molestation and sexual conduct with a minor. Pleaded guilty to lesser charge of aggravated assault with sexual motivation, sentenced to one year in jail last January.
• Lawrence Joseph Lovell pleaded guilty to child molestation and sexual conduct with a minor in Yavapai County. Sentenced for 14 years in prison in March 2004. Entered no contest plea in Maricopa County in January 2005 to child molestation and attempted sexual conduct with a minor when assigned to St. Anthony and St. Pius X churches in Phoenix in 1984 and 1985. Sentenced to 12 years in prison, consecutive to Yavapai sentence, but sentence suspended and placed on five years probation.
• George Bredemann faced three counts of attempted child molestation. Sentenced in 1991 to 45 years in prison.
• John Giandelone, former priest, was sentenced in 2004 to 22 months in prison for sexually abusing an altar boy in 1979.
• Mark Lehman, former priest, served 10 years in prison for molesting three young girls in 1992 at St. Thomas the Apostle Church in Phoenix.
• The Revs. Patrick Colleary, Joseph Henn and Joseph Briceno, all facing sex charges, are all still sought in foreign nations by prosecutors.