Victims Urge Iowa Bishops to Sanction Alleged Abuser
Retired Sioux City Bishop Lawrence Soens Says Claims against Him Are Untrue

By Shirley Ragsdale
Des Moines Register
January 4, 2006

http://desmoinesregister.com/apps/pbcs.dll/article?AID=/20060104/LIFE05/601040353/1045


A half-dozen clergy sexual-abuse survivors and family members demonstrated outside the Des Moines Diocese headquarters Tuesday, asking that a retired Sioux City bishop be sanctioned by other Iowa bishops.

Carrying signs asking, "Why the double standards for bishops?," the group is asking that action be taken against Bishop Lawrence Soens. The group had staged similar "sidewalk press conferences" in two other Iowa Catholic dioceses last month.

Soens "remains a cleric in good standing despite the fact that there have been 10 claims of child sexual abuse filed against him in the Davenport Diocese," said Steve Theisen, Iowa director of the Survivors Network for those Abused by Priests.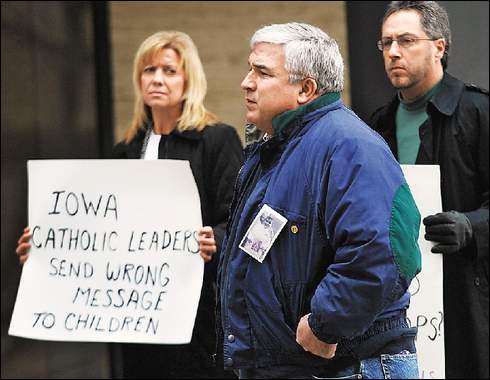 Statement: SNAP's Steve Theisen speaks at the Catholic Pastoral Center as Mary LaHay and her husband, Bill, listen. Photo by Gary Fandel/The Register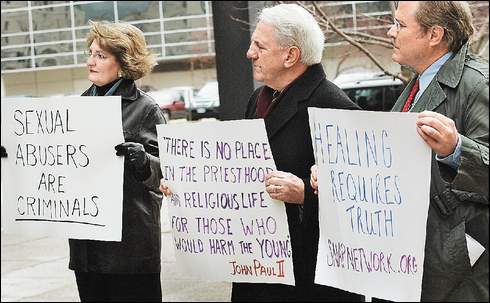 In Des Moines: Left to right, Lori Day, Paul Koeniguer and John Chambers hold signs Tuesday during a Des Moines news conference held by members of the Survivors Network of those Abused by Priests. Their protest targeted a retired Sioux City bishop accused of abuse. Photo by Gary Fandel/The Register

Soens


Soens, who retired in 1998, has denied the allegations, which stem from a period when he was a priest in the Davenport Diocese.

Soens has been sued by two men who said they were sexually abused by him when he was a priest and principal at Iowa City Regina High School. In 2004, the Davenport Diocese settled an abuse claim against Soens for $20,000. In 2005, seven additional claims of sexual abuse against him were presented to the Davenport Diocese for mediation.

"Bishops who have allegations of sexual abuse against them should not have special treatment," said Paul Koeniguer of Des Moines, an Iowa survivors network member. "Child sexual abuse is a crime, and priests, bishops and cardinals should be treated the same."

Theisen said that since the 2004 settlement, Soens traveled to Rome and met with the pope, was one of the bishops celebrating a memorial Mass at the time of John Paul II's death, and has had a place of honor at recent Sioux City religious events. Theisen said that allowing an alleged molester to be honored and take an active role in diocesan events is "an affront to victims."

Anne Marie Cox, a spokeswoman for the Des Moines Diocese, said Soens has not participated in any Des Moines religious events in recent years.

"I wish we had known they were coming," she said Tuesday. "Bishop (Joseph) Charron left for a walk just five minutes before they arrived. I'm sure he would have met with them." Tom Chapman, chancellor of the diocese, accepted the group's letter to Charron.

Appointed by the pope, bishops answer only to the Vatican. Sanctioning a bishop accused of child sexual abuse is not covered in the sexual-misconduct policy enacted in 2002 by the U.S. Conference of Catholic Bishops.

Although there have been suggestions that the bishops hold each another accountable, no such action has been taken, according to David Clohessy of St. Louis, national director of the survivors network.