A Tradition Lives on

By Deirdre Cox Baker
Quad-City Times [Davenport IA]
January 5, 2006

http://www.qctimes.net/articles/2006/01/05/news/local/doc43bcd3f702169840175957.txt

THE Rev. David Choby has stepped into some rarified company in the Diocese of Nashville, Tenn., and his journey to the top was helped by spiritual development in Davenport.

Choby was named bishop of the diocese Dec. 20 before an enthusiastic crowd of 200 supporters. He is the 11th bishop of Nashville, and the third who came via St. Ambrose University, Davenport, and its seminary program.

"I really loved Davenport, I was crazy about it," said Choby, 58, a 1969 graduate in philosophy. He also is one of several priests to have been educated in Iowa before leading parishes in their native Tennessee.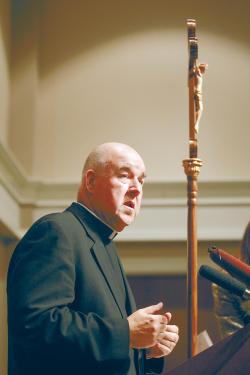 The Rev. David Choby, a 1969 graduate of what is now St. Ambrose University in Davenport, talks with reporters after being named as the new bishop in the Diocese of Nashville, Tenn.
Photo by the Associated Press.


The Davenport-Tennessee pipeline was nurtured by Bishop William Adrian, an Iowa native who served the Nashville diocese from 1936-69. Choby grew up in Nashville and

consulted with Adrian when choosing his life's work.

He arrived in the Quad-Cities in September 1966 on the Rock Island Lines train. The years that Choby spent in the area were so pleasant, he thought about moving to Davenport.

But his parents and family lived in middle Tennessee, and he eventually returned to serve the 70,633 Catholics in that region of the country. Choby most recently has been diocesan administrator and pastor of St. John Vianney Church in Gallatin, Tenn.

The Rev. George McDaniel of St. Ambrose was in seminary with Choby and is happy to hear a fellow Ambrosian had attained the bishop's rank. Some five graduates have done so, McDaniel said.

Throughout the country, 10 or fewer appointments to bishop are made each year, according to the U.S. Conference of Catholic Bishops in Washington, D.C.

Choby said his diocese is in a period of significant growth fueled by immigration to Tennessee. Local Catholic schools are expanding as well.

Like others in the United States, this diocese has implemented several strong programs associated with the sexual abuse scandal, the bishop-elect said.

"I have a sense of sorrow and sadness, and a sense of anger, too, that a very few priests have been so destructive," he said.

But the church has done a lot to address the sexual abuse problem, and Choby noted other faiths and organizations are now contacting Catholic institutions for information and assistance on the issue.

Catholics make up about 5 percent of the population in Tennessee, and Choby is active in ecumenical outreach efforts. "We do have a wonderful relationship with other churches," he said. The bishop-elect intends to invite ministers, including pastors in the Baptist and Church of Christ denominations, to his ordination.

Choby did return to Davenport with some frequency after he graduated from college, and also attended his 25th class reunion. "I would like to come back as bishop and have the opportunity to touch base with my old friends," he said.

The ordination will be Feb. 27 in the Cathedral of the Incarnation in Nashville.

Deirdre Cox Baker can be contacted at (563) 383-2492 or dbaker@qctimes.com.