Bishop Will Meet with Parishioners

KSTP
January 5, 2006

http://www.kstp.com/article/stories/S13176.html?cat=1

HUDSON, Wis. (AP) - A bishop has agreed to meet Jan. 15 with parishioners of St. Patrick's Catholic Church to discuss issues involving a former priest who a judge has ruled likely killed two Hudson funeral home workers nearly four years ago.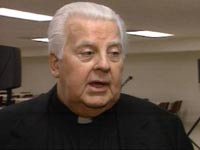 Bishop Raphael Fliss


Some church members have publicly wondered whether the killings could have been prevented had the diocese acted when parishioners complained about the late Rev. Ryan Erickson, who hanged himself about a year ago after being questioned by police in the slayings.

"There is certainly anger, but I am hopeful that we can express the anger in ways that are constructive rather than destructive and helpful rather than hurtful," said the Rev. John Parr, St. Patrick's pastor. "At least that's my prayer."

Bishop Raphael Fliss of the Superior Diocese will visit Hudson Jan. 15 to meet for the first time with the parish regarding Erickson, Parr said. There will also be three private meetings between Fliss and various leaders of the parish, he said.

Erickson was a priest at the 1,800-member church from 2000 to 2003 and drew criticism from some parish members over his behavior and conservative religious views.

In October, St. Croix County Circuit Judge Eric Lundell ruled there was probable cause that Erickson shot Daniel O'Connell, 39, and James Ellison, 22, at the O'Connell Family Funeral Home on Feb. 5, 2002.

District Attorney Eric Johnson said evidence suggested O'Connell found out the priest was sexually abusing someone, was providing alcohol to minors, or both.

Days later, Fliss issued a statement and apologized for failing to find out more about Erickson, saying evaluations in the early 1990s showed Erickson was a proper candidate for the priesthood. The diocese did not learn of any new allegations of improper sexual behavior by Erickson until Dec. 17, 2004 - just two days before Erickson committed suicide, the bishop wrote.

Since the probable cause court hearing, Fliss has met with parishioners in Ladysmith and Hurley, where Erickson served after leaving Hudson. The bishop wanted to go to Hudson sooner but Parr said he wanted him to wait.

"I wanted to do it at a moment most constructive for the parish," said Parr, who met with Fliss along with several others three weeks ago to finalize the Jan. 15 meeting.

Parr said his church hired a human relations consultant and the executive director of the Center for Grief, Loss and Transition to help with a series of meetings with parish members.