New Bishop a Sign of Health for Yukon Diocese

CBC News
January 6, 2006

http://www.cbc.ca/north/story/catholic-bishop-06102006.html

Yukon's Catholics are welcoming the news that the church has appointed a new bishop to diocese, saying it's a sign the troubled diocese has begun to turn things around. Pope Benedict appointed Gary Gordon, a priest from Chilliwack, B.C. as the bishop of the Whitehorse diocese on Thursday. The bishop oversees about 8,000 Catholics in 20 parishes and missions throughout the Yukon and Northern B.C. "I am a little bit taken aback by the appointment of the Holy Father," Gordon said Thursday. "It sort of comes out of the blue, so it will just be a matter getting up there and getting the lay of the land." Gordon replaces Bishop Thomas Lobsinger, who was killed in a plane crash in 2000.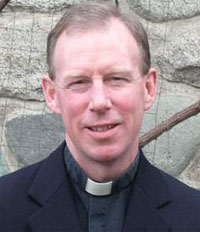 Bishop Gary Gordon will lead a church that has turned the corner on the residential-school abuse issue. Photo courtesy Canadian Conference of Catholic Bishops




The position has remained vacant since, though the bishop for Fort Smith has held the job from a distance for three years. At the time of Lobsinger's death, the church in Yukon was on the brink of bankruptcy because of a number of sexual abuse claims filed by former residential school students. A priest in the diocese says that likely contributed to keeping the position vacant. "I was able to pay the portion that we were responsible for by selling off a number of houses the diocese had," says Father Jim Bleackley. "At that point my big concern was whether the diocese would go bankrupt, that was concern for us and I'm sure a concern for those who were making the decision about a new bishop. "They didn't want to appoint someone who was going to come into a situation as complex as that." The news was welcomed by local faithful. "There are decisions that have to be made in the diocese, which the vicar-general could not make," says Beata Alexandrovich, who has been with the church for 52 years. "And just having Bishop Croteau coming over from the Northwest Territories, he's already got a big territory, and to cover his one too, it was just an overload for him. He couldn't make some of the decisions I would think." Gordon says under church rules his ordination must take place within three months of the announcement. He says he'll talk to members of the Catholic church in the Yukon about their preferences for where and when it should happen.