Vatican Grants Church Trial in Abuse Case

By Andy Newman and Michael Luo
The New York Times
January 7, 2006

http://www.nytimes.com/2006/01/07/nyregion/07priest.html?ex=1139461200&en=22f5337eae80ba48&ei=5070

After waging a public battle against the Archdiocese of New York, the most prominent Roman Catholic priest in the archdiocese to be accused in the sexual abuse scandals was granted a church trial yesterday by the Vatican to determine whether he should receive the ultimate punishment of removal from the priesthood.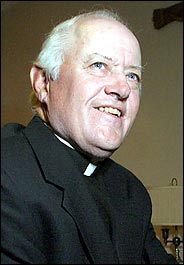 Chester Higgins Jr./The New York Times Monsignor Kavanagh


The priest, Msgr. Charles M. Kavanagh, former head fund-raiser for the archdiocese and an immensely influential figure in Catholic circles, has fought Cardinal Edward M. Egan since 2002, when the cardinal suspended him and asked the Vatican to bar him from returning to the ministry.

Monsignor Kavanagh is the first Catholic cleric in New York to be granted a trial since the sexual abuse scandals emerged in 2002. Twelve others were denied trials by the Vatican and either defrocked or sentenced to a life of prayer and penance, archdiocese officials said.

Monsignor Kavanagh, 68, was suspended after a former student at the high school he had run told the archdiocese that during a six-year friendship more than 20 years ago, the monsignor touched him in a sexual manner and twice lay atop him and rubbed against him.

Monsignor Kavanagh maintains that his relationship with the student was affectionate but not sexual. In 2004, he took the rare step of publicly attacking the cardinal, accusing him of threatening him to keep him from fighting his suspension and of denying him full access to his disciplinary file.

The trial will be conducted behind closed doors by a tribunal of three to five canon law judges in Erie, Pa. Cardinal Egan had asked that that the case be moved out of New York to a "more sedate" environment, archdiocese officials said. No date has been set.

While Monsignor Kavanagh called the Vatican's decision a victory - "All I want is a full and fair hearing," he said - several national experts said that such trials have been growing more common since the adoption of rules in 2002 requiring that cases involving accusations of sexual abuse be sent to Rome for examination.

The Rev. Thomas Doyle, a longtime champion of abuse victims, said the Vatican's disciplinary wing, the Congregation for the Doctrine of the Faith, had granted several dozen American priests trials since 2002. "What is happening is not unusual," he said, adding that he would not say it was "a victory for anybody."

The archdiocese's spokesman, Joseph Zwilling, said he was not quite sure what to make of the Vatican's decision.

"This is the first case of its kind that we've had," he said. "Because this is something new, we really don't know what it means."

Monsignor Kavanagh's accuser, Daniel Donohue, greeted the news of the trial warily. "If this is going to get us closer to the truth, then I welcome the opportunity," Mr. Donohue said. "That will be determined by how much due process, transparency and inclusion there is here."

In 1978, Monsignor Kavanagh was rector of Cathedral Preparatory Seminary in Manhattan, a high school for boys considering the priesthood.

Daniel Donohue was a 14-year-old freshman, and a rising star on the basketball court and in the classroom.

Monsignor Kavanagh became his spiritual mentor and best friend, Mr. Donohue said. Their physical relationship progressed to long hugs and holding hands, he said.

During his sophomore year, when he sometimes stayed in the same residence as Monsignor Kavanagh, the priest would watch him in his bedroom through a keyhole, Mr. Donohue said. (According to Mr. Donohue's family, Monsignor Kavanagh later wrote in a letter to Mr. Donohue that he had just been checking to make sure the boy was praying.)

Mr. Donohue said that during his senior year, when he and Monsignor Kavanagh shared a hotel room at an anti-abortion rally in Washington, the monsignor stripped to his underwear and lay on top of him, "rubbing his body and rubbing his face on me."

Mr. Donohue said he eventually saw the relationship as destructive, broke it off and asked Monsignor Kavanagh for an apology, which has never come. He said the experience had shattered his faith and led him eventually to drop out of seminary college. Now 41, he is married with four children and lives in Oregon.

Monsignor Kavanagh, meanwhile, was made rector of St. Raymond's Church in the Bronx, one of the city's biggest and most prominent parishes. In 1994 he was named vicar of development - chief fund-raiser - for the archdiocese. He held both positions until his suspension.

Even after his suspension, Monsignor Kavanagh remained a revered figure to some. Parties in his honor in 2003 were attended by hundreds of guests. His powerful defenders included a former state assemblyman, John C. Dearie, and a former spokesman for Gov. George E. Pataki, Michael McKeon.

Yesterday, Monsignor Kavanagh said he was grateful for all the support. "It's been an incredibly rich time," he said, "and it would not have happened except I had to face this brokenness in my life, this test."

Daniel J. Wakin contributed reporting for this article.