Ex-Priest Sentenced for Sex Crimes

By Maureen Kyle
WAVE 3
January 9, 2006

http://www.wave3.com/Global/story.asp?S=4337909&nav=0RZF

(LOUISVILLE) -- A former Louisville priest who pleaded guilty to sexually abusing four young boys nearly a decade ago was sentenced Monday. Edwin Scherzer served as a priest at St. Therease and St. Edward Catholic parishes in the 1950s and 1960s. WAVE 3's Maureen Kyle was there.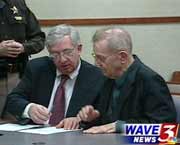 As a priest, Edwin Scherzer once granted forgiveness. On Monday, however, he was seeking forgiveness from Jefferson Circuit Court after pleading guilty to four criminal counts of sexual abuse of a minor.

The prosecution and defense came to an agreement after Scherzer completed a pre-sentencing evaluation.

Prosecutor John Heck noted that Scherzer is "81 years old, and in very poor health, so he's bound to be a low risk to re-offend."

Given those circumstances, Heck didn't want this case to go to trial.

"There's a good chance that the court would have probated him in the first place," Heck said. "With home incarceration, we actually get not only four felony convictions, we get the sex offender registry, the sex offender treatment, and some form of incarceration."

Watching their abuser plead guilty and learn his sentence provided little satisfaction for John Scott and Tom Weiter.

"I don't think I can ever close the book on this," Scott said. "This will be a part of my life until the day I die."

But Weiter says he is able to give the former priest -- even if the courts would not.

"I can't hold a lot of animosity toward him, because it would be unhealthy for me to have hatred for him. So, if he would ask for forgiveness, I could probably forgive him, because I understand that he is a sick man."

After Monday's sentencing, some of Scherzer's other victims said the only thing that would bring them satisfaction are stricter laws.



---

Any original material on these pages is copyright © BishopAccountability.org 2004. Reproduce freely with attribution.