Church Wants More Abuse Lawsuits in Federal Court

Associated Press, carried in CBS 4
January 10, 2006

http://cbs4denver.com/topstories/local_story_010081800.html

(AP) DENVER Two lawsuits accusing the Archdiocese of Denver of doing nothing regarding a priest who had been accused of abusing children should be moved to federal court because of constitutional questions, attorneys for the church argued Monday.

At least 10 men have filed lawsuits in Denver District Court alleging they were abused as boys by Harold Robert White starting in the 1960s. The lawsuits name only the archdiocese as the defendant.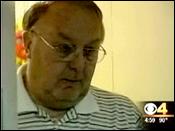 Harold R. White
CBS4




The archdiocese previously asked that two other lawsuits be moved to U.S. District Court, arguing the issues are "inextricably intertwined with the First Amendment," which guarantees the right to freely practice religion. It said a judicial evaluation of the archdiocese's policies regarding clergy misconduct requires the court to pass judgment on the archdiocese's canonical function as the chief ecclesiastical executive and chief ecclesiastical legislator.