Diocese May Pay $85M
Abuse Victims Ask Judge to Approve Settlement

By Mike Rutledge
Cincinnati Enquirer
January 10, 2006

http://news.cincinnati.com/apps/pbcs.dll/article?AID=/20060110/NEWS0103/601100344/-1/CINCI

BURLINGTON - One Northern Kentucky clergy-abuse victim who urged a judge to approve an $85 million class-action settlement with the Diocese of Covington hugged not only her own lawyers, but the main attorney for the diocese after a 3.5-hour hearing Monday.

Attorneys for the victims and the Roman Catholic diocese showed solidarity as they asked Special Judge John Potter of Louisville to approve the settlement, which could pay as many as 382 victims an average of $250,000.

Potter will issue a written ruling in two to three weeks.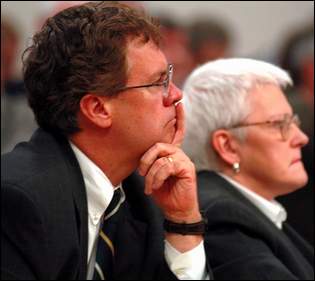 The Enquirer/Patrick Reddy
Mark Guilfoyle (left), and Carrie Huff, attorneys for the diocese of Covington, attend a 3.5-hour hearing on the proposed settlement of a class action lawsuit filed by sexual abuse victims.




"It's not a grudging settlement," Carrie Huff, the Chicago attorney representing the diocese, told Potter. "It's a very, very amicable settlement."

"It is very much in the public interest to rectify the wrong done to the victims," said attorney Stan Chesley, representing the victims.

Under the settlement, two special masters would use an agreed-upon system to determine how much each person would receive, based on the severity of their situations.

Three middle-aged victims - two women and a man - testified under assumed names to protect their identities.

They urged Potter to approve the settlement.

"I must say that the amount of money agreed upon is acceptable, and will enable many of the class members to continue the healing process through further therapy," said a woman who testified under the name "Gloria Goe."

But she added "It is my opinion that there is no amount of money that can compensate for our loss of innocence and our disappointment in our church."

After the hearing, a woman who testified as "Frieda Foe" spoke with reporters outside the courtroom, using only her first name of Mary, but allowing her interview to be recorded by television cameras.

"Everybody's going to find out eventually my whole name. I know that," said Mary, who said she plans to fight for a change in federal law that would require clergy to be treated like citizens when they are accused of sexual abuse.

"All my friends are going to see me. Some are going to believe me, some aren't," Mary said, her eyes welling. "I know what happened. I know what happened to my brother. So we took care of it today."

Later, Mary hugged her attorneys - Chesley and Robert Steinberg - before embracing Huff.

During the hearing, Harvard law professor Arthur R. Miller and Louisville attorney Charles Alexander Rose listed several reasons they considered the settlement and the use of a class-action lawsuit to be fair, reasonable and adequate - the standards Potter must find it meets.

The amounts paid to victims would be higher than paid in many other U.S. jurisdictions in similar cases.

It gives many victims, who would not have money to fight a high-profile court battle, their day in court without new emotional scars from public testimony.

In a situation where many victims had not told even their spouses, parents or children about the abuse, many would be reluctant to come forward as individuals, and the class-action let them keep their confidentiality. That gave many the confidence to join the lawsuit.

The Rev. Thomas Doyle, a Catholic priest and an expert witness on clergy abuse, testified it was common in such cases for victims to avoid telling their parents, spouses or children about it.

The settlement also lets the church make a fresh start, Rose said.

Nobody testified against the settlement, and the diocese declined to comment beyond Huff's remarks Monday.

Under an insurance agreement that attorneys said had not been finalized until shortly before the hearing, the diocese will pay $40 million; Catholic Mutual Group, which insures more than 100 dioceses in North America, will pay $40 million; and Fireman's Fund insurance company will pay up to $4.8 million.

Under the terms, Catholic Mutual would pay $15 million immediately and the remaining $25 million over five years. The agreement with Catholic Mutual was not signed until 9:45 a.m., 75 minutes before Monday's hearing.

Potter asked Miller how much he was billing for his testimony. Miller answered $600 per hour, for 20-30 hours, or $12,000-$18,000. Before being asked, Rose after his testimony said he was charging $250 an hour for 10-12 hours.

If the settlement is approved, a matrix system will ensure "people who were similarly injured would receive similar amounts," Huff said:

Those who fit into Category 1 would be paid $5,000-$45,000.

Those in Category 2 would receive $15,000-$150,000.

Category 3 would pay out $150,000-$350,000.

Category 4 would pay $300,000-$450,000.

Chesley said among the first 231 plaintiffs' cases that have been evaluated, approximately 10 percent fit into Category 1; 16 percent are in Category 2; 30 percent are in Category 3 and 44 percent are in Category 4.

About the matrix, Huff told Potter: "It's not a perfect match, but it seems to bring peace to most people."

E-mail mrutledge@nky.com